Putin May 'Disappear at Any Moment,' Spark Russian Civil War: Ex-Commander
Russian President Vladimir Putin could "disappear at any moment," sending Moscow into a civil conflict amid its floundering invasion of Ukraine, warned former commander Igor Girkin.
Girkin, also known as Igor Strelkov, rose to prominence for his role in the Russian annexation of Crimea in 2014. He has become increasingly critical of Kremlin leadership as its military struggles to achieve substantial military gains in Ukraine nearly a year after Putin launched the "special military operation." Although he supports the goals of the Russian military, he has recently offered grim assessments of the war for Putin.
During a recent discussion, Girkin weighed in on whether a change in Kremlin leadership would benefit Russia's military operation in Ukraine, acknowledging that there is a chance Putin could "disappear" amid longstanding questions about his health. A video of his remarks was posted to Twitter by Anton Gerashchenko, adviser to the Ukrainian Internal Affairs Ministry,
Girkin declined to "rule out" the possibility that Putin could suddenly "disappear at any moment," whether he abdicates his position as president or dies, noting that his state is the "biggest secret" in Russia.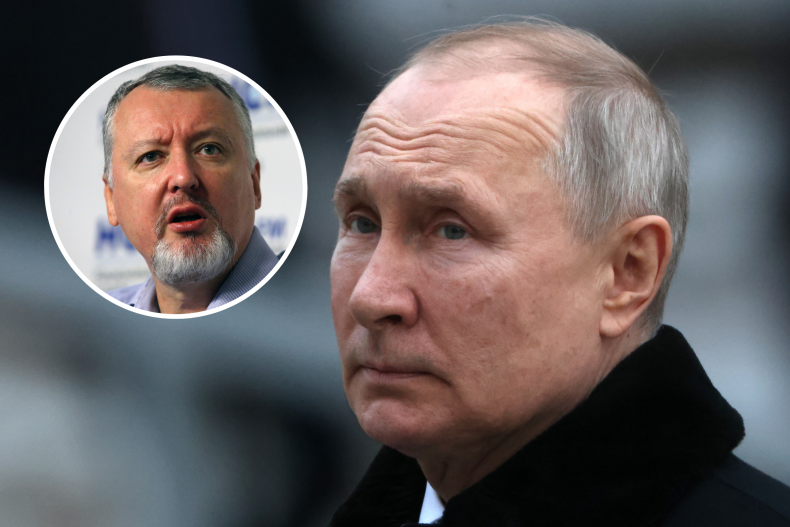 Russia would likely delve into chaos and lead to "external defeat" in Ukraine in this scenario, according to Girkin. He explained that new leadership would even allow Kyiv to retake control of Crimea, a goal of Ukrainian President Volodymyr Zelensky that Putin has warned would impede peace talks.
But defeat in Ukraine would not be the only issue faced by Russia, Girkin said. He also predicted a "power struggle with unpredictable consequences would ensure" if Putin was no longer the leader of Russia.
He suggested new leadership could potentially turn Russia against China, perhaps its most powerful ally amid the widely-condemned Ukraine war.
"Then the process of this country's disintegration will start," Girkin said. "A civil war of all against all. I do not exclude the possibility that we are doomed to this. I do not rule it out."
The video of Girkin's remarks was viewed nearly 40,000 times Monday afternoon on Twitter. Despite Girkin's speculation, the Kremlin has not indicated any plans for Putin, and longstanding beliefs and intelligence that Putin may be suffering from various health issues, including cancer, have never formally been confirmed by Moscow.
His remarks come just days after he said Russia "failed" in the Ukraine war because Putin has not called a full mobilization of troops to fight in Ukraine. He accused Putin of withdrawing himself from leading the invasion, delegating it to Defense Minister Sergei Shoigu, "who has prepared his army badly."
Girkin also said last month low morale among Putin's troops will make it "impossible" for Russia to declare victory against Ukraine.
Newsweek reached out to the Russian Foreign Affairs Ministry for comment.