Putin Plots Big Military Push Before Ukraine War Anniversary: U.K. Intel
President Vladimir Putin appears to have given orders to Russian troops to advance in "most sectors" in eastern Ukraine as the war nears its first anniversary, but his forces are struggling to make a decisive breakthrough, according to British intelligence.
Putin launched his full-scale invasion of Ukraine on February 24 last year. Although Russia has made some gains in the eastern Donbas region, Ukrainian resistance and counteroffensives have frustrated progress for Moscow.
Ukraine has said it expects a possible new Russian offensive to coincide with the anniversary of the conflict. Putin is due to make a major speech on February 21, three days before that anniversary, the Kremlin has confirmed.
In its daily intelligence update on the conflict, the British Ministry of Defence said: "Russia likely aims to reverse some of the gains Ukrainian forces made over September-November 2022: there is a realistic possibility that their immediate goal is to advance west to the Zherberets [Zherebets] River."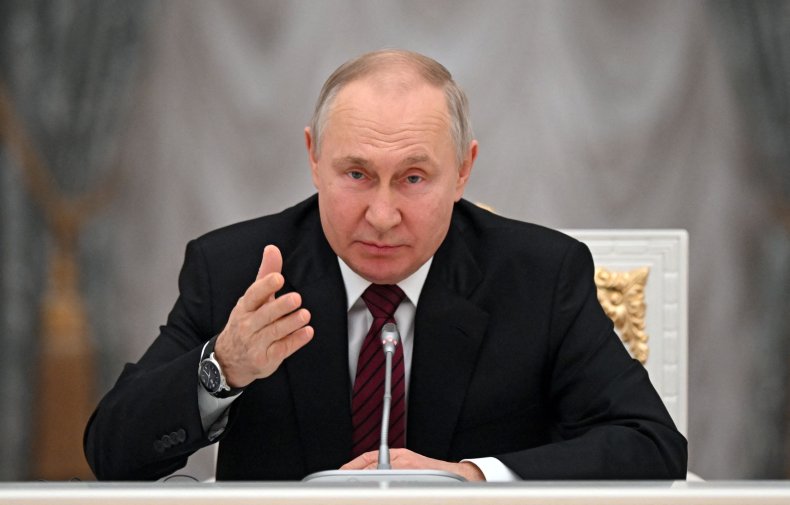 The ministry said the influential Wagner Group of mercenaries had "almost certainly" made small gains around the northern outskirts of the contested Donbas town of Bakhmut, including into the village of Krasna Hora.
"However, organised Ukrainian defence continues in the area. The tactical Russian advance to the south of the town has likely made little progress," the ministry said.
"In the north, in Kremina-Svatove sector of Luhansk Oblast, Russian forces are making continuous offensive efforts, though each local attack remains on too small a scale to achieve a significant breakthrough," it added.
"Overall, the current operational picture suggests that Russian forces are being given orders to advance in most sectors, but that they have not massed sufficient offensive combat power on any one axis to achieve a decisive effect."
Newsweek has contacted the Russian Defense Ministry for comment.
On Monday, Russia's Foreign Intelligence Service (SVR) accused the U.S. military of recruiting "jihadist militants" to carry out terrorist attacks in Russia and the CIS countries.
Meanwhile, U.S. National Security Council spokesman John Kirby said Monday that reports that Putin is allegedly plotting a coup in Moldova are "deeply concerning". Moldovan President Maia Sandu, an ally of Ukrainian President Volodymyr Zelensky, had alleged Putin planned to use foreign saboteurs to destroy her government and stop the country from joining the European Union.
NATO has vowed to increase its production of munitions to send to Ukraine to use in the war against Russia.
On February 12, British intelligence said that Russia had likely suffered its heaviest losses since the first week of its invasion of Ukraine over the last two weeks. It said it was due to a confluence of factors, including lack of trained personnel, and lack of coordination and resources on the frontline.