Putin Is Running out of Red Lines
Washington finally agreed that American-made F-16 jets could be delivered to Ukraine after months of reluctance and concerns over whether, for Vladimir Putin, giving the aircraft the green light might cross a red line.
However, Ukraine will have to remain patient. U.S. Air Force Secretary Frank Kendall told CNN that it would be "several months" at least before they can get the aircraft they have been long calling for to counter Putin's aggression.
Since the start of the Russian president's full-scale invasion of Ukraine, the U.S. and its allies have incrementally stepped up their provision of headline-grabbing weapons. HIMARS, the M777 Howitzers and the Leopard and Challenger tanks and, most recently, Patriot missile systems have all made a difference in the war with no stern response from Russia—so far.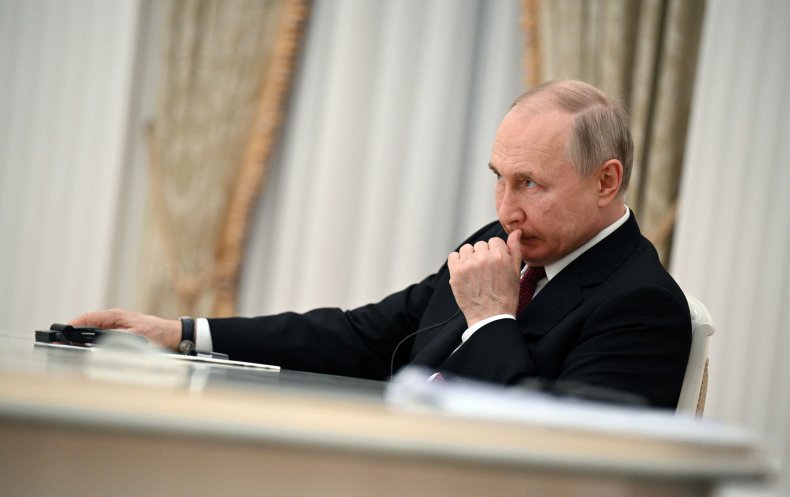 But could that change with President Joe Biden's pledge for the U.S. to train Ukrainian pilots and allow its allies to deliver the planes that are superior to the Soviet-era Mig-29s and Su-27s Kyiv mostly uses?
"Putin may well consider the delivery of fighter jets to be a red line, though it remains to be seen whether, when, and how Russia will respond," said Tom Roberts, assistant professor at Smith College, in Northampton, Massachusetts.
"While it's difficult to estimate how the delivery of F-16 fighter jets to Ukraine will impact the trajectory of the war, it will likely be interpreted as a sign of escalation and absorbed into a broader narrative of Western aggression," Roberts told Newsweek.
Already described by Moscow as an "escalation", the F-16s can be framed as part of a narrative amplified on Kremlin media outlets of Western aggression against Russia.
"The delivery of the F-16s to Ukraine will most certainly provide Putin with more opportunities to claim that the West, the U.S. in particular, is escalating the war and that the West is the aggressor," said Gary Rose, political science professor at Sacred Heart University in Fairfield, Connecticut.
"I suspect it will also encourage him to make statements, as he has done before, that Russia might have to resort to draconian measures, such as a nuclear response, to counter the West's escalation," he told Newsweek.
Putin used the watered-down Victory Day celebrations in Moscow's Red Square on May 9, which went ahead minus a flypast and many of Russia's weapons, to once again blame the West for the war in Ukraine.
Meanwhile, the spectre of Russia's nuclear weapons capabilities has hung over Putin's invasion. The Russian leader threatened in October that it was "not a bluff" to say he would use all means to protect his country.
Nuclear Threat
But this threat has dissipated, with analysts saying they would confer Putin no advantage and amid reports that China and India, key allies for Putin, oppose their use. Battlefield setbacks and exposed weaknesses in Moscow's military forces restrict what Putin could do next in response to the provision of F-16s.
"Simply put, unless Putin is willing to deploy its nuclear weapons, Moscow cannot retaliate in a meaningful way," Wes Renfro, political science professor at Quinnipiac University, Hamden, Connecticut. "Escalation with nuclear weapons is a losing game for Putin and is unlikely until or unless the Ukrainian boondoggle threatens his grip on power," he told Newsweek.
The details of how F-16s will be given to Ukraine are still to be hammered out, and the typical training period for a pilot is two years. Even if that time frame is truncated by Ukraine's urge to get them in the air, there is a long wait to see if they will change things on the ground.
"The main significance of Biden's decision to authorize the delivery of F16s to Ukraine is that it is a way for the U.S. to signal its long-term commitment to Ukraine," said Peter Rutland, professor of Russian, East European and Eurasian Studies at Wesleyan University, Middletown, Connecticut.
"The planes are not going to be a game-changer on the battlefield, given the strength of Russian air defenses," Rutland told Newsweek. "But Putin is playing a waiting game, hoping that the West will lose interest in supporting Ukraine if the fighting this spring fails to break the stalemate on the front line.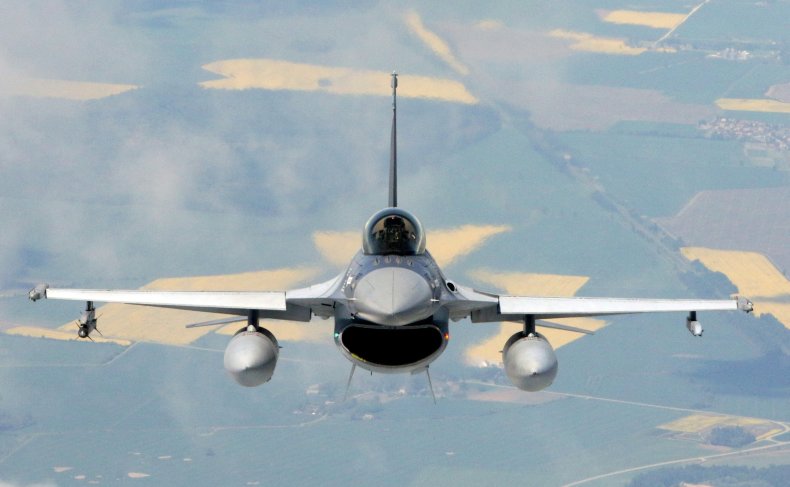 Ratcheting Up
"It represents an incremental ratcheting up of the pressure on Russia, without being such a radical change as to justify a radical response from Moscow," Rutland added.
Military figures, analysts and Russian opposition figures have consistently argued that Kyiv should be provided with all the weapons it needs, especially with its professed goal of retaking Crimea, which had been annexed in 2014.
The U.S. and its allies have demonstrated caution increasing support for Ukraine without being seen to be escalating. "On the other hand, worries that the provision of a new type of assistance to Ukraine will provoke a Russian conventional attack against a NATO country ignore how badly the Russian military has performed since the first months of the war," said David W. Rivera, Hamilton College associate professor of government.
The latest pledge by Biden made during the G7 in Hiroshima, Japan, was for Washington to provide $375 million in equipment. Ukraine's president Volodymyr Zelensky assured Biden the F-16s will not be used on Russian territory, with the jets' radar and missile systems likely to raise Kremlin concerns of remote attacks.
"There will be limits on the munitions and supporting capabilities provided, and I would expect such weapons systems and support for them will come with limits on how they can be used," said Lewis Griffith, professor of international studies at the University of Denver.
Griffith told Newsweek that the U.S. views the F-16 as it did the Abrams tank earlier, as "a technological step up for the Ukrainians but below direct U.S. and NATO involvement and not a system in these numbers that alters the fundamental strategic calculations.
"Thus, a step below where they perceive Russia's escalatory threshold to be," Griffith added.