Vladimir Putin's Reign Is Now 'Closer to the End,' Russian Official Says
Russian President Vladimir Putin's reign is now "closer to the end," a Russian official who now faces conscription under the leader's partial mobilization decree has said.
Dmitry Baltrukov, 43, is one of many municipal deputies for Smolninskoe in St. Petersburg who appealed to the country's parliament last month to remove Putin from power on the charge of high treason over the Ukraine war.
The price: a 44,000 ruble ($758) fine for "discrediting" the Russian army, and now, the official has been ordered to enlist and serve in Ukraine, something he believes is a deliberate attempt to "get rid" of him, given that he does not meet the defense ministry's criteria to be drafted.
Baltrukov told Newsweek that military enlistment office workers and policemen came to his home on Sunday, where his mother was, to hand him a summons, despite him having no military experience. The deputy, who was on a business trip when authorities visited his home, said he ignored orders to appear at his local enlistment office on Monday at 9 a.m. local time.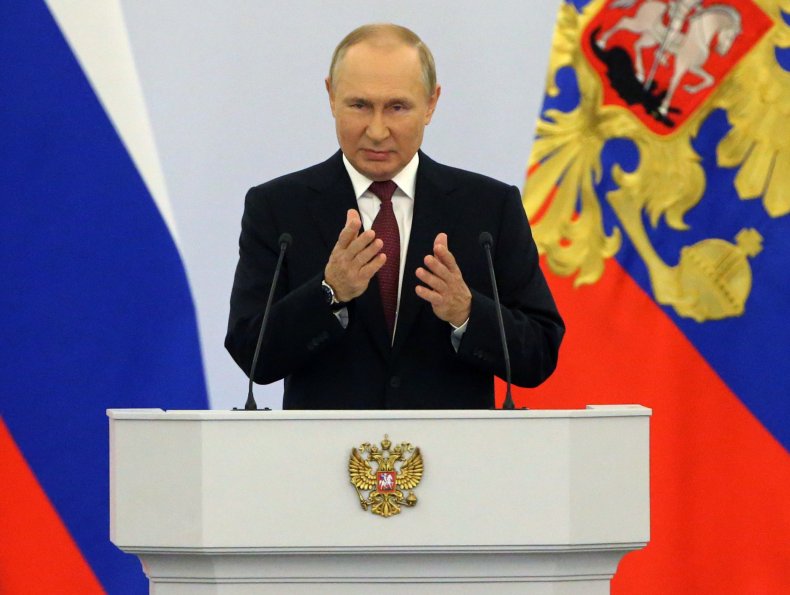 The official said he believes Putin is "definitely closer to the end of his power" since announcing the partial mobilization of the population.
Putin's September 21 conscription order supposedly targets 300,000 reservists and ex-military personnel with "certain military specialties and relevant experience."
But those ineligible to be called up, including students, the elderly, and those with medical conditions and injuries, have also been handed a summons to fight in Ukraine.
Putin's announcement sparked nationwide protests and a mass exodus of Russians fleeing across the border to neighboring countries including Georgia, Finland, Kazakstan, Mongolia and elsewhere to avoid being conscripted.
"At least one hundred thousand Russians voted 'with their feet' after leaving the country. I see a lot of words of support for my anti-war position," Baltrukov said. "But one must understand that there is an atmosphere of fear in Russia now. People speaking out against the war is extremely dangerous."
Baltrukov said he sees "a clear trend" toward a decrease in support for the war Putin launched against Ukraine on February 24, amongst Russians.
In September, he and other deputies in the area called for Putin to be removed from power over the Ukraine war. It marked the most significant display of opposition since the war began.
"I chose the situation in my district to be its deputy, and when the deputies of the State Duma [Russia's parliament] do not express the opinions of the inhabitants of my district, who should speak?" Baltrukov said.
"This is unexpected, but someone should expect that I will find a future and the future of my children with Russia. But it must be a free and democratic country, it is worth fighting for. I defend my freedom and the freedom of the people of Russia," the official said, explaining why he chose to speak up against Putin and the war, knowing the consequences he could face.
Baltrukov said that despite receiving a summons to fight in Ukraine, he will continue to call for Putin to be removed from power.
"I will continue to express my opinion as a deputy who has already been found beaten, blown up, taken to the police, fined, threatened with a criminal case, against this background, what is the agenda...well, one more attempt to put pressure on [me], and nothing more," he said.
Baltrukov said he believes mobilization will be used by Putin to get rid of everyone who opposes him, but "it's a very stupid idea to arm the opposition."
Russia "has no chance of winning," the Ukraine war, Baltrukov said, adding: "There is no Russian leadership, for them, this is the end of their power."
Newsweek reached out to Russia's foreign ministry for comment.