Russian Official Who Attempted to Overthrow Putin Faces Conscription
A Russian official who appealed to the country's parliament to remove President Vladimir Putin from power on the charge of high treason now faces conscription under the leader's partial mobilization decree.
Dmitry Baltrukov, a 43-year-old municipal deputy for Smolninskoe in St. Petersburg, was fined 44,000 rubles ($758) last month under protocols on "discrediting" the Russian army—a stringent new law that cracks down on dissent over the war against Ukraine.
It came after he and other deputies in the area called for Putin to be removed from power over the Ukraine war.
Baltrukov told Newsweek that military registration and enlistment office workers and policemen came to his home on Sunday, where his mother was, to hand him a summons as part of Putin's September 21 partial mobilization decree, despite him having no military experience.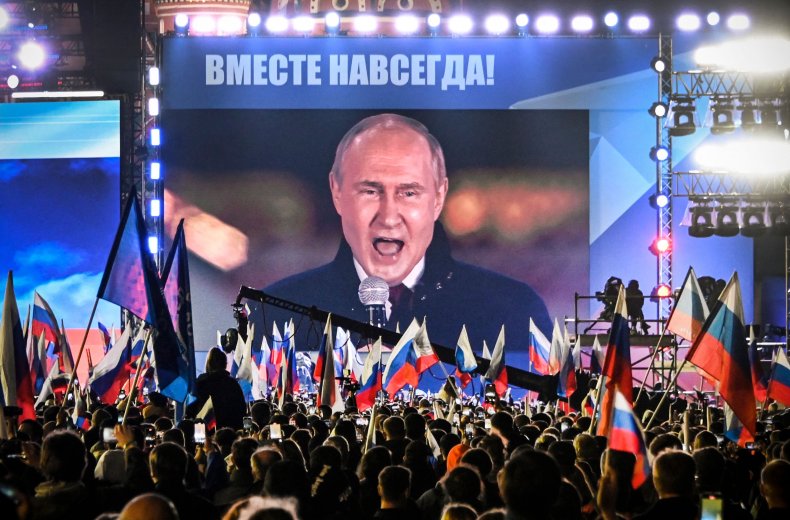 Putin's conscription order supposedly targets reservists and ex-military personnel with "certain military specialties and relevant experience."
But those ineligible to be called up, including students, have also been mistakenly handed summons to serve in Ukraine.
"Yesterday, four people came to the address where I registered. My mother saw two policemen and two men in uniform, she asked who they were and what they needed," Baltrukov said. "They said that they were from the military registration and enlistment office and that they had brought the summons to me."
Baltrukov, who is currently on a business trip, said the officers said he had to appear at his local military enlistment office on Monday at 9 a.m. local time.
"They purposefully came to me and judging by the presence of the police and the desire to open the door inappropriately, I think they wanted to detain me right away," he said, noting that he did not follow orders to go to the military enlistment office and that he advises others against doing so as well.
The deputy said he believes he was targeted, despite being ineligible to be drafted, as he has openly opposed Putin's war against Ukraine.
"Since I have no military experience, I believe that the real reason for the agenda is an attempt to get rid of me as a deputy," said Baltrukov. "I believe that what is happening is aimed at eliminating me as a political opponent and revenge for my position on handling the charge of treason against Putin. And a categorical rejection of war."
Since Putin declared a partial mobilization last month, multiple reports have emerged of ineligible men being called up for military service.
In a rare admission on Thursday, Putin said "all mistakes" made in efforts to mobilize should be corrected. He also said that anyone who was drafted despite not meeting the criteria set by defense officials "must be sent home."
Commenting on Putin's remarks, Baltrukov said he believes that for some time now, "there has been a big gap between Putin's words and reality."
"He certainly talks about correcting errors, but the system can only work this way and nothing else," Baltrukov said.
Putin's decision to declare a partial mobilization of the population is "another big mistake, like the very beginning of the war" the official added.
"I doubt that the call of even a large number of purely civilian people will be able to turn the tide of the war," he said.
Newsweek reached out to Russia's foreign ministry for comment.