President Vladimir Putin has warned that he would not hesitate to strike back if Russia was hit by a nuclear adversary, even if it led to a "global catastrophe."
The Russian leader spoke to one of his country's most infamous pro-Kremlin TV show hosts, in a tough-talking interview broadcast on national airwaves before Russians go to the polls later this month.
Although no major rivals are permitted on the ballot and Putin is likely to be re-elected, recent votes in Russia have slumped to record low turnouts. The leader has recently made several headline-grabbing statements to present himself as the bulwark against foreign attacks, as he campaigns on the platform of being a "strong president" who will ensure a "strong Russia."
Related: Vladimir Putin presents Russia's new nuclear missile, using 10-year-old footage
Asked about nuclear conflict, Putin said he would trigger a launch if Russia's own defense systems indicated that an enemy had fired nuclear-tipped missiles.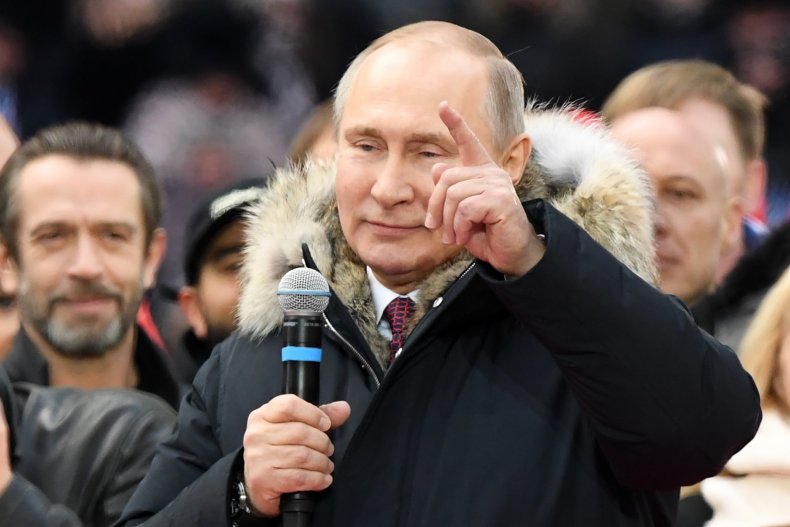 "This is called reciprocal strike," he told host Vladimir Solovyov, in the nearly two-hour TV film World Order 2018, which the media personality posted on his VK social media account Wednesday. "If there is this decision to destroy Russia then we have a legal right to respond."
Quipping about the aftermath of global devastation, Putin mused: "Yes, this would be a global catastrophe for humanity but I, as a citizen of Russia and the head of the Russian state would like to ask you this—what do we need a world for if there is no Russia in it?"
The film, narrated by Solovyov, aims to show what an arduous job Putin's presidency is, but broadly revolves around interview segments with the politician himself, along with footage of foreign officials criticizing sanctions on Russia or highlighting the need for Russia to participate in the resolution of global problems. The talking points and Putin's comments largely overlap with previous glossy documentaries about the president, such as director Oliver Stone's largely panned series of interviews with the man.
Putin is standing for re-election on March 18 for a record fourth time, meaning if he were to win and remain in place until the end of the six-year term, he will be Russia's longest-serving leader since Soviet autocrat Joseph Stalin.
Absent a new set of policies after 18 years in charge, Putin has held a stadium rally to stoke public adulation and moved his formal address in front of parliament last week to a modern venue, where he played clips of next-generation Russian arms.