Russia "doesn't give a s**t" about the risk of Western sanctions if it were to invade Ukraine, the country's ambassador to Sweden has said.
"Excuse my language, but we don't give a shit about all their sanctions," Viktor Tatarintsev told Swedish newspaper Aftonbladet in an interview published on Saturday.
"We have already had so many sanctions and in that sense they've had a positive effect on our economy and agriculture," the diplomat said, according to the AFP news agency.
It comes as President Joe Biden told Russia's Vladimir Putin during a phone call on Saturday that the U.S. was committed to diplomacy to end the crisis. But he also warned Putin that the U.S. and its allies would respond "decisively and impose swift and severe costs" if Russia attacked Ukraine.
Tatarintsev said fresh sanctions against Russia are "nothing positive but not as bad as the West makes it sound."
"We are more self-sufficient and have been able to increase our exports. We have no Italian or Swiss cheeses, but we've learned to make just as good Russian cheeses using Italian and Swiss recipes," he said.
Moscow has amassed more than 100,000 troops near the Ukrainian border, but denies it intends to invade its neighbor.
Tatarintsev insisted Moscow was trying to avoid a war. "That is our political leadership's most sincere wish," he said. "The last thing people in Russia want is war."
But U.S. officials have warned that a Russian invasion could be imminent and urged Americans to get out of Ukraine immediately.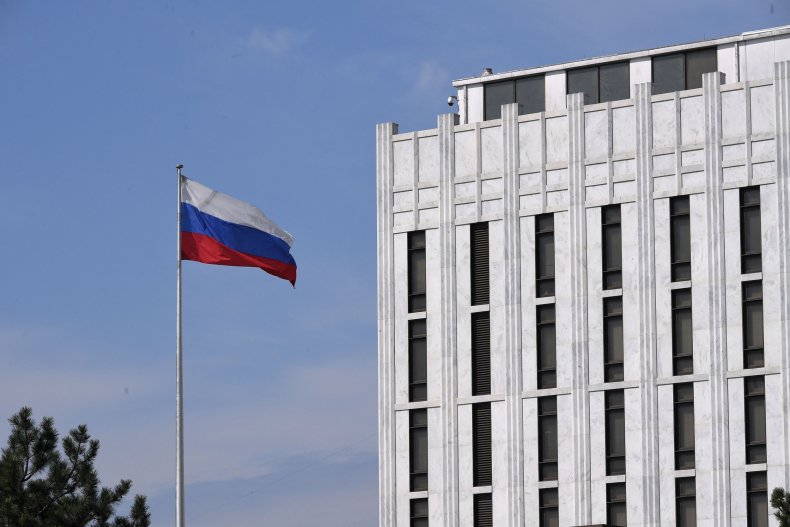 The U.S. has been working with allies to organize further economic sanctions to impose on Russia in the event of an invasion of Ukraine.
U.S. State Department Counselor Derek Chollet told the BBC on Sunday morning that those sanctions would be "crippling" for the Russian economy.
"As a first order, the economic sanctions that the Russian Federation would suffer under would be quite considerable," he said.
"And the United States and our European partners, the UK and the EU and others, have been working on a series of sanctions that would be crippling to the Russian economy when imposed."
Chollet also said that Biden made "very clear" to Putin that the U.S. and its allies would "continue to bolster and build military capacity along NATO's eastern flank."
A Russian invasion of Ukraine "would be a major strategic setback for Russia, it would leave Russia isolated in the world, it would bring tremendous economic hardship upon the Russians as a result of the sanctions and it would further divide Russia from Europe and it would strengthen NATO," Chollet added. "So all things that President Putin would not want."
The U.K. government has warned that an attack on Ukraine would trigger sanctions on the British-based assets of Russia's elite.