Vladimir Putin Encourages Foreign Fighters To Join Russia in Ukraine
Vladimir Putin has been told that more than 16,000 foreign fighters want to fight with Russia in the eastern Donbas region of Ukraine, as the Russian president appeared to encourage a foreign legion working with Moscow-led forces.
Russian Defense Minister Sergei Shoigu told Putin on Friday that Russia had received 16,000 applications from foreigners wanting to come to the self-proclaimed Luhansk and Donetsk People's Republics (LPR and DPR).
He said that they expressed their interest "not for money, but for personal convictions," defense ministry publication Zvezda reported.
During the video conference call, Putin said that if such volunteers wanted to "come and help people living in the Donbas," then Russia needed to "help them move to the war zone," RIA Novosti reported. He also referred to Ukraine's growing band of foreign fighters.
The conflict in the eastern Ukrainian region of Donbas has been ongoing since 2014. Defending the Moscow-backed republics there has been part of Putin's pretext for invading Ukraine, along with the so-called "denazification" and "demilitarization" of the country.
The state media reports did not specify if the foreigners would participate in other parts of Russia's invasion of Ukraine.
Kremlin spokesperson Dmitry Peskov said that Shoigu was talking about foreigners and "there was no talk about our citizens," when asked if the call for volunteers to the Donbas included Russians, Interfax reported.
Putin referred to Ukraine's foreign troops during the call, saying that "Western sponsors" were openly encouraging international volunteers to join Ukraine, "disregarding all norms of international law."
However, Mykhailo Podolyak, adviser for Ukrainian President Volodymyr Zelensky, expressed concern at Shoigu's statement, which he suggested meant Russian forces would draw on "ex-ISIS fighters for use against civilians."
"The recruitment of ISIS and Russian propaganda statements about chemical weapons indicate an intention to implement the Syrian scenario," Podolyak tweeted, in reference to Russia's intervention in the conflict in Syria, whose leader, Bashar al-Assad, is a Putin ally.
On February 27, Zelensky announced an "international legion" volunteer force to defend his country, which as of Monday had received more than 20,000 volunteers from 52 countries, according to Kyiv.
Foreign fighters, including former and current British army personnel, have also been arriving in Ukraine.
As previously reported by Newsweek, Macer Gifford, who voluntarily helped Ukraine, said he had received numerous requests from Britons keen to fight against Russian aggression.
Follow Newsweek's live blog for the latest on the Russia-Ukraine war.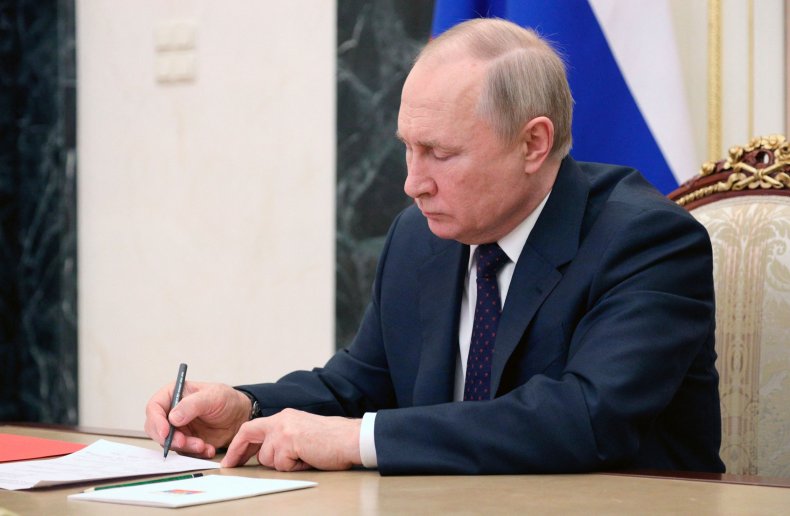 Update 03/11/22, 7:30 a.m. ET: This article has been updated with further information.