Putin Takes Swipe at Trump for Withdrawing From Nuclear Treaty: 'It Was Not Worth Ruining'
Russian President Vladimir Putin has warned that a new nuclear weapons deal needed to be struck urgently as he criticized the decision by Donald Trump to pull the U.S. out of the Intermediate-Range Nuclear Forces (INF) Treaty which had been in place since the Cold War.
In an interview with Arabic-speaking journalists ahead of his visit to Saudi Arabia and the United Arab Emirates, Putin reiterated Russia's opposition to the withdrawal in February from the INF, which had been signed in 1987 by Soviet leader Mikhail Gorbachev and President Ronald Reagan.
It banned missiles with ranges of between 310 and 3,400 miles but the U.S. and Nato had accused Russia of violating the pact by deploying a new type of cruise missile, a claim Moscow denied.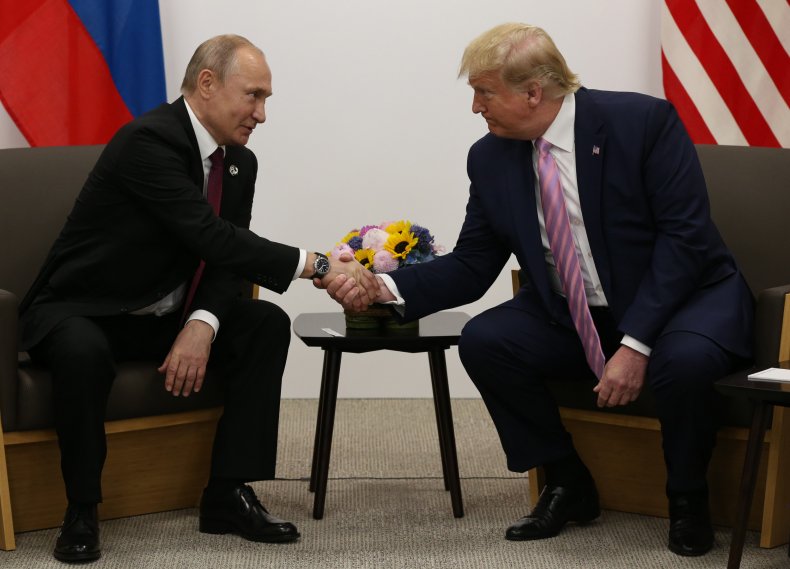 Putin said: "It think it was a mistake…and that they could have gone a different path. I do understand the U.S. concerns. While other countries are free to enhance their defences, Russia and the U.S. have tied their own hands with this treaty. However, I still believe it was not worth ruining the deal; I believe there were other ways out of the situation."
Putin said that the U.S. must back a new START Treaty, which expires in 2021, to restrict a race to acquire strategic nuclear weapons.
"The new START Treaty is actually the only treaty that we have to prevent us from falling back into a full-scale arms race. To make sure it is extended, we need to be working on it right now. We have already submitted our proposals; they are on the table of the U.S. administration. There has been no answer so far.
"If this treaty is not extended, the world will have no means of limiting the number of offensive weapons, and this is bad news. The situation will change, globally. It will become more precarious, and the world will be less safe and a much less predictable place than today," Putin said, according to a transcript of the interview on the Kremlin website.
Putin said that his doubt over the U.S. commitment to nuclear disarmament stretched back to 2002, when under President George W. Bush, Washington withdrew from the Anti-Ballistic Missile (ABM) Treaty, which had imposed limits on missile defence systems.
Bush claimed the treaty stopped his country developing defenses against terrorist or "rogue-state" ballistic missile attacks, according to Armscontrol.org.
But Putin's view was that it was an attempt by the U.S. to secure a strategic advantage by withdrawing from what he described as "the cornerstone of the entire global strategic security system."
He added that its main effect was simply to spur Russia on to develop offensive weapons to defeat any ABM system.
He also boasted that Russia was now the only country that had hypersonic missiles and that "we enhanced and improved ballistic missiles significantly and developed a new weapon that has no rivals in the world."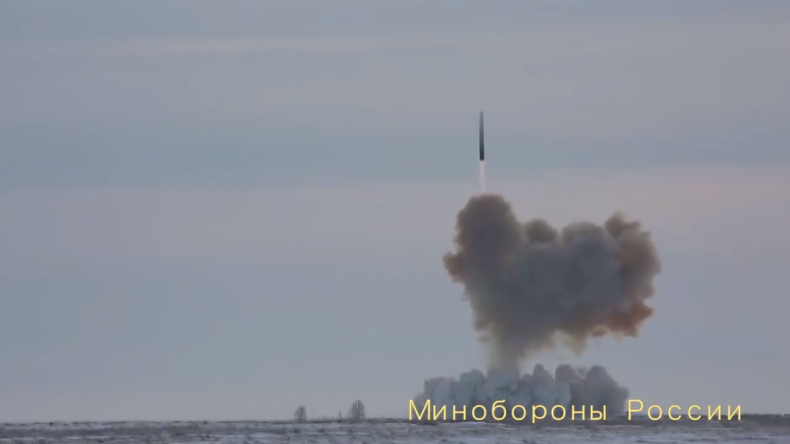 In the uncritical interview which was broadcast on state-backed channel RT, Putin blamed the media for the accusations that Russia had interfered in the U.S. election in 2016 and said that apparent promises made by Trump on the campaign trail to improve ties between the countries had not come to pass.
"We know that during his previous campaign, he called for relations to get back to normal, but unfortunately, nothing has been done. But we do not hold it against anyone because we can all see what is going on in the American domestic political scene these days. The domestic political agenda prevents the incumbent president from embarking on a drastic improvement of relations between our countries," Putin said.