U.S. and Russia Give Peace Another Chance, Say No to Another 'Arms Race'
The United States and Russia affirmed their willingness to avoid another historic competition for greater weapons as their leaders met during a global gathering in Japan.
President Donald Trump and Russian President Vladimir Putin came together Friday during the elite G-20 summit in Osaka in another attempt to smooth over relations between the world's top two military powers. The two men, once openly seeking rapprochement, have found themselves increasingly at odds over the years and attempted to once again establish common ground.
"The mood is very good," Russian Foreign Minister Sergey Lavrov said. "The atmosphere is constructive. It confirmed and even initiated the desire to discuss a wide range of problems—from the economy to strategic stability. We reaffirmed our initiatives, which were presented on these issues in Hamburg and last year in Helsinki. U.S. President D. Trump said that his staff, who were present at the conversation, will receive instructions to deal with these issues with their Moscow colleagues."
In remarks carried by the state-run Tass Russian News Agency, the top Russian diplomat further said, "As for strategic offensive armaments and strategic stability, both presidents said it was necessary to avoid any steps that would provoke an arms race."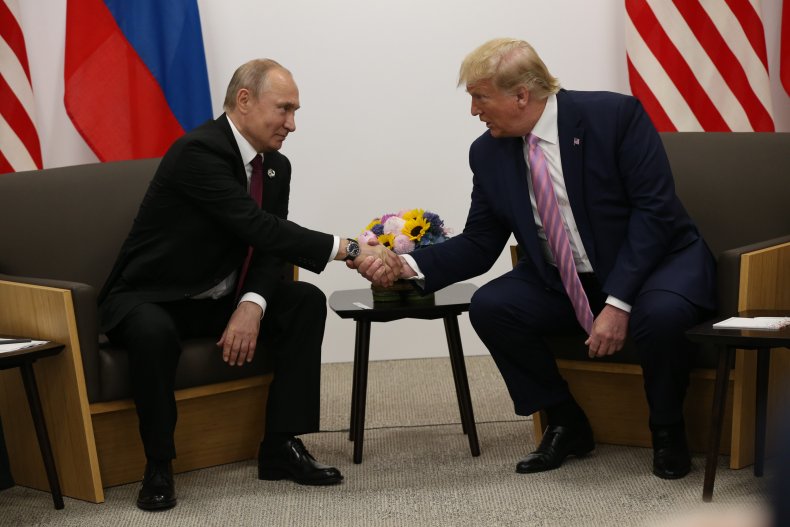 Lavrov said that during their approximately 80-minute meeting, Putin and Trump "agreed that these issues were essential for the international community in the sphere of security and that Russia and the United States as the two largest nuclear powers are called upon to play the leading role in lowering the risks, which, unfortunately, are piling up in this sphere as well."
On Moscow's side, First Deputy Prime Minister and Finance Minister Anton Siluanov, Russian Presidential Aide Yuri Ushakov and Kremlin spokesperson Dmitry Peskov were present. In Washington's corner was Secretary of State Mike Pompeo, Treasury Secretary Steven Mnuchin, acting White House Chief of Staff Mick Mulvaney, National Security Adviser John Bolton and White House spokesperson Stephanie Grisham.
Putin and Trump's first meeting of the year came as the White House continued to suspend its obligations to the 1987 Intermediate-range Nuclear Forces (INF) Treaty, an agreement restricting Russia and the U.S. from deploying land-based missiles with ranges between 310 and 3,420 miles. Washington has accused Moscow of violating the deal through its deployment of the 9M729 cruise missile, though Russian officials have disputed this and counterclaimed that the U.S. had breached the terms through its deployment of defense systems suspected of being employed for offensive purposes in Eastern Europe.
The dispute has triggered anxieties among America's transatlantic allies in the NATO Western military alliance, which fears the resurgence of mid-range nuclear-capable missile systems that defined much of the decades-long Cold War. With Russia's post-Soviet military rise, the two major powers have resumed a competition for global influence that has included new weapons and technologies.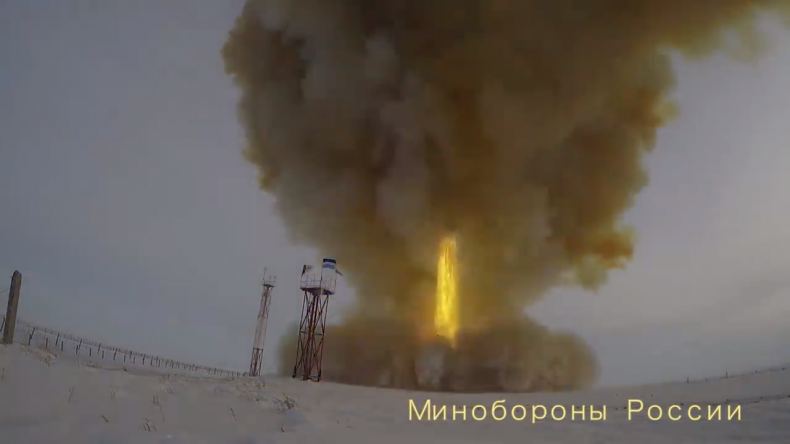 Putin and Trump's encounter was cordial, however, with the U.S. leader remarking that it was "a great honor to be with President Putin" and his entourage. Trump said the pair had "many things to discuss, including trade, and including some disarmament, a little protectionism, perhaps, in a very positive way."
The Russian head of state agreed, further noting that the two "have not met for a long time, since the Helsinki meeting, but our colleagues have been working, giving us a good opportunity to follow up on what we agreed in Helsinki."
Both presidents appeared to be on the same page following their last encounter in the Finnish capital, but have since fallen out over various international issues and have failed to begin substantive negotiations in regards to the renewal of the New Strategic Arms Reduction Treaty (START).
The landmark agreement was the sequel to a 1991 treaty limiting the U.S. and Soviet Union's nuclear stockpiles and is set to expire in 2021. Trump has sought to involve China into new talks on the INF and New START, but Beijing—which has far fewer nuclear weapons than Moscow and Washington—has so far refused.
Meanwhile, Russia unveiled last year an arsenal of new weapons claiming unprecedented hypersonic and nuclear innovation which may be capable of dodging even the most advanced defense systems. In response, Trump has proposed a global missile shield involving space-based receptors that led both Moscow and Beijing to warn of a new extraterrestrial "arms race."