Russia has warned that the United States and its allies want to exert their influence across the globe as the U.S.-led NATO Western military alliance warned it would explore new ways to tackle a new nuclear-capable missile system developed by Moscow.
Speaking Wednesday at a conference at the Army-2019 International Military-Technical Forum in Moscow, Russian Defense Minister Sergei Shoigu accused the West of conducting an information war in order "to control Russia and, ultimately, the world." He said the reason behind this campaign was the resurgence of Moscow as "the second pole of the world order, which seemed buried and gone—a monument was built, a wreath laid" before it was "reborn."
Russia has often touted the emergence of a "multipolar world" now challenging a perceived West-led order. The rise of Moscow's own military might, however, has raised some concerns abroad and the U.S. and NATO have recently come out strongly against a Russian missile system said to be in violation of the 1987 Intermediate-range Nuclear Forces (INF) Treaty, already abandoned by the White House in February.
Moscow officials also had grievances toward the rival coalition, especially its deployment of an expanding missile shield. Asked if this system would be used to counter Russia's 9M729 cruise missile, NATO Secretary-General Jens Stoltenberg said Wednesday he would not reveal "exactly what we will do because we are still focused on how we can get Russia back into compliance," as the Associated Press reported.
Stoltenberg did reveal, however, that NATO measures could include "intelligence, surveillance and reconnaissance" along with "air and missile defenses, and conventional capabilities." The matter, he said, would be brought up during next week's Russia-NATO summit.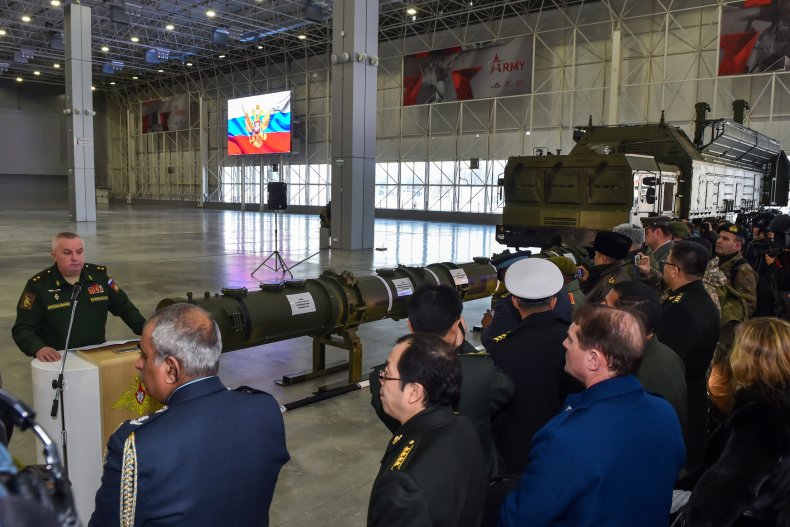 On the previous day, Stoltenberg warned of a "defensive, measured and coordinated" response should Russia refuse to destroy the 9M729, which the U.S. and NATO claim breached the INF Treaty's restricted 310 to 3,420-mile range, by an August 2 deadline. The former Norwegian prime minister then similarly declined to go into specifics, but suggested this could include additional nuclear-capable U.S. warplane flights over Europe, though not the deployment of such land-based weapons.
Responding to Stoltenberg's recent statements, Russian Deputy Foreign Minister Sergei Ryabkov warned Moscow would respond should NATO make good on its threats. He railed against any "attempts to portray what is happening as a military and political response to Russia's actions reek of a propaganda campaign with a large element of deliberate misinformation being fed to global public opinion," according to the state-run Tass Russian News Agency.
"When these threats begin to materialize into real action, we will have to take countervailing military measures," Ryabkov added, vowing to "contain NATO's aggressive plans, measure them and adopt a very selective approach to dialogue with the alliance, which the member-states of this organization are promoting."
Russia has argued that the U.S. and NATO themselves may have violated the INF by deploying U.S. missile defense systems such as the Aegis Ashore, which was operational in Romania and soon to be in Poland. Moscow has alleged that the system had dual-purpose offensive technology that could be used to attack Russia as President Vladimir Putin and others expressed concern that Trump's latest Nuclear Posture Review lowered the threshold for nuclear weapons use.
Moscow lawmakers voted Wednesday to approve a bill suspending Russia's own compliance with the INF Treaty, following a draft submitted by Putin in February shortly after Trump announced the U.S. suspension. The INF was only the latest arms control framework poised to fail amid tensions between the world's top two military powers.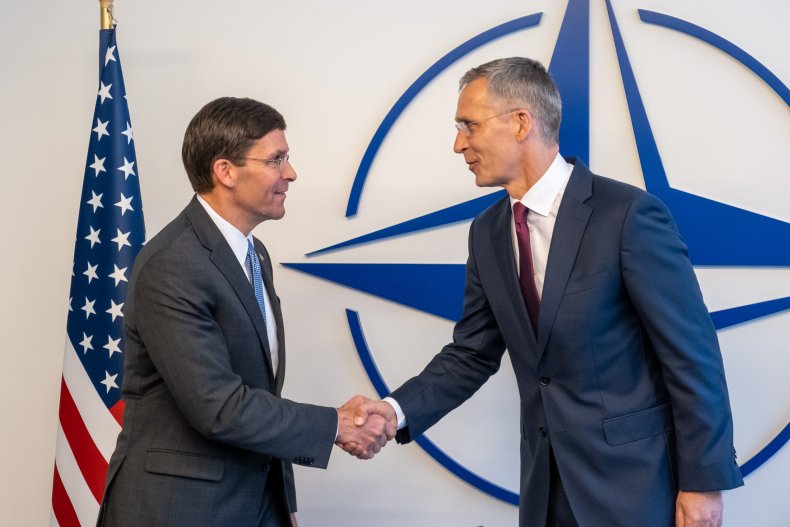 Putin warned last year that the U.S. had first set off an "arms race" by pulling out of the 1972 Anti-Ballistic Missile (ABM) Treaty in 2002 and his top generals just last month warned of the U.S. and Russia having their worst ties in modern history. This falling out has largely been marked by a reluctance to communicate on critical issues, such as renewing another major non-proliferation deal the New Strategic Arms Reduction Treaty (START).
New START, the sequel to the historic 1991 agreement that substantially limited the Washington and Moscow's nuclear arsenals, is set to expire in 2021. Though the U.S. appeared last month to begin the first stages of consultation on renewal after repeated calls from Russia, Trump has since insisted on a new framework involving China, which has insisted it "will never" get involved in U.S.-Russia negotiations involving the INF or New START.
Chinese Foreign Ministry spokesperson Geng Shuang reaffirmed this stance Wednesday, telling a press briefing that "the U.S. and Russia possess over 90 percent of the world's nuclear arms and shoulder special and primary responsibilities in nuclear disarmament."