Putin Survived Assassination Attempt Two Months Ago, Ukraine Official Says
Russian President Vladimir Putin survived an assassination attempt two months ago, just after he announced the invasion of Ukraine, the country's chief spy has claimed.
Ukraine's Chief of Defence Intelligence Kyrylo Budanov claimed Putin, 69, was attacked in an "unsuccessful attempt" to kill him around two months ago when he was in the Caucasus—an area comprised of Armenia, Azerbaijan, Georgia and parts of Southern Russia—only days into the Ukraine invasion.
"Putin was assassinated..." Budanov told Ukrainian Pravda. "He was even attacked in the line of, as they say, representatives of the Caucasus not so long ago. This is non-public information. Absolutely unsuccessful attempt, but it really took place...It was about two months ago."
"Once again, he was unsuccessful. There is no publicity about this event, but it took place," Budanov said.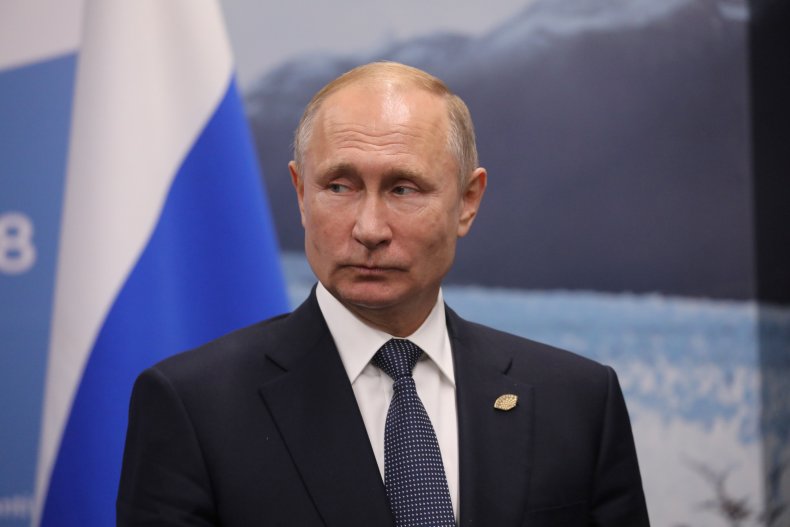 The interview with Budanov will be broadcast in full on Tuesday.
Newsweek reached out to the Kremlin for comment.
The war, which has been raging since February 24, has claimed the lives of thousands of Ukrainians and displaced millions more.
Some reports have said that Putin is becoming more paranoid as the war draws on, worried that someone may try and remove him from office. The Russian president has previously claimed that he has survived numerous assassination attempts.
One plot was foiled by Russian intelligence shortly before the 2012 presidential election, leading to the arrest of several men in the Ukrainian port city of Odesa who had allegedly been told to kill Putin by Islamist Chechen rebels. Russia had previously fought two wars against Chechen forces.
Putin also allegedly faced another attempt at his life on the day of the 2008 presidential election. A Tajik man with a sniper was arrested hours before Putin was due to give a speech in Moscow's Red Square.
There has also been speculation about Putin's health recently. Sir Richard Dearlove, the former head of the British Secret Intelligence Service, predicted on Thursday that Putin would likely no longer be Russia's leader in 2023 due to health issues.
U.S. film director Oliver Stone said on May 17 that Putin struggled with and overcame cancer during the time in which the filmmaker focused his work on the Russian president. Christopher Steele, a former intelligence official in the United Kingdom, recently said that Putin left meetings to receive medical treatment.
Last month, Visegrád 24 News posted a video on Twitter speculating that the Russian president might have Parkinson's Disease. Another video showed Putin clasping a table during a meeting with Russian Defense Minister Sergei Shoigu, sparking more speculation about Putin's health.
The Kremlin has not commented on Putin's health since the beginning of the war.
Update 05/23/22, 9:45 a.m. ET: This article was updated with additional information and background.