Russian President Vladimir Putin is warning Finland and Sweden about joining NATO, saying an expansion in membership could bring a heightened response from his own Russia-led military alliance.
On Monday, Putin spoke alongside leaders from Russia's allies in Belarus, Armenia, Kazakhstan, Kyrgyzstan and Tajikistan at a Collective Security Treaty Organization summit in Moscow.
He called on the countries to streamline their operations and ensure that various law enforcement agencies and security services are working in coordination, adding that his administration will equip forces with the latest weaponry.
"I'm positive that these measures will help to improve the level of coordination, combat readiness of our forces, and generally speaking, the peacekeeping potential of forces," Putin said, according to a translation from Russian state media RT.
His remarks come after Finland confirmed last week that it will apply to join NATO after decades of military nonalignment. Sweden's governing Social Democratic Party has also backed a bid to join the Western military alliance.
A NATO membership for Finland would deal a harsh blow to Russia as the neighboring country shares the longest border with Russia among all 27 of the European Union nations—granting the alliance new regional expertise on Putin.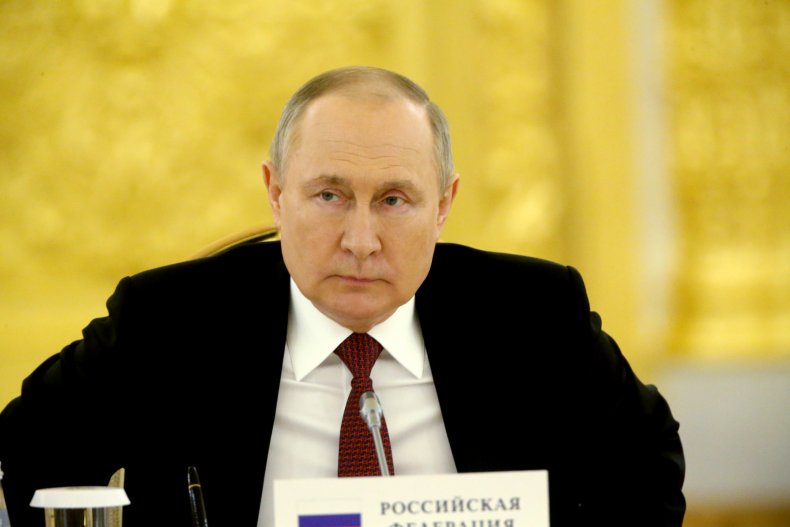 On Monday, Belarusian President Alexander Lukashenko joined Putin in urging Russia's allies to stand united, saying in televised remarks that "without a united front, the collective West will build up pressure on the post-Soviet space."
"You can see how unified they are and how disciplined they are within in the European Union, even those who do not agree with decisions that are being taken," Lukashenko said.
"This begs a question—why can't we act in the same manner? We have to seek guidance from this in this regard," he added." If we're alone, they will just crush us and shatter us to pieces."
Putin said that while a NATO membership wouldn't pose a direct threat to Finland or Sweden, "the enlargement and expansion of NATO infrastructure will be a threat."
"They seem to create problem out of nowhere," Putin said. "We'll respond to that in an appropriate manner."
The Russian president's comments echo those made by the country's foreign ministry last week.
"Russia will be forced to take retaliatory steps, both of a military-technical and other nature, in order to stop the threats to its national security that arise in this regard," the ministry said.
Finland's and Sweden's NATO membership is dependent on the approval from all 30 members of the alliance and their parliaments, and Turkey has already raised concerns, arguing that the two countries are "home to many terrorist organizations"—a position Finland's president has said he is "confused about," noting that Turkish President Tayyip Erdoğan had previously told him that he'd seen the bid as "favorable."
Newsweek reached out to NATO for comment.