Punishing Western-imposed sanctions coupled with an unexpectedly difficult invasion of Ukraine will sweep Vladimir Putin from power or force him to take drastic actions that could include nuclear weapons, a Russian businessman who fled the country said.
Alex Konanykhin, who was granted asylum in the U.S. in 2007 after being targeted by the Kremlin, told Newsweek that Putin's invasion of Ukraine has created an increasingly dire situation for both countries as the conflict enters its first week.
Konanykhin earlier this week made headlines when he posted to social media a $1 million bounty for any military officer who apprehends Putin for committing war crimes in his invasion of Ukraine. Speaking to Newsweek, Konanykhin said he was surprised by what he called the "overwhelming" reaction to the posts, which have since been taken down.
He also said he didn't expect his post to bring down Putin
"But realistically speaking, there are very few options," Konanykhin said. "They're practically non-existent to resolve the situation in Ukraine."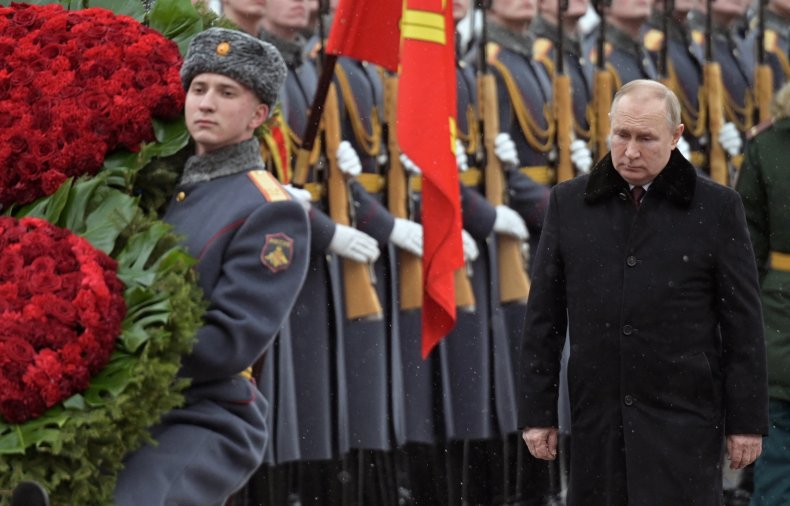 The Pentagon said Thursday that Russian forces have "stalled" in northern Ukraine after experiencing "problems with logistics and sustainment." Russian forces still haven't captured Ukraine's capital city Kyiv despite deploying nearly all of the 150,000 troops it amassed on the country's border.
But Konanykhin said backing down is not an option for Putin after Russian propaganda for years portrayed Ukraine as "weak, corrupt, disorganized" and its people eager for "liberators." Doing so could result in Putin's arrest or death, according to Konanykhin.
"Such humiliation, Putin would not survive politically," said Konanykhin.
The Russian leader may instead escalate the conflict and begin using tactical nuclear weapons, he said. While Putin has put his country's nuclear forces on high alert, the move hasn't alarmed Western powers.
President Joe Biden and U.S. allies responded to the invasion with aggressive sanctions that target the wealth of Russian companies and oligarchs.
"I say to the Russian oligarchs and corrupt leaders who have bilked billions of dollars off this violent regime: no more," Biden said during his State of the Union speech Tuesday.
The U.S. and Europe have moved forward with plans to seize yachts, luxury homes, private jets, bank accounts and other assets owned by Russian elites. Authorities in France and Germany have begun confiscating yachts, including one worth almost $600 million, from Russian oligarchs.
Konanykhin said he doesn't have business interests in Russia and is not in contact with oligarchs. But he said he thinks the oligarchs weren't prepared for these sanctions, calling previous attempts to punish Russian aggression "laughable" and "toothless." Notably, he pointed to Russian businessman Roman Abramovich's announcement to sell Chelsea FC, a large football club in the United Kingdom.
Putin has built his regime on "projecting fear and the readiness of other people to accept his authority," Konanykhin said. But he said the Russian perception of Putin is changing and he hoped the $1 million bounty would further shift how the leader is viewed.
"Putin was good for business," he said "Right now he is bad for business, and that makes a huge difference."
Currently Konanykhin, 55, said he's based in the San Francisco Bay Area. He is the CEO of TransparentBusiness, a digital work platform, and is a panelist on the reality television show Unicorn Hunters alongside Apple co-founder Steve Wozniak.
Konanykhin rose to prominence after the fall of Soviet Russia, starting more than 100 companies by the age of 25, according to a 1996 article in The Washington Post.
Although the demise of Russian Communism gave him a leg-up in business, he said he was driven out of the country's corrupt business environment.
He recalled the Soviet government, which he said once seemed "all powerful and prominent," collapsing suddenly with elite military units abruptly refusing orders.
"Putin may experience a similar loss of power as soon as the people start seeing him as ridiculous, illegitimate and subject to arrest," said Konanykhin.