Putin Is Using Ukrainians to Set Russia Up for Victory in Peace Talks
Russian President Vladimir Putin on Wednesday announced he was relaxing the requirements to acquire Russian citizenship and passports for residents of two Russian-occupied regions in Ukraine. Experts who spoke with Newsweek said the move may end up being a bargaining tool for Putin to claim Ukrainian territory during any potential peace negotiations.
Putin signed a decree regarding citizenship for people in the Kherson and Zaporizhzhia regions, which form a land connection between the eastern part of Ukraine and the Crimean Peninsula. Russian forces seized control of both regions soon after Putin launched his military campaign in late February.
Putin previously relaxed citizenship requirements in the Ukrainian regions of Donetsk and Luhansk, known collectively as Donbas, in 2019. Similar to the Donbas rules, the new decree will simplify the citizenship procedure and waives the usual requirements for foreigners applying, such as living in Russia for five years, having proof of income and passing a Russian language exam.
"Dispensing Russian citizenship could be a potential part of eventual negotiations; it complicates things on the Ukrainian side," Michael Kimmage, a history professor at Catholic University and former member of the secretary's policy planning staff at the State Department, told Newsweek in an email.
He continued, "Russian citizenship, for those who take it, will make its holders into collaborators, in Ukrainian eyes, and could therefore build an incentive on the ground for Ukraine NOT to take back this territory militarily."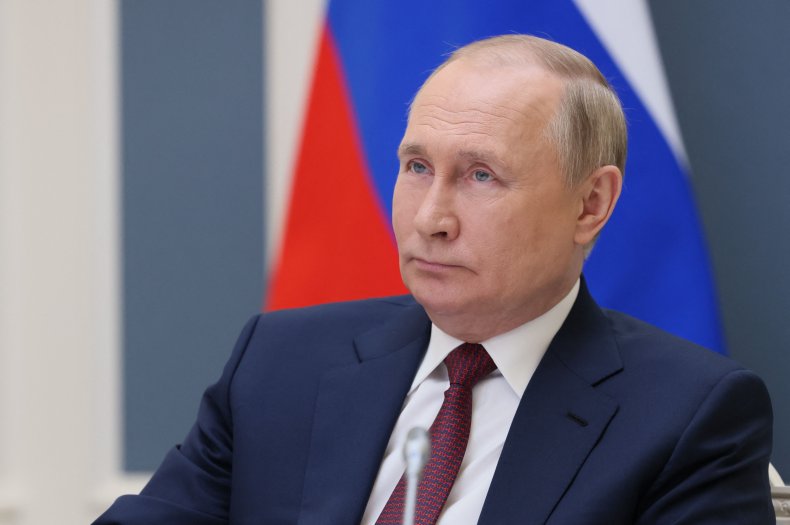 Kimmage further explained the decree could also solve logistical issues in the territories for Putin should his forces continue holding control there, such as what currency would be used and how the regions would be governed.
"Putin and his closest advisers do not believe the Ukrainian state is real; they believe they are reclaiming Russian land," Kimmage said. "Granting Russian citizenship to its residents follows from this premise."
Plus, giving citizenship to residents in these regions is a propaganda tool to help continue swaying the minds of the public within Russia about the war, Kimmage said. It allows the Russian president, according to Kimmage, to prove he is "liberating" Ukrainians.
Northwestern University political science professor William Reno agreed that Putin could have made the decree in order to eventually claim parts of Ukraine, but he added that Putin may have done it simply to take away Ukraine's hold on the territories.
"One purpose can be to support Russian claims that lead to formal annexation of territory [that most other countries won't recognize]," Reno wrote to Newsweek.
Reno also felt Putin could be repeating a formula he used in South Ossetia and Abkhazia (Russian-occupied provinces in Georgia), where passports were also given out.
"The presence of nominally Russian citizens in these territories helps keep these conflicts 'frozen' because Georgia's government doesn't want to give Russia's government a pretext for aggression against them in the event Russian citizens are displaced or harmed as a result of Georgian action," Reno said, suggesting Putin may want to "freeze" Ukraine out of continuing to claim Kherson and Zaporizhzhia as its own.
Lawrence C. Reardon, an associate professor of political science at the University of New Hampshire, told Newsweek the new citizenship rule for the occupied regions plays into what he said could be Putin's ultimate goal: Absorbing southeastern Ukraine from the Black Sea to east of the Dnieper River into Russia.
"They hope to incorporate these newly acquired territories into the New Russia, and its people, willingly or not, would become Russian citizens, adhere to the new Russian appointed government, and adopt the Russian ruble," Reardon said.
However, he added, "Should Putin's forces succeed, the question is whether this will be a hollow victory."
Newsweek reached out to the Russian Foreign Ministry for comment.