President Vladimir Putin spoke of how Russians are "invincible" when they stand together as he marked the 75th anniversary of the end of World War Two in a commemoration that was significantly scaled back due to the coronavirus.
Each year the showcase displays the country's military hardware and attended by thousands of troops marching through Red Square. But this year's Victory Day fanfare was much more muted, with Putin a solitary figure by the eternal flame outside the walls of the Kremlin, where he laid flowers.
During his televised speech, Putin told citizens how veterans had "saved the Fatherland, the life of future generations, liberated Europe, defended the world, restored cities and villages, made great achievements.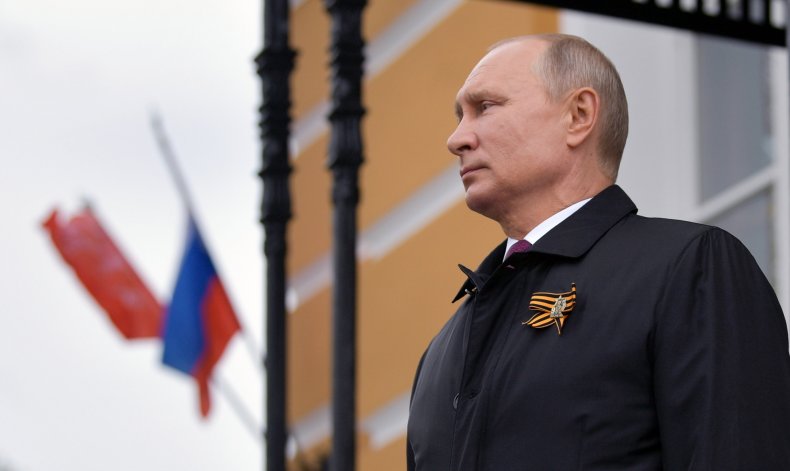 "The spiritual and moral significance of Victory Day remains invariably great, and our attitude towards it remains sacred," he said, according to a transcript of his speech on the Kremlin's website.
"Our veterans fought for life, against death. And we will always be equal to their unity and endurance. We know and firmly believe that we are invincible when we stand together," he added.
At the end of the ceremony, a guard of honor marched past the memorial and Putin also laid flowers at the obelisks of hero cities. Putin then watched an air parade in honor of the 75th anniversary of the end of what is known in Russia as "the Great Patriotic War."
No mention was made in his speech of the coronavirus which has delayed plans for a grand military parade.
Russia is now the fifth-worst hit country from the virus which has infected 198,676 people as of Saturday, with cases rising more than 10,000 a day since last Sunday.
Sergei Sobyanin, the mayor of Moscow, which is at the epicenter of the pandemic in the country, has increased lockdown measures until the end of May, although some easing of restrictions will happen on May 12.
He said that at least 300,000 people had been infected in the capital, but along with health officials, attributes the high figure to mass testing and detecting asymptomatic cases not always counted in other countries.
However, Putin faces scrutiny over how he is handling the pandemic, and over the last two weeks, has seen his popularity slump in two separate polls. In the latest survey, by the independent Levada Center, his approval rating slumped to 59 percent, his lowest since he took office in 2000.
Kremlin spokesman dismissed the results, telling reporters: "There are other surveys that paint a different picture."