Russia Says Not Ready for Putin-Zelensky Talks Despite Negotiator's Claim
Russia's chief negotiator Vladimir Medinsky said Sunday that there hasn't been enough progress in peace talks that would lead to a meeting with Ukraine due to disputes about territories.
"The draft agreement is not ready for submission to a meeting at the top," Medinsky said on Telegram. "I repeat again and again: Russia's position on Crimea and Donbas remains UNCHANGED."
The chief negotiator noted that Ukraine began to approach peace talks in a realistic way as the Eastern European country agreed that it would remain neutral, won't hold nuclear weapons, reject hosting military bases, and won't join a military bloc, Reuters reported.
However, there was no progress in talks about Crimea, which Russia annexed from Ukraine in 2014, and Donbas, according to Medinsky.
His statement comes after Ukrainian negotiator David Arakhamia told a local TV station on Saturday that Russian President Vladimir Putin and Ukrainian President Volodymyr Zelensky could meet soon with draft peace agreement documents, according to Interfax-Ukraine News Agency.
Arakhamia said that the meeting between Zelensky and Putin is likely to happen in Turkey where Turkish President Recep Tayyip Erdoğan "called both us and Vladimir Putin yesterday, and he seemed to confirm for his part that they were ready to organize a meeting in the near future."
"Neither the date nor the place is known, but we believe that the place with a high degree of probability will be Istanbul or Ankara," the Ukrainian negotiator said.
However, Medinsky expressed on Sunday that he doesn't share Arakhamia's sentiment.
"Unfortunately, I don't share Arakhamia's optimism," he said, according to Reuters. "Moreover, Ukrainian diplomatic and military experts lag far behind on confirming even those agreements which were already reached at the political level on the draft text."
Still, Medinsky said that more talks would resume through video conference on Monday.
On Saturday, Russian troops withdrew from the area around Kyiv, according to Ukraine's Deputy Defense Minister Hanna Malyar, who said the region is now free from Russian forces.
"Irpin, Bucha, Hostomel and the whole Kyiv region were liberated from the invader!" Malyar said in a post on Facebook.
Russian troops retreated after they faced fierce opposition from Ukrainian forces, who fought to keep the capital. However, after several weeks of fighting and failing to gain control of the city, Russia announced last week that its military would focus on the Donbas region instead.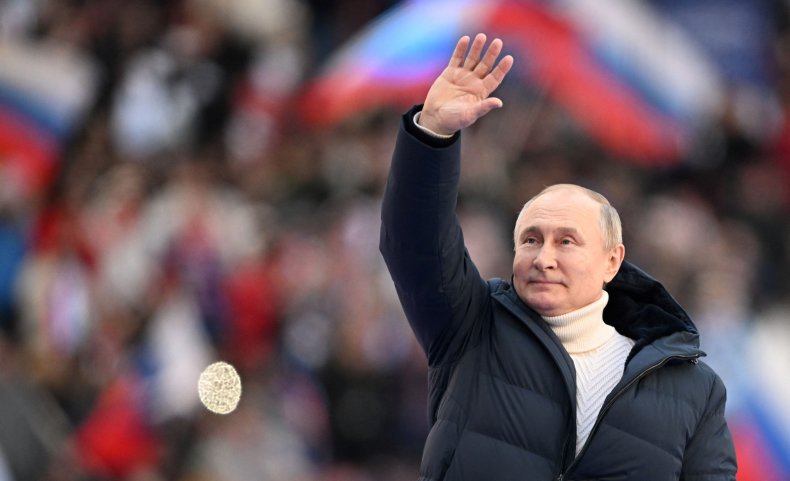 "The initial Russian operation was a failure and one of its central goals—the capture of Kyiv—proved unobtainable for Russian forces," Michael Kofman, director of Russian studies at CNA, a research institute in Arlington, Virginia, told the New York Times on Saturday.
Newsweek contacted the Russian and Ukrainian foreign affairs ministries for comments.