Putin-Zelensky Meeting in Turkey Now Likely, Says Ukrainian Official
Ukrainian President Volodymyr Zelensky and his Russian counterpart Vladimir Putin will likely meet for face-to-face peace talks soon in Turkey, a Ukrainian official involved in the wartime negotiations said Saturday.
Ukrainian negotiator David Arakhamia told a local TV station that the two leaders could soon meet as draft peace-treaty documents reach an advanced stage, reported the Interfax-Ukraine News Agency.
Arakhamia said that Turkish President Recep Tayyip Erdoğan "called both us and Vladimir Putin yesterday, and he seemed to confirm for his part that they were ready to organize a meeting in the near future."
"Neither the date nor the place is known, but we believe that the place with a high degree of probability will be Istanbul or Ankara," he continued.
The announcement came on the same day that Russian forces largely retreated from the area around Kyiv. Ukraine's Deputy Defense Minister Hanna Malyar said Saturday that the entire region is now free from the Russian military, stating on Facebook: "Irpin, Bucha, Hostomel and the whole Kyiv region were liberated from the invader!"
The withdrawal came after Russian troops were met with fierce opposition from Ukrainian forces determined to keep hold of the capital. After several weeks of failed attempts to seize the city, Moscow announced last week that its troops would instead redirect their efforts toward Ukraine's eastern Donbas region.
"The initial Russian operation was a failure and one of its central goals—the capture of Kyiv—proved unobtainable for Russian forces," Michael Kofman, director of Russian studies at C.N.A., a research institute in Arlington, Virginia, told the New York Times on Saturday.
Still, the withdrawal on Saturday highlighted the grim remnants of six weeks of fighting across the city and its nearby villages. Photographs and media reports from the region showed the remains of destroyed military tanks and buildings, abandoned military positions, and the strewn bodies of both soldiers and civilians. There have also been reports that Russian soldiers sacked and looted homes on their way out, stealing valuable electronics and other items to either mail home or sell.
Meanwhile, tens of thousands of Ukrainians in the city of Mariupol remain trapped with little access to food or water as fighting continues in the southeast. Moscow's main military targets will likely now focus on Mariupol and gaining further control of the Russian-backed breakaway regions Donetsk and Luhansk, experts recently told Newsweek.
"The Russians badly need at least some achievements," said Andriy Zagorodnyuk, Ukraine's former defense minister. Andriy Ryzhenko, a retired naval captain and former deputy chief of staff in Ukraine's navy, added that troops that left Kyiv "will now regroup and move forces to Donbas."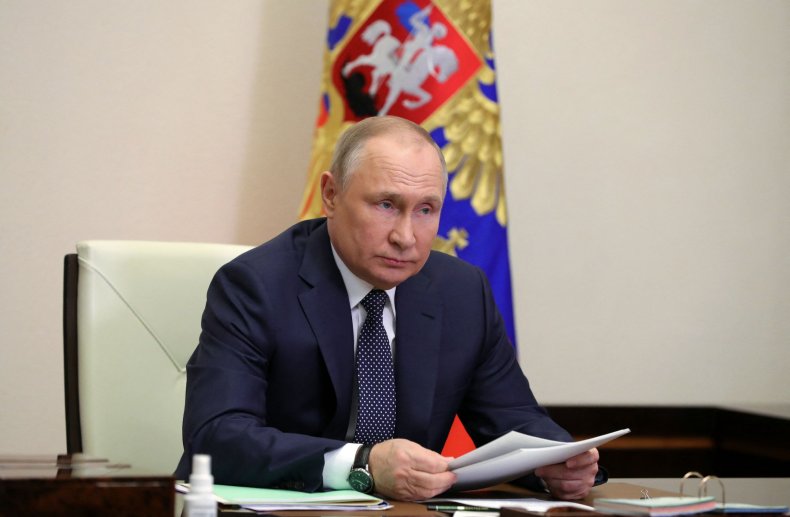 Negotiations between delegates from both nations continued in Istanbul, Turkey, this week. Putin and Zelensky have yet to speak in person, and their potential meeting could provide significant progress toward ending the war.
Since Russia's invasion began at the end of February, the United Nations has reported that more than 1,200 Ukrainian civilians have died in the war, while roughly 10 percent of the population has been forced to flee the country. Tens of thousands of soldiers have also been killed, and in some places Ukrainian cities and villages have been decimated.
Newsweek contacted the foreign ministries of both Ukraine and Russia for additional comment, but did not hear back in time for publication.