Is Putin's Chechen Ally Kadyrov Really Nearing The Exit Door?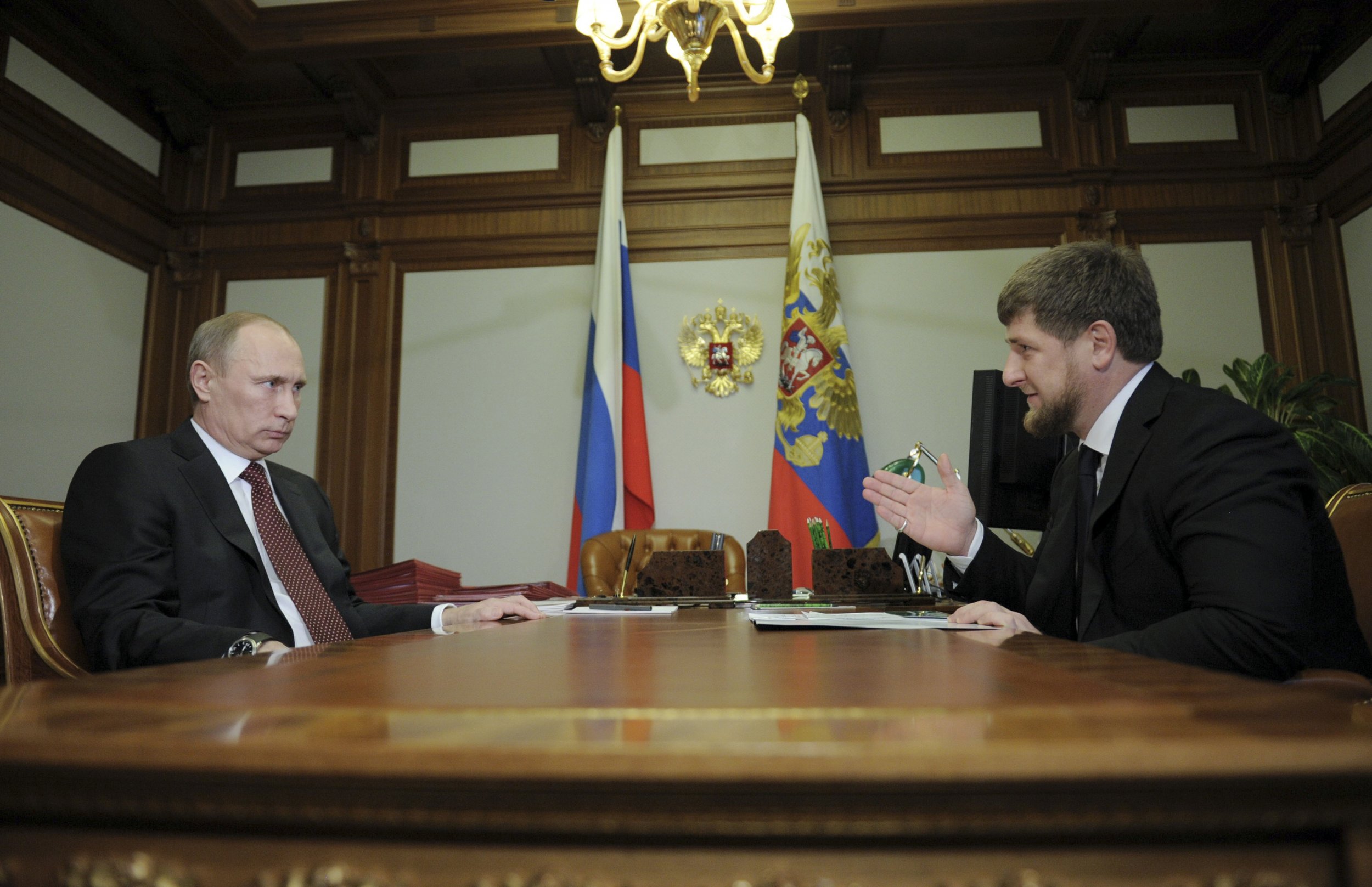 Chechen President Ramzan Kadyrov's announcement that he will not run for re-election has sent shockwaves through the Russian media. Since his rise to the presidency in 2007, Kadyrov's intense allegiance to Russian President Vladimir Putin has brought stability to a historically fraught region within Russia. Perhaps only the Russian president himself is viewed as a more permanent fixture in Russian politics, and Kadyrov would be assured another term if he ran. His decision not to run, then, reads more or less like a resignation—or at least the threat of one. Kadyrov insists that he will not seek another term unless Putin explicitly asks him to. Though it may look like a straightforward bid for Putin's support, the Chechen leader's announcement is a sign of a much deeper struggle among Russia's elite.
Kadyrov found his way into power through his father's legacy after Akhmad Kadyrov was assassinated in 2004. The Kadyrov family was part of the nationalist militant movements of the First Chechen War, eventually flipping under the pro-Russian umbrella during the Second Chechen War to take out the more radical Islamist militants. The Kremlin rewarded the Kadyrovs by supporting their rule, and in return, the younger Kadyrov has zealously devoted loyalty to Putin—even calling himself "Putin's foot soldier", willing to die for the Russian leader.
But Kadyrov has increased his controversial moves in recent years, including rallying 20,000 Chechen troops to support himself and Putin in early 2015, creating videos of assassinating opposition figures, and demanding any opposition member in the country be deemed a traitor. He has also been accused of inciting divisions among the Kremlin elite.
In the process, Kadyrov has made an enemy of Russia's notorious security and intelligence service, the FSB, which has been calling on the Kremlin to remove or sideline the outspoken leader for years. After the death of prominent opposition leader Boris Nemtsov last year, the FSB arrested a ring of Chechens connected with Kadyrov, putting the Chechen leader under even more intense scrutiny. If Putin publicly asked Kadyrov to run for re-election, it would give the Chechen leader a firm mandate to continue ruling.
But if Kadyrov was looking for a ringing endorsement from Russia's president, the Kremlin has been oddly silent in the days since his announcement. Putin's spokesman Dmitry Peskov made some guarded comments on the issue last week, something to the effect that President Putin is still deliberating on his response. Given that Moscow has been so slow to step in, it could be that Putin himself is behind the Chechen leader's resignation – giving way to the FSB's pressure.
That would explain why the public backlash within Chechnya has been so muted. Kadyrov could easily stir up some mass demonstrations calling on him to run for re-election. But only a handful of small protests have broken out, and planned mass rallies have been postponed twice. If the Kremlin is behind Kadyrov's announcement, it may well be that Kadyrov is under pressure from Moscow to make his exit from power as quiet as possible.
In the murky world of Kremlin politics, divining the intents and goals of the two conflicting theories is more an art than a science. More pieces will soon come to light in the coming weeks to whether Kadyrov's threat of resignation is coming from Kadyrov himself or from the powerful Russian security services. But either way, the development hints at a startling new reality in Russia: the isolation of Vladimir Putin. The officials that he put in place over the past sixteen years historically followed him on his own merits, not just out of respect for his office. Now they are more interested in pushing their own agendas than assuring Putin of their personal loyalty.
Putin is still wildly popular among the Russian people, and he is basically assured a fourth term—should he want it. But something has changed. Before, the Russian president could easily crush any demands from politicians and officials that distracted from or undermined Putin's own agenda. Now Kadyrov's threatened resignation is proof that someone—whether the Chechen president or Russian elites connected with the FSB—is trying to force the president's hand. And if the president is now more beholden to his supporters' demands, he may have to wield his power with just a hint more caution or lose support from within his own Kremlin.
Lauren Goodrich is Senior Eurasia Analyst at the private intelligence firm Stratfor.