Russian generals are being killed due to a weak chain of command during their invasion of Ukraine, Lt. Gen. Scott Berrier, the director of the Defense Intelligence Agency, said at a hearing Tuesday.
Berrier told Senator Tom Cotton between eight and 10 Russian generals have been killed since fighting began in late February. The head of the DIA said earlier in the hearing that he believed Russia's lack of NCOs, or noncommissioned officers, was leading to a breakdown that forced higher-ranking military leaders to the front lines.
NCOs, commonly used in the United States military, are essentially career sergeants who serve as leaders within the corps. They play a significant role in bringing their earned experience and knowledge to newer troops.
But Russia has not invested in a strong NCO corps, which Berrier said may have contributed to the deaths of Russian generals.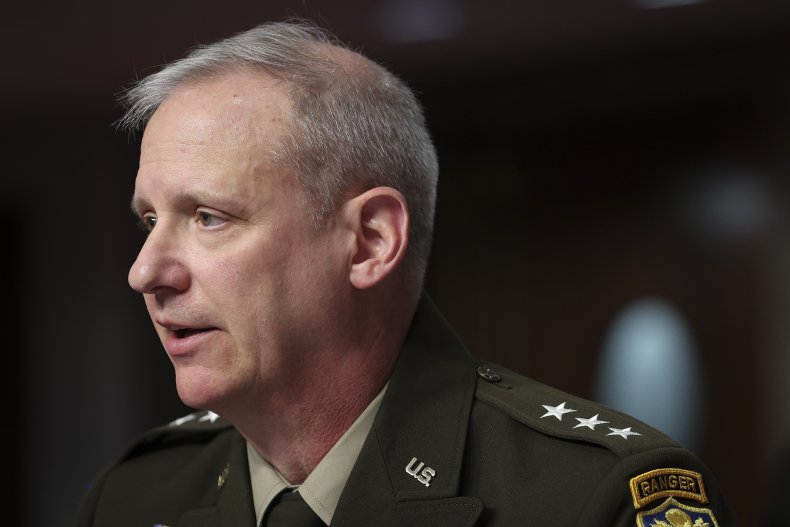 Cotton asked if the lack of NCO corps "suggests these generals are having to go forward to ensure their orders are executed in a way that General Berrier never would have to go forward if he was in a combat command because he could count on the captains and lieutenants and the sergeant Berriers to execute his orders."
Berrier agreed with a simple "yes."
Earlier in the hearing, Berrier pointed to Russia's lack of a trained NCO corps as a factor that has stood out to him during the fighting he currently assesses as a "stalemate" between highly motivated Ukrainian forces and the much larger Russian military machine.
"What has been the most interesting evolution for me in watching how the Russian forces have misstepped is really the lack of a noncommission officer corps," he said. "When I think about small unit tactics and how this has unfolded between Ukraine and Russia, I think the NCO corps is a big piece of this. And I think the Ukrainians have that about right."
Newsweek previously compiled a list of Russian generals who had died by mid-April. They include Gen. Magomed Tushaev, Maj. Gen. Andrey Sukhovetsky, Maj. Gen. Vitaly Gerasimov, Maj. Gen. Andrei Kolesnikov, Maj. Gen. Oleg Mityaev, Lt. Gen. Andrei Mordvichev, and Lt. Gen. Yakov Rezantsev.
Berrier is not the only prominent military figure to remark on Russia's loss of generals.
James Stavridis, former NATO supreme allied commander for Europe, said in early May that "there is no situation comparable in terms of the deaths of generals," which shows the "amazing incompetence" of the Russian military.
In all, Russia has largely failed to complete the swift takeover of Ukraine the Kremlin initially hoped for due to unexpected resistance from the Ukrainian people. In the more than two months of fighting, the Russian military has faced many setbacks, including what British intelligence has described as "unsustainable" losses.
Newsweek reached out to the Russian foreign ministry for comment.