Putin's 'Hellish' Ukraine War Looks Like Prolonging 'Agony': Igor Girkin
Igor Girkin, a former Russian military leader, said Sunday that Russia's war in Ukraine, from the outside, looks like a "prolongation" of "agony."
"Eight years have passed, eight years of war, death, tears, deceived expectations and hopes of ordinary people, but the stubborn Donbas have achieved their goal—they are now officially Russia again," Girkin wrote on Telegram, according to a translation of his comments.
Girkin is a former commander of pro-Russian separatists in Ukraine, who formed separatist regions in the Donbas region after Russian forces invaded the country in 2014.
"And they still want to win, although, probably, to an intelligent person from the outside it is obvious that this is a 'prolongation of the agony.' After a hellish 'mobilization' without armor, with iron helmets and 'mosquitoes', with frostbitten legs, after a huge number of combat episodes," Girkin added.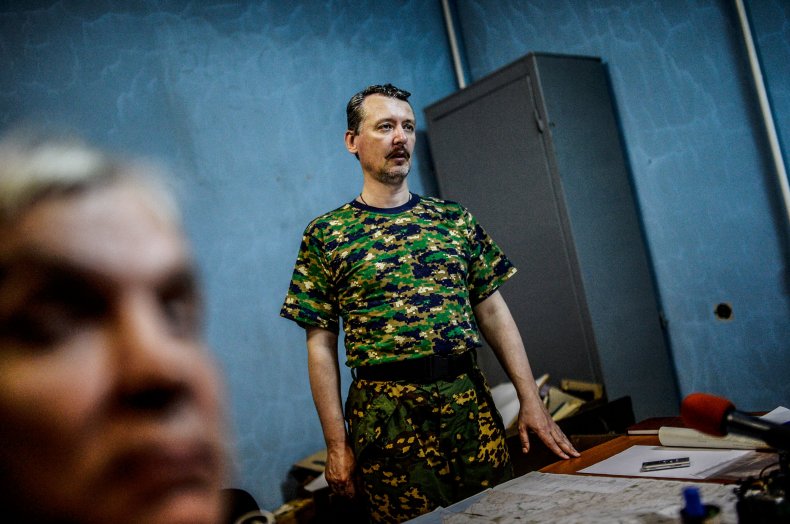 "We don't want to 'prolong the agony.' We want to win. We think what needs to be done for this, and we are doing it. Everyone in their place. Calmly, without nerves and unnecessary emotions," Girkin said.
The former Russian military leader's comments come after Russia suffered a major defeat on Saturday after Russian forces withdrew from Lyman, a city in Ukraine's Donetsk region, which had been occupied since May. The Russian Defense Ministry confirmed troops "retreated to more advantageous lines."
The withdrawal came just days after Russian President Vladimir Putin declared he was illegally annexing the area—along with the Luhansk, Zaporizhzhia and Kherson regions—after referendum votes to join Russia had been held there last week.
When reached for comment, the U.S. State Department referred Newsweek to the words of Secretary Antony Blinken, who, as the final results neared, dismissed them as "sham referenda and annexations," and said President Joe Biden's administration "will impose additional severe and swift costs on Russia" for proceeding with them.
United Kingdom defense officials said Sunday in an intelligence briefing that the loss of Lyman "represents a significant political setback given that it is located within Donetsk Oblast, a region Russia supposedly aimed to 'liberate' and has attempted to illegally annex."
After the loss, Chechen leader Ramzan Kadyrov, a proponent of the war in Ukraine, said that "more drastic measures should be taken" suggesting the declaration of martial law, or the use of nuclear weapons in Ukraine.
Earlier this month, Girkin said he believed that the Ukrainians had "already won" the war against Russia, as they made inroads around Kharkiv and forced Russians to retreat from cities including Izium and Kupyansk.
"Now, in fact, our side can only talk about how to stop its further deepening and prevent the escalation of an operational defeat into a strategic one," Girkin wrote. "Although, in general, it has already outgrown. "Battle for the initiative" the enemy has already won. Now we should talk about preventing the Armed Forces of Ukraine from encircling and destroying large formations of our troops."
Newsweek has reached out to the Russian and Ukrainian ministries of defense for comment.