As Vladimir Putin's brutal assault on Ukraine presses forward, the devastating impacts of war are rattling the most vulnerable corners of the world, driving millions toward starvation.
In Ukraine, tens of thousands remain trapped without access to food and water. Beyond its borders, millions more are teetering on the edge of famine.
"We are on a countdown to catastrophe," David Beasley, executive director of the U.N. World Food Programme said, "and we are running out of time to avoid it."
Ukraine has long been known as 'the breadbasket of Europe,' and is one of the top three grain producers in the world, according to Farming Life. Russia and Ukraine together account for nearly one third of the world's traded wheat and 12% of its calories, National Geographic reported, with some 26 countries relying heavily on both nations for food security.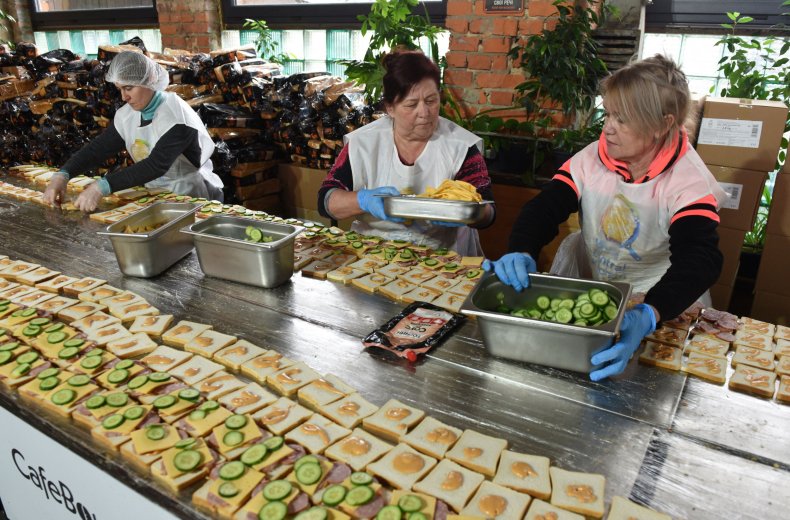 But as Russia's attack on its neighbor has all but shut down grain exports from the region, both vital supply chains have been shattered. Without them, food prices and shortages are spiraling, and the world is left to face its greatest food crisis since the last great war.
Beasley said the war in Ukraine has created "a catastrophe on top of a catastrophe," and will have a global impact "beyond anything we've seen since World War II," according to Time,
The ripple effects of this war will devastate already vulnerable countries like Afghanistan, Foreign Policy reported, where millions of people don't have enough food and babies are dying of malnutrition.
"With each month that goes by, more Afghans are forced to resort to the unimaginable to survive," Amanda Catanzano, the International Rescue Committee's acting vice president of policy and advocacy, said, according to USA Today.
"Parents are being forced to make decisions no one should have to consider," she added, "including selling off young daughters, so they can buy food for the rest of their children."
In the Middle East, millions of people whose lives have already been turned upside down by violence, displacement and poverty, AP reported, are left wondering where their next meal will come from.
"We can't forget that these multiple hunger crises are going on at the same time," Danielle Nierenberg, president of Food Tank, told Newsweek. "One is not more important."
"Right now," she added, "the long-term consequences are what I'm most afraid for."
Experts fear that critical humanitarian aid may be diverted from the Middle East and North Africa in an effort to support the equally dire crisis in Ukraine, the consequences of which could be deadly.
"For the millions of Palestinians, Lebanese, Yemenis, Syrians, and others who live in countries experiencing conflict, catastrophic economic meltdowns, and increasing humanitarian needs," Carnegie Middle East experts said, "this would be equivalent to shutting down critical life support."
Joyce Msuya, Assistant Secretary-General for Humanitarian Affairs and Deputy Emergency Relief Coordinator, told the U.N. Security Council that the global impacts of this war are becoming clearer every day.
"Civilians are running out of food, energy and hope," she added.
Beasley warned the Security Council that the war in Ukraine has turned the country "from a breadbasket to a bread line" for millions of its people, while devastating countries that rely on the region for food security.
His agency was feeding 125 million people around the world before Vladimir Putin's invasion of Ukraine, Time reported. Due to rising food, fuel and shipping costs increasing the agency's monthly expenses by $71 million, it has had to start cutting those rations.
In war-torn Yemen, eight million people just had their food allotment cut by 50%, Beasely said, according to Time, "and now we're looking at going to zero rations."
In Yemen, 31,000 people are currently facing famine-like conditions, according to data from the WFP, and 161,000 people are expected to be at risk come June.
Because of the ongoing assault against Ukraine, Time reported, the WFP will have to abandon services to four million people in other parts of the world.
On February 24, Ukrainians awoke to the sound of bombs exploding as Russia officially declared war against their homeland. In the weeks that have followed, death and devastation have littered the streets of of their homeland — and their farmland.
The country has largely lost access to heat and electricity and is facing severe shortages of food, water and essential medicine. People are sheltering in basements, the Guardian reported, trying to survive without food and drinking melted snow because the water has been cut off.
As a result, millions are making the painful decision to flee their country. But the journey across the border is no less harrowing, and many Ukrainian families are traveling for days without food.
Amid the terror, strangers are increasingly showing up to support Ukrainians — and humanity.
Within hours of the initial invasion, World Central Kitchen (WCK), a not-for-profit non-governmental organization dedicated to providing meals in the midst of disaster, partnered with Ukrainian restaurants, chefs and volunteers from around the world and began serving warm, nourishing meals to Ukrainian refugees.
"Feeding people is what makes sense," Jose Andres, founder of WCK, told NPR. "Longer tables, people working together to make sure that one plate of food at a time we can bring hope of a better tomorrow."
Without hesitation, WCK made a promise to continue helping in the best way it knows, 'with a freshly prepared plate of food,' for as long as needed.
"I'm still here," Marc Murphy, executive chef and restaurateur who is working with WCK in Poland, told Newsweek. "I've been here almost three weeks now, and I'm not sure when I'm going back."
The organization has served five million meals across seven countries as part of the Chefs for Ukraine response, Chloe Mata Crane, executive vice president of Baltz & Co, told Newsweek, and is currently serving over 250 thousand meals per day.
When the war broke out, Murphy knew he couldn't sit on the sidelines as people suffered.
"Eating a meal is a human right," he said. "I have the skills to cook. I've run large kitchens, I've done a lot of this stuff. So I thought, 'maybe I can lend a helping hand.'"
For Andres, food is about far more than just nutrition.
"Food relief is not just a meal that keeps hunger away," Andres said. "It's a plate of hope. It tells you in your darkest hour that someone, somewhere, cares about you."
On one visit to the border with warm stew and hot chocolate, Murphy met three young girls waiting for a ride from a friend of their parents.
"The mom drove them to the border, they walked across and they were waiting," Murphy said. "Having some stew and waiting. They didn't even know where they were going."
"It's hard to imagine," Murphy added. "But that's one story. And you know there's thousands a day of those stories. That's the sad part."
But the aid givers realize they face a daunting task.
"If we end the conflict, address the needs, we can avoid famine, destabilization of nations and mass migration," Beasley said. "But if we don't, the world will pay a mighty price."
"And the last thing [we] want to do," he added, "is take food from hungry children to give to starving children."