The eyes of the world are on Helsinki today, for the historic meeting between U.S. President Donald Trump and Russian President Vladimir Putin.
Both men place great importance on appearance, and are trying hard to present themselves as powerful and confident leaders. This goes right down to the cars they are traveling in.
The U.S. has set the bar for luxury armored limos in recent years. Nicknamed "The Beast" under President George W. Bush, the mammoth presidential vehicle has ferried American presidents all over the world.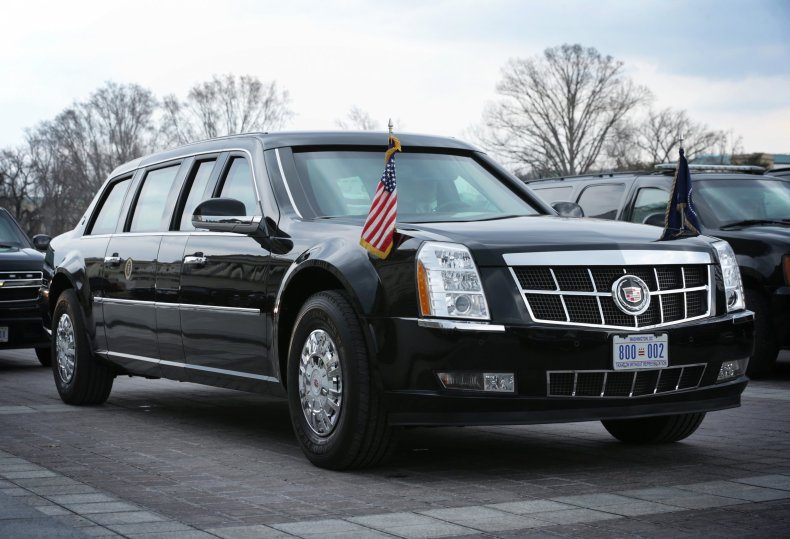 Not to be outdone, Putin has introduced his own version. First unveiled at his inauguration in May, the Aurus Senat Kortezh is the first of its kind in post-Soviet Russia. A fleet of limos has been built costing around $192 million. Each vehicle is covered in armor plating and weighs around 6 tons. Powered by a 6.6-liter V12 engine, the car has 860 horsepower. Each limo is just over 22 feet long and 5.5 feet high. The all-wheel-drive car was built by the Central Research and Development Automobile Institute (NAMI).
After he touched down in Helsinki Monday, Putin clambered into his tank-like limo to be ferried to Finland's presidential palace; the first time the vehicle has been used outside of Russia. The president's limo has various security measures built in, but exactly what is a close secret.
But unlike the U.S. Beast, the Kortezh has been built with one eye on the export market. The Kremlin hopes to recoup some of its investment through international sales. In May, the Ministry of Trade said it expected a total of 70 vehicles to be produced this year. How many will be kept for presidential use is not clear.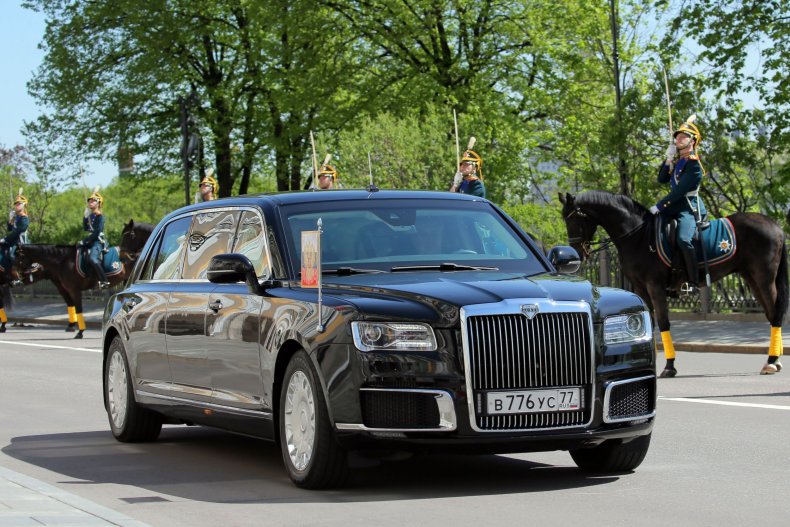 The civilian version of the car is a collaboration between NAMI and Russian manufacturer Sollers, which hopes to build another 200 vehicles in 2018 and 300 in 2019. The price tag for potential buyers could stretch to as high as $160,000 per limo.
Putin's limo might be longer than those of his American rivals, but the Beast wins in almost every other category.
The presidential limo is built to project American power wherever it goes. A cross between a luxury limo, a tank and a mobile command and control center, each 18-foot model costs more than $1 million to make. There are 12 in the presidential fleet, each weighing almost 9 tons with 8 inch-thick steel doors—weighing the same as the doors on a Boeing 757 passenger jet.
Each vehicle has a range of offensive and defensive abilities in case of attack, including tear gas launchers, armor-plated fuel tank, steel-rimmed tires and pump-action shotguns stored inside. The car is airtight with its own onboard environmental system to protect against chemical attacks. Just in case anything did get through, the car has medical equipment and bags of blood—suitable for each president's blood type—on board for emergency treatment.
The doors of the Beast do not have keyholes, and only the Secret Service agents riding along know how they open. The only window that works is in the driver's side door, used in case the agent needs to pay a toll. A new version of the Beast is expected to be introduced this year.
Both Putin and Trump have far more elaborate travel arrangements than their host, Finland's Prime Minister Juha Sipilä. The prime minister uses an armored Mercedes-Benz S600 Guard.