QAnon Followers Intercept Migrant Kids at Border Amid Trafficking Worries
A group of QAnon followers are setting up camps at the U.S. Southern border to intercept migrant children in an effort to protect them from alleged sex-trafficking threats, according to a new report.
Jason Frank, a known supporter of the conspiracy movement, and a team of armed border vigilantes have been camping out near Sasabe, Arizona, with the goal of protecting thousands of unaccompanied minors from being coerced into sex crimes, The New York Times reported Monday.
"They are being trafficked, sex trafficked. That's the No. 1 trade," Frank, 44, said in a statement to the newspaper. "The money, that's where it's at now."
Frank, who's Facebook page shows a photo that states "Stay in the Fight...Saving Kids at the Border," often shares his activities live on social media. In recent weeks, he and a small group of supporters have set up an RV near border crossing areas, where they convince unaccompanied children to join them at their camp, according to the Times report.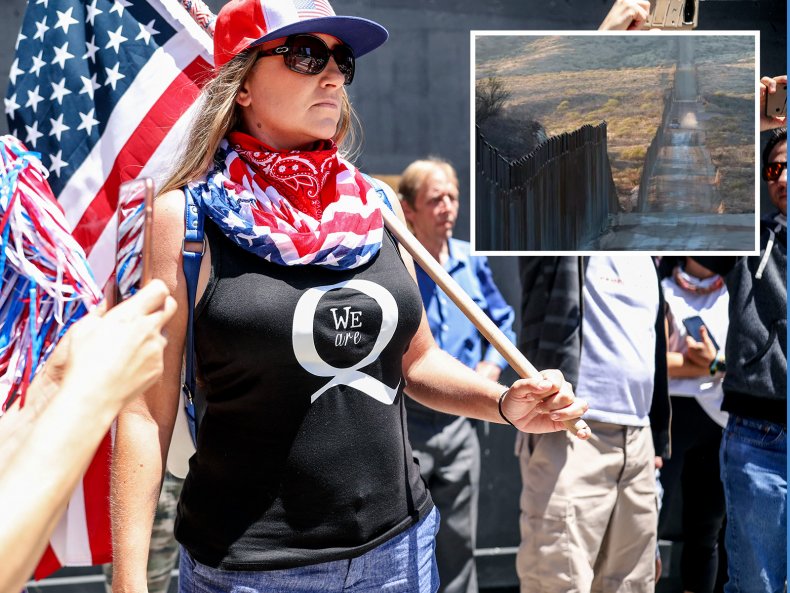 There, Frank will feed the migrants hamburgers, pass around "Let's Go Brandon" T-shirts that depict images of President Joe Biden, and say a group prayer, the newspaper noted. Frank's team will then ask the children to give them the addresses and phone numbers of relatives they may be seeking to contact in the U.S. in order to conduct their own "screening process" to make sure that the children are being put into good hands. Frank told the Times that his group then calls the U.S. Border Patrol to take the kids to federally-run shelters.
Critics have called Frank's process alarming, and have noted that his efforts are undermining the safety of the government's already rigorous screening program. Mia Bloom, an expert on extremist radicalization, told the Times that she believes he's using the migrant children as a "prop to spread their message" about QAnon and immigration politics.
"We believe the conduct of this group is illegal and extremely dangerous," Margo Cowan, a public defender in Pima County, which includes Sasabe, and a longtime immigration activist, told the Times.
Others have noted that the group's claim that migrant children are subject to sex-trafficking en mass is overblown. That conspiracy falls in line with a core belief of the QAnon movement, which states that an elite class of pedophiles run by prominent Democrats, is trafficking innocent children.
"We haven't heard about migrant children brought in to be sex workers or slaves," Stacey Sutherland, an official with the Arizona Anti-Trafficking Network, told the Times. "At the border, it's overwhelmingly people who paid to be smuggled."
In turn, Frank has criticized the government's screening program, saying that it's "very wide open with a lot of loopholes," according to the Times. "That's why we are out here creating a solution, being a part of it," he said.
It's unclear whether or not Frank's group has broken any laws. Newsweek contacted U.S. Customs and Border Patrol (CBP) for additional comment.
The group's actions come at a time when the U.S. has seen an uptick in unaccompanied minors arriving at the U.S.-Mexico border. According to a CBP report released in mid-April, encounters of unaccompanied minors increased by 18 percent from the month before. Unaccompanied minors have also been exempt from being expelled at the border under Title 42, a controversial policy that has limited asylum for adults at the border throughout the COVID-19 pandemic.