QAnon Influencers Cheer Elon Musk's Twitter Buyout: 'Unfinished Business'
QAnon influencers have celebrated Elon Musk's $44 billion deal to buy Twitter and hope the entrepreneur will soon facilitate their return to the platform by revoking their permanent bans.
Accounts connected with the conspiracy theory erupted with glee after reports emerged that the Twitter board had agreed to Musk's takeover offer on Monday.
Musk's buyout was celebrated by conservative figures who believe the billionaire will reinstate banned accounts and will counter a perceived liberal bias on the platform.
This anticipation that banned accounts would be restored was shared among QAnon influencers who migrated to other platforms, such as Telegram, after Twitter, Facebook and others permanently banned members following the storming of the Capitol in Washington D.C. last year.
Musk, the world's richest man according to Forbes, said in a tweet following the deal: "Free speech is the bedrock of a functioning democracy and Twitter is the digital town square where matters vital to the future of humanity are debated."
Republican congressional candidate Ron Watkins of Arizona, who has been accused of at one time being behind the infamous 'Q' account that spread the online conspiracy, was elated that Musk's offer had been accepted.
"As stated weeks ago," he said in a Telegram message on April 25. "The Twitter deal is done. Banned accounts will be restored."
QAnon influencer Jordan Sather told his 86,250 Telegram subscribers: "Only a matter of time before Elon flips the switch and we get our old accounts back."
Truth Hammer, who has 63,480 Telegram subscribers said: "The left can't stop us from returning to Twitter, so they will virtue signal, rage quit, and see if they can get millions of their followers to leave as well?"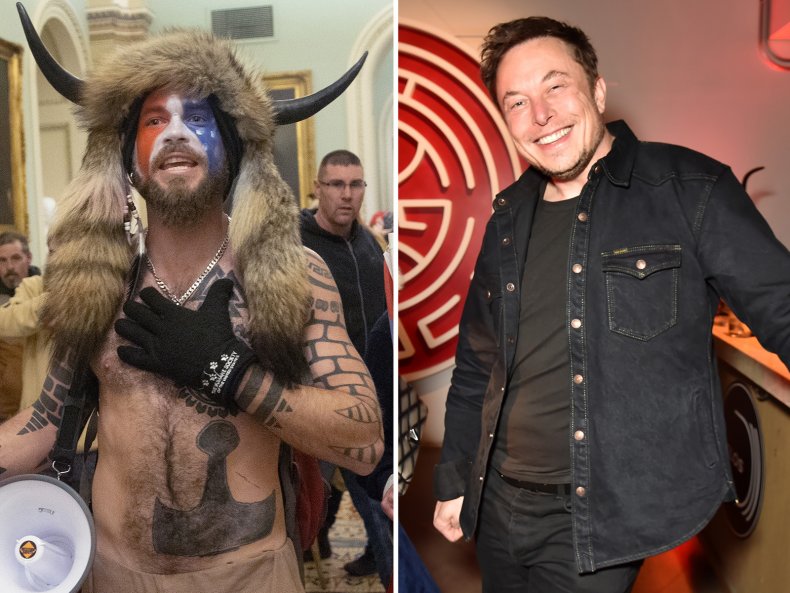 Many QAnon influencers also hope former President Donald Trump will be unbanned from Twitter and send out a coded message to followers of the conspiracy.
The coded message QAnon followers hope to see refers to "the storm," a supposed event where members of an international child sex ring will be arrested.
But in an April 25 newsletter, Trump shared a Fox News article that said the former president would not return to Twitter and that he will instead use his own social media platform Truth Social.
This did not phase conspiracy influencer Qtah who told his 133,330 Telegram followers: "Doesn't matter if Trump's going back or not. We (Patriots) have a lot of unfinished business left to settle on Twitter. "
Mike Rothschild, author of The Storm is Upon Us: How QAnon Became a Movement Cult and Everything told Newsweek many conspiracy influencers wanted to return to Twitter as it offers a large audience that can be exposed to what they perceive to be the truth, a term called "red pilling."
"They want to come back to Twitter since that's where the biggest audience is," Rothschild added. "They believe that Musk buying the site will mean they'll be restored, and I think it's way too soon to tell."
"Telegram, Gab, etc, are closed circles," Rothschild continued. "The only people who use them (other than Telegram, which is a legitimate secure messaging app) are right-wing influencers and their fan bases. Twitter has liberals to troll and new minds to try to red pill."
The author believes that should Musk allow QAnon accounts to return to the platform then it would negatively impact discourse on the platform.
But he views right-wing talking points have become fused with conspiratorial talking points and that many people sharing them might not even be aware many are associated with QAnon.
"I definitely don't think it would be good for Twitter or the discourse in general," Rothschild said. "But the right-wing is so enmeshed with conspiracy culture now that I'm not sure it would even matter. More people have been sucked in by Q mythology than ever, even if they aren't Q believers or know anything about it. So I'm not sure what the final effect would be in the end."
Newsweek reached out to Twitter for comment.
Musk's acquisition of Twitter may possibly mean that discourse on the website could be reshaped, although it is unclear how it will change in the medium to long term.
The billionaire first announced his intention to buy the platform on April 14, having already owned nearly 10 percent of Twitter.
While Musk's offer has been accepted, final terms are yet to be agreed upon and regulators will need to approve the deal.
Musk has announced his intention to take the company private, meaning potential investors will not be able to buy shares in the company and that it will be delisted on the New York Stock Exchange.
Update 4/27/22 9:25 a.m. ET: This story has been updated with comments from Rothschild.