Is Twitter Going Private and What Will it Mean for Users?
On Monday, Tesla CEO and billionaire Elon Musk announced that his $44 billion offer — equivalent to for $54.20 per share in cash— to buy Twitter was accepted, meaning Twitter will go from being a public company to a private one.
The acquisition of Twitter by the world's richest man has potential to reshape discourse on a website with more than 200 million daily users.
Musk first announced his intention to buy the platform on April 14, having owned nearly 10 percent of Twitter before.
Initially, Twitter's board appeared to resist Musk's "hostile takeover" effort to buy the social media platform and adopted a "poison pill" defense — a tactic by shareholders to prevent a potential hostile takeover of a company. However, Musk eventually managed to get shareholders to agree to his "best offer" purchase
Musk — himself an active user of the site with over 85 million followers — started buying shares in the social media firm in January.
What does a private Twitter mean for users?
As the deal has not closed — final terms have to be agreed upon and regulators need to approve the deal — there will not be any immediate changes to the functionality of the website.
Dan Raju, CEO of brokerage company Tradier, told CNBC that it would take weeks before Twitter is delisted on the New York Stock Exchange, but he added that it is "hard to guess" how long the deal will take to get regulatory approval.
Until the company is taken private, anyone can buy shares in the social media platform, using a brokerage account like Fidelity or Robinhood.
When the company goes private, potential investors will not be able to buy shares in the company and it will be delisted on the New York Stock Exchange.
Taking Twitter private means that Musk will be less constrained when making comments that may impact perception of the platform. The owners of public companies have to be much more careful, because if they say something inflammatory related to the company, the share price and company's value could plummet. Private companies do not have this issue.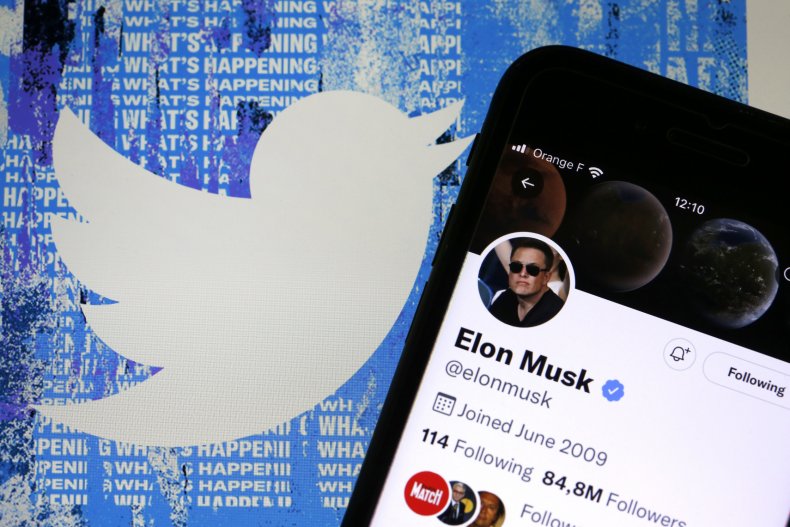 On Monday night, when Twitter and Musk announced the agreement of the deal, Musk said in a statement: "Free speech is the bedrock of a functioning democracy, and Twitter is the digital town square where matters vital to the future of humanity are debated."
"I also want to make Twitter better than ever by enhancing the product with new features, making the algorithms open source to increase trust, defeating the spam bots, and authenticating all humans," Musk continued. "Twitter has tremendous potential – I look forward to working with the company and the community of users to unlock it."
Musk's deal represents the second-largest buyout in history, as the chart by Statista shows below.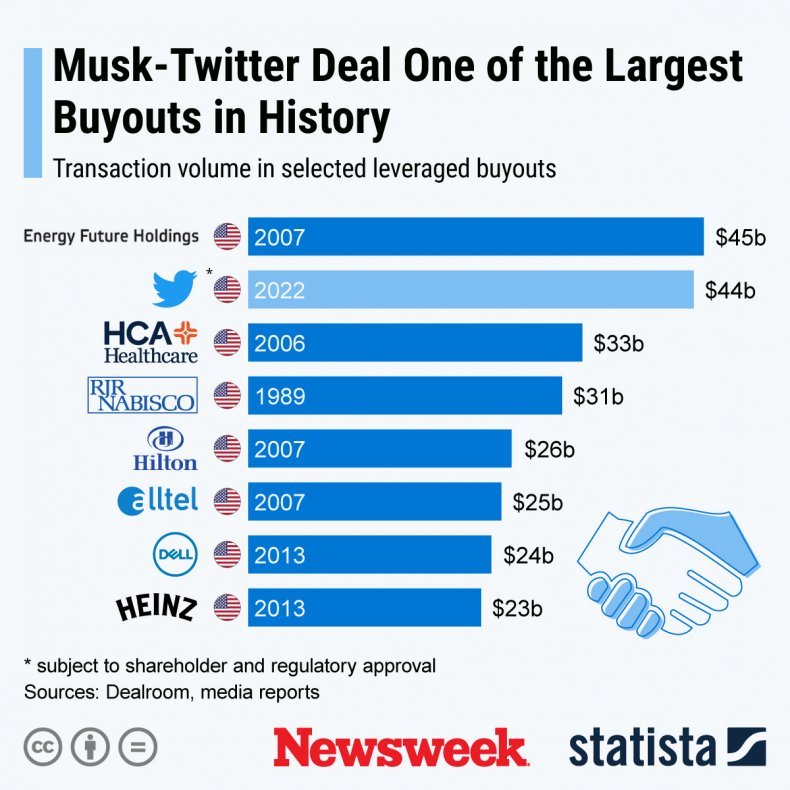 The Tesla and SpaceX founder has said that he would introduce an edit button to allow people to change the composition of their tweets after publishing. However, this means that someone who endorses something controversial and abuses someone on the website can edit their tweets and claim that they never did it. Australian lobby group Digital Rights Watch told The Guardian that Musk's proposed edit button "will likely make Twitter a less safe place for people to speak freely while allowing powerful disinformation and propaganda campaigns to spread unchecked."
In a TED interview shortly after announcing his bid, Musk said that Twitter needs to be "an inclusive arena for free speech."
Musk has not said whether he would reverse former President Donald Trump's permanent ban from the website in the wake of the January 6 insurrection at the Capitol Building in Washington, D.C.
Musk's freewheeling tweeting style has attracted some controversy. In the past on the platform, he has made marijuana jokes to discuss Tesla's stock price and has called a British cave diver who helped rescue 12 Thai boys in June 2018 a "pedo guy."
Newsweek has reached out to Musk for comment.