QAnon-Linked Candidates in Georgia Amplify Trump's Voter Fraud Claims
Two Republican congressional candidates in Georgia with ties to the right-wing conspiracy theory QAnon have made claims of voter fraud in the 2020 presidential race as election officials continued counting ballots in Georgia and across the U.S.
One of the candidates, Marjorie Taylor Greene, is projected to have won District 14 by more than 150,000 votes, according to the Associated Press' election results. The other candidate, Angela Stanton-King, lost the District 5 race by more than 245,000 votes, according to the AP.
Both candidates have voiced strong support for President Donald Trump in the past. As election results began to indicate that Democratic presidential nominee Joe Biden was on a path to victory, Greene and Stanton-King amplified allegations Trump made of voter fraud in their own posts on Twitter.
"We will not back down. We will never forget," Greene tweeted on Friday. "RT if you have @realDonaldTrump's back! STOP THE STEAL!" Greene posted the phrase "stop the steal" multiple times over the last several days, as well as a link to a "Stop the Steal" petition. According to videos she shared on her Twitter account, Greene also appeared at a "Stop the Steal" rally outside the Georgia State Capitol on Saturday.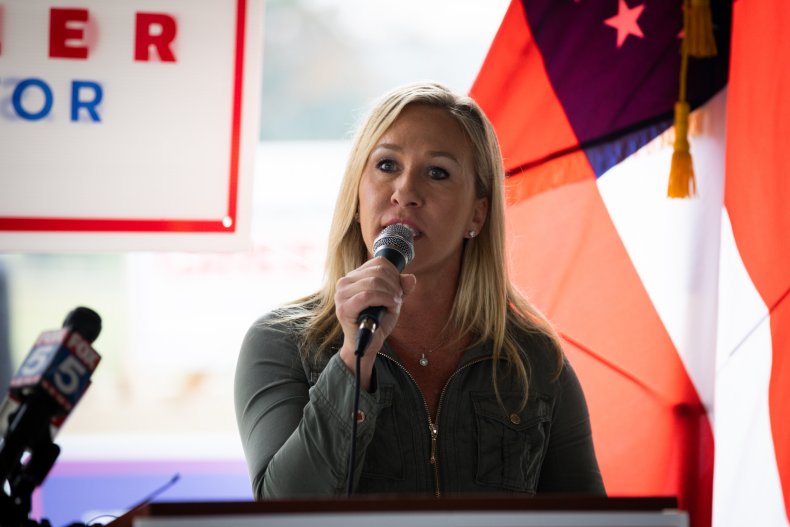 Trump began alleging without evidence earlier this year that Democrats were trying to "steal" the election. As results continued coming in on Election Day with no clear winner, Trump again raised the issue of an allegedly stolen election by tweeting, "We are up BIG, but they are trying to STEAL the Election. We will never let them do it. Votes cannot be cast after the Polls are closed!" Twitter marked the tweet as potentially misleading and directed users to election security information.
Trump's campaign officials and family members have also sounded the alarm about voter fraud without evidence in the days since the election, as have many of the president's supporters. Though the AP and major networks declared the race for Biden on Saturday, Trump released a statement indicating he would not concede and said his campaign would instead pursue lawsuits to investigate incidents of alleged voter fraud.
"We are currently witnessing the greatest voter fraud election of our lifetime," Stanton-King tweeted on Friday. Stanton-King, whom Trump pardoned earlier this year for her 2004 conviction on federal charges, has voiced support for the president throughout her congressional campaign in District 5, a seat which was most recently held by civil rights leader John Lewis before his death in July. Stanton-King also retweeted a video from Trump's campaign of the president saying he won several states "despite historic election interference from big media, big money and big tech."
After Trump posted on Saturday, "I WON THIS ELECTION, BY A LOT," Stanton-King retweeted his post and wrote, "Yep." Stanton-King later shared a message from Trump's campaign claiming Biden was "rushing to falsely pose as the winner" and said, "All facts! We know they're cheating! I'm riding with @realDonaldTrump until the wheels fall off!"
Several of Stanton-King's posts on social media over the last several months have been tied to QAnon conspiracy theories, though she told Newsweek last month she was "not a Q candidate."
In a statement shared with Newsweek Saturday, Stanton-King reiterated that she believes voter fraud took place during the 2020 election.
"I do believe that voter fraud has taken place," Stanton-King said. "The president has said this from the beginning. I'm confident that the Supreme Court will have the final say."
Greene has also made statements that align with QAnon, though she tried to put some distance between herself and the movement during her congressional run. Greene is the first candidate with ties to QAnon to win a congressional seat.
Newsweek reached out to Greene for further comment but did not receive a response in time for publication.
Updated 11/07 at 9:46 p.m. ET: This article has been updated to include a response from Angela Stanton-King.