QAnon Followers Think Meghan Markle's Oprah Interview Was CGI
Oprah Winfrey's bombshell interview with Meghan Markle and Prince Harry has sent shockwaves around the world amid accusations of racism in the royal family—but some supporters of the QAnon conspiracy theory are claiming that the event was staged with CGI.
Many people have questioned the claims made by the Duke and Duchess of Sussex—notably Piers Morgan—but some followers of the far-right QAnon movement are casting doubts over whether the conversation actually happened at all.
Winfrey has been previously targeted by QAnon, who claim the billionaire media mogul is part of a child sex trafficking ring along with prominent Democrats and the Hollywood elite.
They believe these apparently high-profile child abusers will be arrested and executed as part of an eagerly awaited event known as "the storm"—which has been predicted for several dates over the years, but has yet to materialize.
Since the interview with the royal couple aired on Sunday, several conspiracists have posted theories about it to QAnon channels on the encrypted messaging app Telegram.
According to one claim, Winfrey was wearing an ankle monitor while questioning Meghan and Harry because she is under arrest for child trafficking.
Now an even more bizarre conspiracy theory has emerged: that the whole thing was fake and produced by a special effects team, because Winfrey has been executed for her "crimes."
Political analyst Arieh Kovler tweeted about some of the discussions on QAnon messageboards.
"The whole interview was CGI," one person said. "The whitehats threw in the ankle monitor just to get the discussion going."
"There are definitely CGI videos," another post reads. "And they've been used on us. But not everything is CGI and you can't just claim everything is without at least analysing and explaining why you think it is."
Some believers urged fellow QAnoners not to claim things are CGI without evidence because, as one user wrote: "We no longer live in a world where you can just make s*** up. That's what liberals do. We are better than that."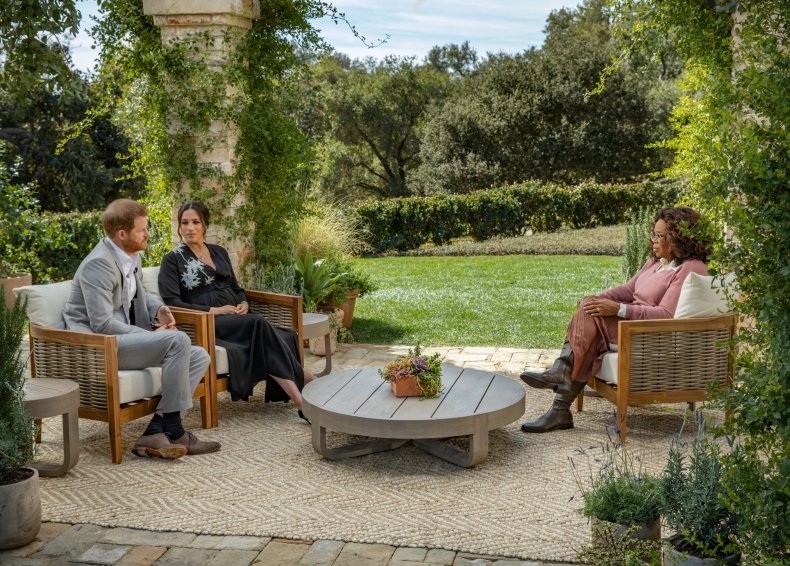 The false ankle monitor claim also circulated last year, when Winfrey shared a video of herself cooking and staying home during the early days of the coronavirus pandemic.
The veteran broadcaster responded to the claims in a tweet posted last March: "Just got a phone call that my name is trending. And being trolled for some awful FAKE thing. It's NOT TRUE. Haven't been raided, or arrested. Just sanitising and self-distancing with the rest of the world. Stay safe everybody."