Every Celebrity To Defend Piers Morgan Amid Meghan Markle Scandal
Piers Morning has been supported following his departure from Good Morning Britain by several high-profile names, all rallying behind the controversial presenter.
Sharon Osbourne tweeted to say she "stands with Piers" following his high-profile exit from ITV.
"[Piers] I am with you. I stand by you. People forget that you're paid for your opinion and you're just speaking your truth," the host of The Talk tweeted.
Another television personality, Jake Tapper of CNN, threw his support behind Morgan, calling his exit "insanity."
"This is what happens when you live in a country where there is no First amendment. Insanity," Tapper wrote on Twitter on Tuesday. "Governments should have no role in policing news broadcasts."
"You can tweet Piers what you think of his comments, that's not what this is about," he added.
Former Fox News anchor Megyn Kelly took to Twitter to praise Morgan, tweeting: "I don't know what happened w/ @piersmorgan at GMB. What I do know is he & Susannah have been a brilliant team that took risks & became must-watch TV. In an era of free speech being stifled everywhere, Piers fearlessly speaks his mind. We need more, not fewer like that in media."
ITV announced that Morgan was stepping away after he faced criticism for his response to Prince Harry and Meghan Markle's Oprah interview.
"Following discussions with ITV, Piers Morgan has decided now is the time to leave Good Morning Britain," ITV wrote in a statement. "ITV has accepted this decision and has nothing further to add."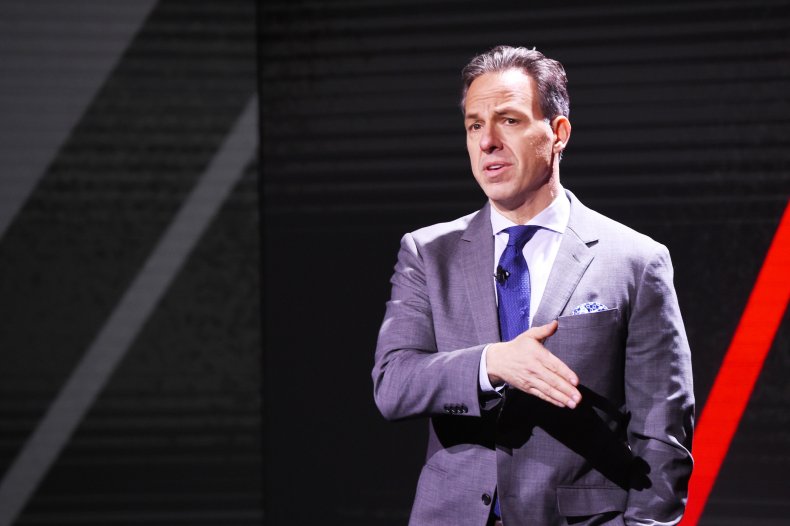 British soccer icon Gary Lineker has also thrown his support behind Morgan.
"Whether it's a football manager, a television presenter or any profession for that matter, it's always sad when someone loses their job," he tweeted. "@piersmorgan is excellent at what he does and I'm sure he'll be back on the telly soon."
Alan Sugar, the host of the U.K.'s version of The Apprentice and regular Twitter beef rival of Morgan, said: "@piersmorgan pushed his luck. I think he might have something else lined up watch this space."
Markle opened up about feeling suicidal when she was a working member of the royal family amid claims about racism, isolation and a lack of support from what she called "the firm."
Morgan aggressively diminished her claims and said he didn't believe the Duchess of Sussex in a move that was widely condemned especially since his network, ITV, is running a highly publicized 'Get Britain Talking mental health campaign.
"Who did you go to? What did they say to you?" Morgan asked on GMB. "I'm sorry, I don't believe a word she said, Meghan Markle. I wouldn't believe it if she read me a weather report."
Broadcasting watchdog Ofcom launched an investigation into GMB after more than 40,000 complaints were made about Morgan's comments. This graphic, provided by Statista, shows the U.K.'s most complained about TV moments of the last decade.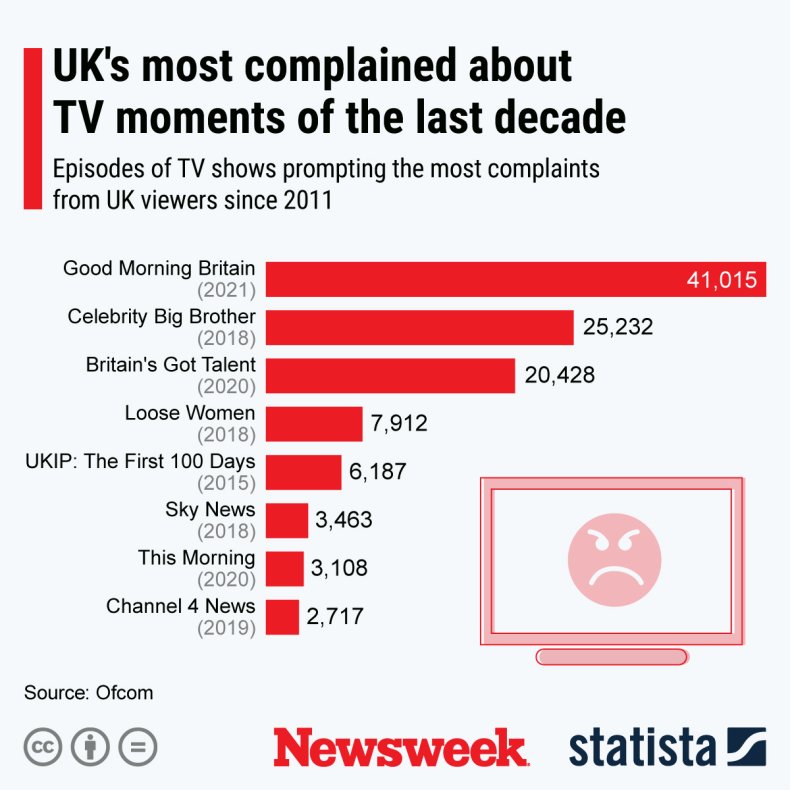 The broadcaster has remained unrepentant as of Wednesday morning and has tweeted about "freedom of speech."
"On Monday, I said I didn't believe Meghan Markle in her Oprah interview," the television personality tweeted early Wednesday.
"I've had time to reflect on this opinion, and I still don't. If you did, OK. Freedom of speech is a hill I'm happy to die on. Thanks for all the love, and hate. I'm off to spend more time with my opinions."
Despite receiving support from a number of celebrities, there are plenty happy to see the back of Morgan too.
Stephen Colbert celebrated Morgan's exit in his Tuesday night monologue, quipping that it is a "great morning, Britain."
Meanwhile, Bette Milder berated Morgan for being "soft."
"#PiersMorgan has been dishing it out for years & he walked out & quit after a minute of criticism by a colleague? Even #Viagra can't help a man who is that soft," the Hocus Pocus actress tweeted.
Update 3/10/21, 10 a.m. ET: This article was updated to include an infographic.