Stephen Colbert Celebrates Piers Morgan's 'Good Morning Britain' Exit
Stephen Colbert tore into Piers Morgan on Tuesday night following the latter's departure from British TV station ITV over comments he made regarding Meghan Markle.
The late-night host dedicated a large portion of his monolog to eviscerating Morgan, whose exit from Good Morning Britain has sparked a media frenzy.
"Congratulations, tomorrow's going to be a great morning, Britain," Colbert joked on Tuesday's installment of The Late Show with Stephen Colbert.
"Fans of the royal family dumped a crumpet in their knickers, especially TV organism Piers Morgan," he began.
ITV announced that Morgan was stepping away after he faced criticism for his response to the devastating Oprah interview with Prince Harry and Meghan Markle.
"Following discussions with ITV, Piers Morgan has decided now is the time to leave Good Morning Britain," ITV wrote in a statement. "ITV has accepted this decision and has nothing further to add."
Markle opened up about feeling suicidal when she was a working member of the royal family amid claims about racism and a lack of support. Morgan robustly dismissed the claims and said he didn't believe the Duchess of Sussex in a move that was widely condemned, especially since ITV is running a highly publicized 'Get Britain Talking' mental health campaign.
"Who did you go to? What did they say to you?" Morgan asked on GMB. "I'm sorry, I don't believe a word she said, Meghan Markle. I wouldn't believe it if she read me a weather report."
Colbert referenced a claim by the couple that they were asked what their baby's skin color would be by a member of the royal family.
"Is it racist and offensive for a family member to say, 'Oh what color might the baby be?'" he asked.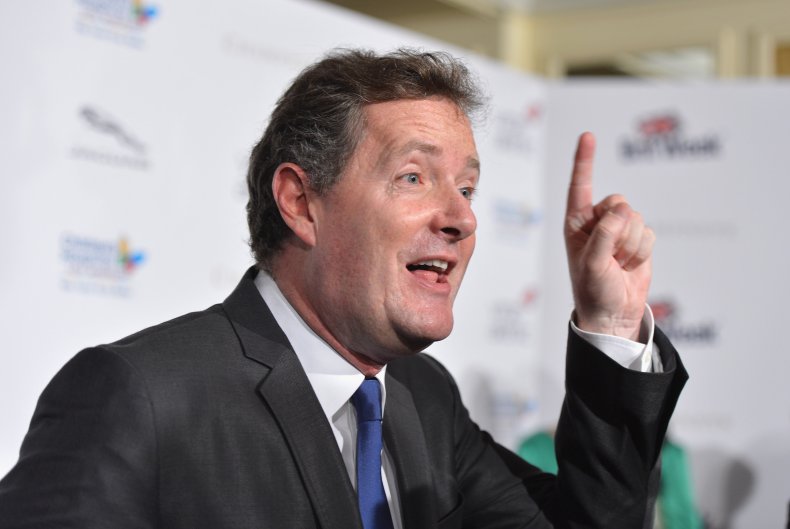 "Ooh, I know the answer!" Colbert replied. "You're a spotted dick!"
He continued: "As much as Piers loves to dish out the criticism, he sure can't take it." Colbert played a clip of Morgan storming off Good Morning Britain on Tuesday, joking: "Piers Morgan is such a baby, someone at Buckingham Palace just asked what color he's going to be.
"Piers didn't just storm off the set in slow-motion twit snit," he continued. "He stormed off the whole damn show. Because a few hours ago, his network announced, 'Piers Morgan has decided now is the time to leave Good Morning Britain.' Congratulations, tomorrow's going to be a great morning Britain."
Following Meghan and Harry's bombshell interview, Colbert mocked the "racist" royal family, joking: "I'm gonna go out on a limb here and say that there is a possibility―just a possibility, mind you―that this medieval selective breeding program might be racist.
"Also, it's never good when the British ruling class thinks someone is too dark. They steal their land and make them play cricket."
This graphic, provided by Statista, shows the U.K.'s most complained about TV moments of the last decade.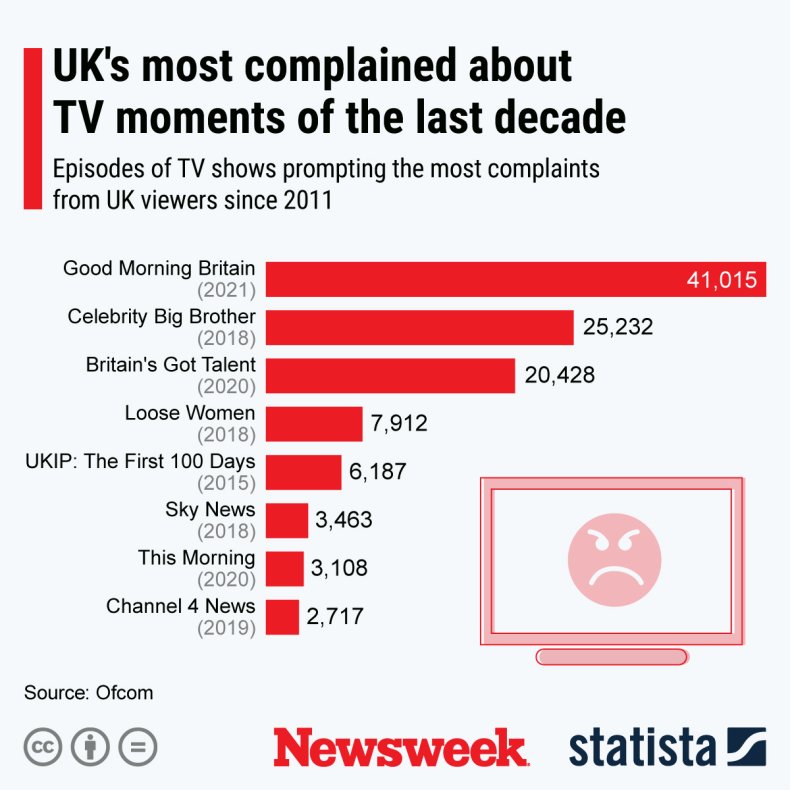 Update 3/10/21, 10 a.m. ET: This article was updated to include an infographic.