Late Night Hosts React to Meghan Markle Interview with 'Racist' Royal Mockery
In what was undoubtedly one of the most talked-about television events in recent years, Meghan Markle and Prince Harry's explosive Oprah interview certainly resonated with late-night hosts who mocked the "racist" royal family in their Monday night monologues.
Stephen Colbert mimicked Oprah Winfrey's now-famous "What?" reaction to Meghan's claim that a member of the royal family speculated about what skin color her baby would have.
"I agree: 'What?' and let me just add: 'Huh?'" Colbert said. "I'm gonna go out on a limb here and say that there is a possibility―just a possibility, mind you―that this medieval selective breeding program might be racist.
"Also, it's never good when the British ruling class thinks someone is too dark. They steal their land and make them play cricket."
After Harry described the conversation about Archie's skin color as "awkward." Colbert suggested a different description.
"Awkward is four people in the back seat of a car," he said. "Awkward is forgetting your friend's child's name. One of your relatives asking you to place your child on the Sherwin-Williams color wheel is royally f***** up."
One of the most devastating claims made by Harry and Meghan in the interview is that they were asked about what their future baby's skin color would be because the Duchess of Sussex is biracial.
"All around this same time, we have in tandem the conversation of he won't be given security, he's not going to be given a title and also concerns and conversations as how dark his skin might be when he's born," Meghan told Oprah Winfrey.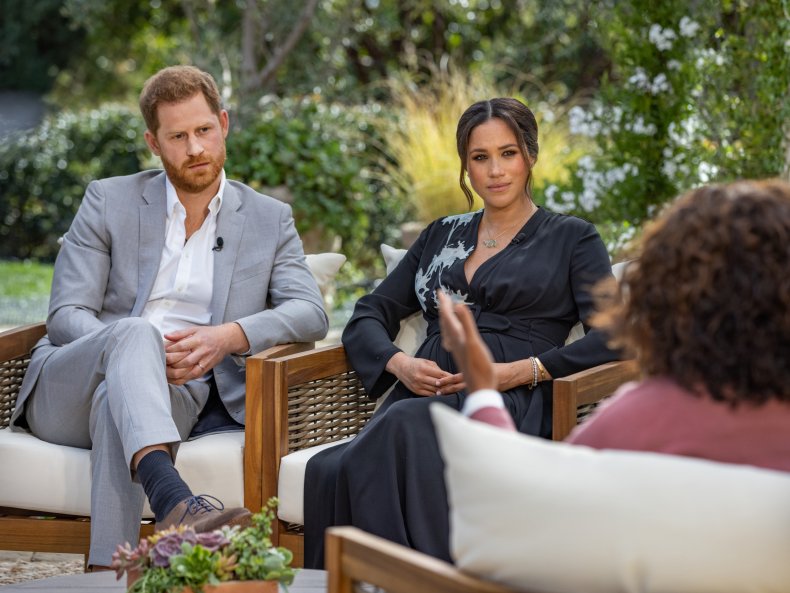 Colbert then poked fun at Meghan and Harry for not naming the culprit, teasing: "And clearly the last thing Meghan would want to do, as she exposes her in-laws as racist, emotionally abusive captors, is damage anyone."
Meanwhile, Jimmy Kimmel joked that Meghan and Harry revealing the sex of their new baby in the interview was "the most shocking gender reveal of all time."
Kimmel touched on Meghan's claims that she sought help from the palace's HR department, saying: "It's funny that the royal palace has HR and it's just as unhelpful as HR everywhere else."
On the race issue, Kimmel marveled: "Imagine after centuries of inbreeding these people are suddenly worried about the color of his skin."
Joking about the couple's escape to California, Kimmel joked: "You know things are bad at Buckingham Palace if they came to America to get away from racism. That's like trying to get some peace and quiet at Chuck E. Cheese's."