England Erupts Over Meghan Markle Interview As Allegations Hotly Debated
Brits waking up to headlines about Prince Harry and Meghan's bombshell interview have taken to social media with their reactions.
While American audiences watched the full interview on Sunday night, it won't air in the U.K. until Monday evening. Nevertheless, Brits have responded to the biggest disclosures made by the couple in their first public remarks since their split from the monarchy.
In the interview with Oprah Winfrey, Meghan made the shocking admission that she felt so isolated as a member of the British royal family that she contemplated suicide after an onslaught of negative press—and claimed she was denied help from palace officials when she sought it.
Meghan, who is biracial, also revealed that while she was pregnant with her son Archie, members of the royal family expressed "concerns" about how dark the color of the baby's skin would be.
"All around this same time, we have in tandem the conversation of he won't be given security, he's not going to be given a title and also concerns and conversations as how dark his skin might be when he's born," she said.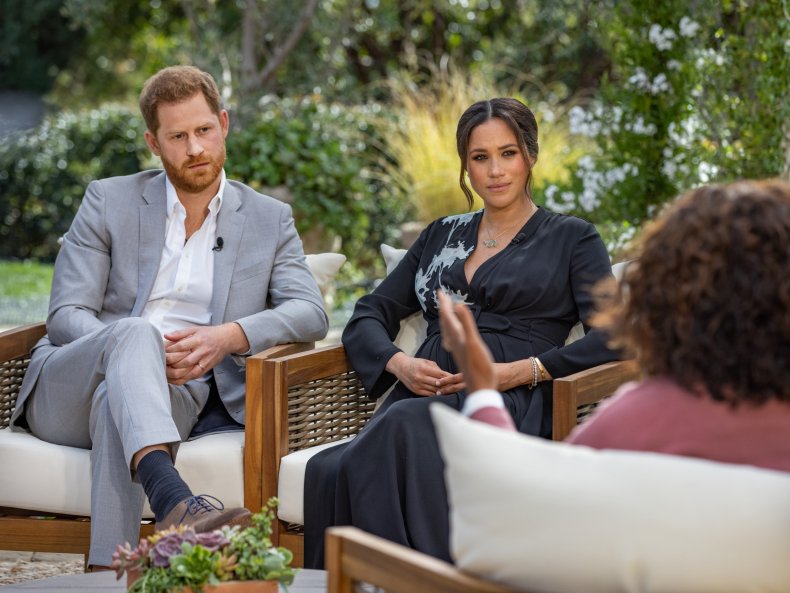 The couple also discussed their split from the royal family, with Harry saying there had been a lack of understanding and support, especially over what he described as racist news coverage of his wife.
On social media, the stunning disclosures appear to have divided Brits—with some accusing Meghan of acting, while others expressing their support and saying they believe her.
Good Morning Britain host Piers Morgan, well known for his criticism of the couple, tweeted: "I wouldn't believe Meghan Markle if she gave me a weather report."
In another tweet, Morgan hinted at Meghan's former career as a an actress. "Is it too late for Oscar nominations?" he wrote.
But actor and writer Adil Ray said those who accuse Meghan of lying about her mental health "undo all the work" of mental health charities and "at the very least enable racism."
He wrote on Twitter: "When someone says they're suicidal we don't ask them to prove it. When a victim complains to the police about racism there is no initial burden on them to prove it. Those who accuse Meghan & Harry of lying undo all the work of MH charities and at the very least enable racism."
English author Matt Haig, whose memoir Reasons to Stay Alive chronicled his experience with depression and anxiety, added: "Just popping by to tell all the people who say that Meghan Markle was lying about being suicidal that you are an absolute disgrace. And you also know nothing at all."
British historian Kate Williams tweeted: "Those denying Meghan's suicidal thoughts - it is an absolute disgrace. Such 'I don't believe it' is why people don't speak out about mental health, why they suffer in silence, feel shame. We need to be better than this."
Others said they believed the couple's claims, and referenced the treatment of Harry's mother, Princess Diana.
"As a Brit, I feel it's important to say, many of us believe Meghan & Harry," James Prescott tweeted.
"We remember how Diana was treated. We know how The Firm operate," he added, referring to the nickname used for the royal family.
"The ones who believe the media & The Firm, tend to be right wingers, racists & Brexiteers. Not all Brits."
If you have thoughts of suicide, confidential help is available for free at the National Suicide Prevention Lifeline. Call 1-800-273-8255. The line is available 24 hours a day.