Qatar, Once Cut Off by Arab States, Wields Influence and Aid in Blockaded Gaza
Qatar, a small wealthy monarchy long subject to an embargo by a quartet of influential Arab states, has wielded both influence and assistance to the blockaded Gaza Strip, a Palestinian enclave whose fighters, led by the Hamas movement, recently engaged in an 11-day conflict with surrounding Israel.
In a phone call Thursday with his Qatari counterpart Mohammed bin Abdulrahman Al Thani, U.S. Secretary of State Antony Blinken "thanked the Foreign Minister for Qatar's assistance in helping to secure the ceasefire between Israel, Hamas, and other parties in Gaza," and "underscored the importance of bringing together international support for humanitarian and development efforts in Gaza."
The account was mirrored by the Qatari Foreign Ministry's readout, which added that Qatar's top diplomat said his country "will be at the forefront of supporting the brotherly Palestinian people."
That same day, Hamas Political Bureau Chairperson Ismail Haniyeh met with Qatari diplomats in the capital Doha, where he resides, to discuss Gaza's dire humanitarian situation in the region.
The tiny peninsular state has already demonstrated an outsized role in the region, especially in Gaza, where other Arab countries have been hesitant to engage with the leading Hamas movement, despite expressing support for Palestinians as a whole.
These ties, along with Qatar's relationship with Iran, served as motivation for a boycott of Qatar launched in June 2017 by a Saudi-led bloc that also included Bahrain, Egypt and the United Arab Emirates and lifted in January 2021.
Both Qatar's relationship with Hamas and renewed ties to the Arab World would prove critical to securing a truce after tensions in Israel-occupied East Jerusalem exploded into new hostilities earlier this month, as Hamas and its allies fired rockets and the Israel Defense Forces attacked Palestinian fighters.
Shortly after the IDF began their campaign of airstrikes against the coalition of rocket-firing Palestinian groups, Qatar chaired a May 11 Arab League emergency meeting in which the country "tabled a proposal to unify the Arab League's position through maximizing the diplomatic means of member states," a Qatari official told Newsweek.
That same day, Qatar's leader Emir Sheikh Tamim bin Hamad Al Thani visited Saudi Arabia for the first time since the neighboring kingdom launched its blockade. Also on May 11, Turkish Foreign Minister Mevlut Cavusoglu visited Saudi Arabia, around the same time that both Saudi Arabia and its rival Iran had confirmed they were holding direct talks in neighboring Iraq.
Qatar has often been accused of having closer ties to Turkey and Iran, also the two foreign supporters of Hamas, than its Arab neighbors. As the war raged in Gaza, however, the rapprochement appeared to take hold across the region, as a consensus against Israel's military campaign was established.
Then Qatar leveraged its Palestinian ties to engage directly.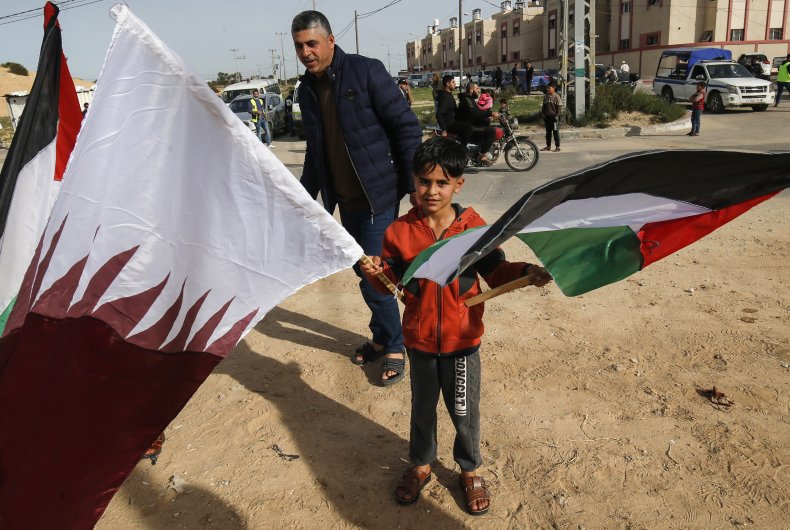 The Arab League gathering "was immediately followed by extensive talks with the various Palestinian stakeholders and international partners," the Qatari official said. A May 15 meeting saw Foreign Minister Mohammed bin Abdulrahman, who also serves as Qatar's deputy premier, sit down with Haniyeh to discuss the conflict as it unfolded.
On May 15 Qatari side "affirmed Qatar's position rejecting these attacks and renewed the State of Qatar's standing by the Palestinian brothers and its categorical rejection of infringing upon Islamic sanctities," while Haniyeh "appreciated the position of the State of Qatar, the government and people, on the Palestinian issue, especially in recent events, stressing the importance of this role and the importance of a unified Arab position at this important moment in the history of the Palestinian people's struggle," according to the Qatari Foreign Ministry.
The meeting came the same day that the IDF bombed Gaza's Al-Jalaa Tower, a 12-story building housing media offices including those of The Associated Press and Al Jazeera, a leading Qatar-based outlet. The IDF warned the occupants of the building just prior to the air strike, and later alleged that the tower was used as a headquarters for Hamas.
The Qatari official condemned both this Israeli attack and a second that struck the Qatari Red Crescent Society two days later, just as "Qatar's Gaza Reconstruction Committee began distributing urgent relief aid to the families of those affected in the Gaza Strip."
"Qatar condemns Israel's recent bombing of buildings housing media and humanitarian institutions, including the headquarters of the Qatari Red Crescent Society and Aljala tower that houses the offices of Aljazeera and Associated Press," the Qatari official said. "The targeting of humanitarian and media institutions is a clear violation of international law, humanitarian norms and values."
The attack on Al-Jalaa Tower was met with widespread international criticism, including from the White House, which expressed concern to Israeli Prime Minister Benjamin Netanyahu as calls for a ceasefire mounted.
Efforts to push forward toward a ceasefire took place on two parallel tracks: one led by Egypt, as it sought to mediate among the rival parties, and the other in the United Nations Security Council, where the United States repeatedly blocked a consensus supporting language led by Tunisia to call for a cessation of hostilities.
The Qatari official told Newsweek that Qatar played a role in backing both strategies, with the Egyptian approach ultimately prevailing. Last week, both Israel and Hamas leadership announced a ceasefire had been reached effective May 21. Egypt received most of the credit, while Jordan and Qatar received thanks from the U.S.
"We are grateful to our partners across the region, especially President [Abdel Fattah] Al Sisi and other senior Egyptian officials who played a critical role in this diplomacy," a State Department spokesperson told Newsweek. "The King of Jordan and the Amir of Qatar also played important parts throughout the eleven-day conflict."
The truce has managed to hold so far, despite unrest erupting once again in the disputed holy city of Jerusalem and its revered Al-Aqsa Mosque. Gaza, meanwhile, lies in ruins, its already strained infrastructure devastated by the IDF strikes that came by land, air and sea, from which it is already cut off on all sides by a longstanding blockade imposed by Israel.
Gaza is also cut off from Egypt, which opened its Rafah border crossing to take in injured Palestinians throughout the conflict.
Secretary of State Antony Blinken has pledged the U.S. would provide $75 million "in additional development and economic assistance for the Palestinians" this year, $5.5 million of which was earmarked for "immediate disaster assistance for Gaza and a little over $32 million for UNRWA's emergency humanitarian appeal."
Altogether, the U.S. top diplomat said Tuesday that the Biden administration was "in the process of providing more than $360 million of urgent support for the Palestinian people."
He emphasized, however, that "we will work with partners to ensure that Hamas does not benefit from these reconstruction efforts."
Both Qatar and Egypt have pledged even larger packages of $500 million each in recent days for Gaza's reconstruction.
Haniyeh issued a statement of gratitude in response to the Qatari emir's offer, stating that "this Arabist position of His Highness expresses Qatar's authenticity, the generosity of its leadership and its permanent standing with the Palestinian people and supporting their steadfastness in various stages."
Haniyeh, who also thanked Iran extensively for military, technical and financial assistance, took note as well of "the large sum of money" offered for Gaza's reconstruction by Egypt, which has invited the Hamas leader for further talks related to the Israeli-Palestinian conflict.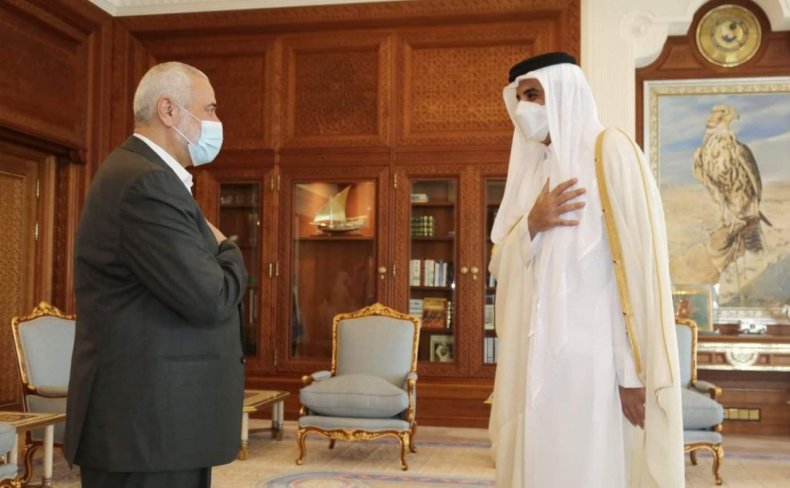 The decades-long dispute over territory has not only pit the two peoples against one another, but has also resulted in fissures within the Palestinian side. Hamas has emerged as the more militant, popular faction, while the traditional left-wing Fatah, led by Palestinian National Authority President Mahmoud Abbas, has clung to the leadership of the de facto Palestinian government in the West Bank.
Abbas' postponement of what would have been the first elections since January 2006, in which Hamas made major gains, has also been cited as a development that, in conjunction with the attempt by Israeli families to evict Palestinians from Sheikh Jarrah and the Israeli storming of Al-Aqsa Mosque, sparked what became Israel's fourth major conflict in Gaza since the Hamas takeover in 2006.
The U.S. and Israel both see Hamas' presence as an obstacle to peace, at a time when the Arab World appeared to be reconsidering its boycott of ties with Israel. While Egypt made peace with Israel in 1979 and Jordan followed suit in 1994, it wasn't until last year that a new wave of normalization of ties agreements led by the United Arab Emirates, Bahrain, Sudan and Morocco took hold under former President Donald Trump, under whom the Saudi-led boycott also emerged shortly after he visited the Kingdom just months into office.
While none of these countries has altered their diplomatic relations with Israel, the war in Gaza prompted condemnation from all of them amid heightened domestic pressure.
Qatar, for its part, has continued to reject ties with Israel without first achieving a lasting solution to the Israeli-Palestinian feud, a position outlined in the 2002 Arab Peace Initiative nearly two decades ago. Instead, it seeks to refocus the world's attention back on that goal, which once united the Arab World.
"Qatar believes that the lack of regional and international action has allowed Israel to get away with its crimes," the Qatari official told Newsweek, "and hopes that the current collective efforts will lead to a meaningful resolution."