Queen: 'Doctors are Concerned' for Her Health and She Is Under Supervision
Queen Elizabeth II has been placed under medical supervision, with Buckingham Palace announcing that the 96-year-old's doctors are "concerned" for her health.
The news followed reports on Wednesday that the monarch had to cancel a privy council video conference meeting after a busy working day on Tuesday, in which she received outgoing Prime Minister Boris Johnson at her Balmoral home in Scotland, as well as appointing his successor Liz Truss.
A spokesperson for Buckingham Palace said on Wednesday: "After a full day yesterday, Her Majesty has this afternoon accepted doctors' advice to rest.
"This means that the Privy Council meeting that had been due to take place this evening will be rearranged."
Today, the palace have announced that the queen's doctors now consider there to be cause for concern.
"Following further evaluation this morning, The Queen's doctors are concerned for Her Majesty's health and have recommended she remain under medical supervision," said a statement.
"The Queen remains comfortable and at Balmoral."
Prince Charles and Camilla, Duchess of Cornwall, as well as Prince William are believed to be traveling to Balmoral to be with the monarch.
Britain's new Prime Minister Liz Truss announced on Twitter that her thoughts were with the queen: "The whole country will be deeply concerned by the news from Buckingham Palace this lunchtime.
"My thoughts, and the thoughts of people across our United Kingdom, are with Her Majesty The Queen and her family at this time."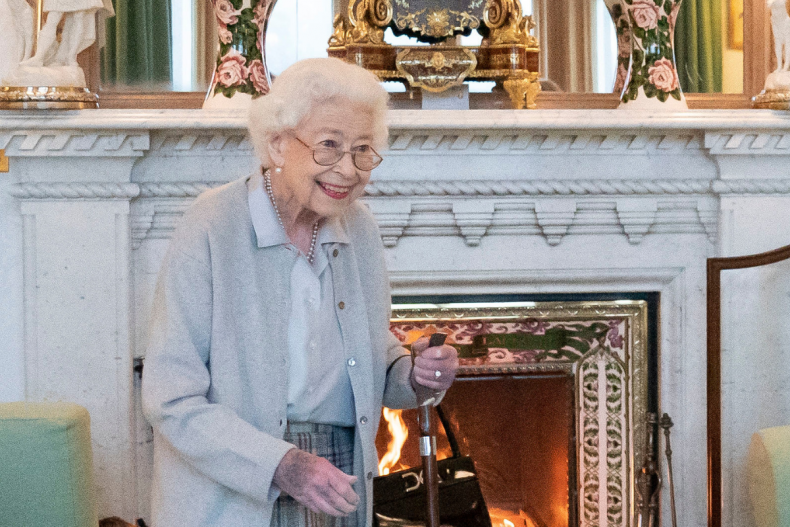 The queen's health has been the subject of consistent reporting since October 2021 where she cancelled a visit to Northern Ireland on the advice of her medical team—though no specific reason for this was released to the public.
After announcing the cancellation of the visit, Buckingham Palace released a second statement informing the public that the monarch had been admitted to hospital the previous evening to undertake "some preliminary investigations," though again did not specify a reason for this, adding that she was "in good spirits."
Shortly after this, the palace announced that: "The doctors have advised that Her Majesty can continue to undertake light, desk-based duties during this time, including some virtual audiences, but not to undertake any official visits."
The queen kept a low profile for the remainder of the year, operating from a new system for her royal work which saw her residing near permanently at Windsor Castle, undertaking video conference calls and limited in person meetings.
In February 2022 it was revealed that the queen had contracted COVID-19 from which she recovered by early March, where she felt able to receive Prime Minister Justin Trudeau of Canada in person.
The monarch maintained the model of reduced public appearances throughout the year, with Prince Charles deputising for his mother at a number of official events including the State Opening of Parliament in May.
At this time Buckingham Palace announced that the queen continued to experience "episodic mobility problems."
The queen's most recent public engagement outside of Windsor Castle took place on July 15 where she was photographed visiting a hospice with her daughter Princess Anne.