Queen Elizabeth II Preparing for First Balmoral Summer Break Without Prince Philip
Queen Elizabeth II will soon be setting off for her first summer holiday at Balmoral Castle since the death of Prince Philip.
The monarch's husband of 73 years famously took charge of the barbecue during royal family picnics at their Scottish estate, often cooking freshly caught fish.
These picnics loom large enough in the royal memory that Prince Harry mentioned them in his tribute to his grandfather after his death in April, declaring Philip the "master of the barbecue."
Harry's brother Prince William also recalled "family barbecues with my grandfather in command" during a recent charm offensive in Scotland.
Tributes to the Duke of Edinburgh from official royal accounts on social media included several photos taken at Balmoral.
Perhaps most poignantly of all, Philip's daughter-in-law Sophie, Countess of Wessex, suggested last month that the family's grief would likely be triggered when they found themselves in locations they associated with the prince—giving Balmoral as an example and tearfully describing a photo she had taken of Philip and Elizabeth there.
Sophie also told the BBC that the coronavirus pandemic had "skewed" the family's grieving process: "Of course the normal way of things isn't normal yet, so we're not necessarily doing the things that we would normally have done with him.
"So, I think the whole grieving process is probably likely, for us, to take a lot longer. It may be the same for many other families out there.
"Because if you're not living with somebody, 24/7, the immediate loss isn't necessarily felt in the same way, as if somebody was in the house with you all the time."
For the royals, Balmoral in August is a time for summer parties, picnics and outdoor pursuits such as shooting and fishing. The family get together on 50,000 acres of private Scottish countryside in Aberdeenshire.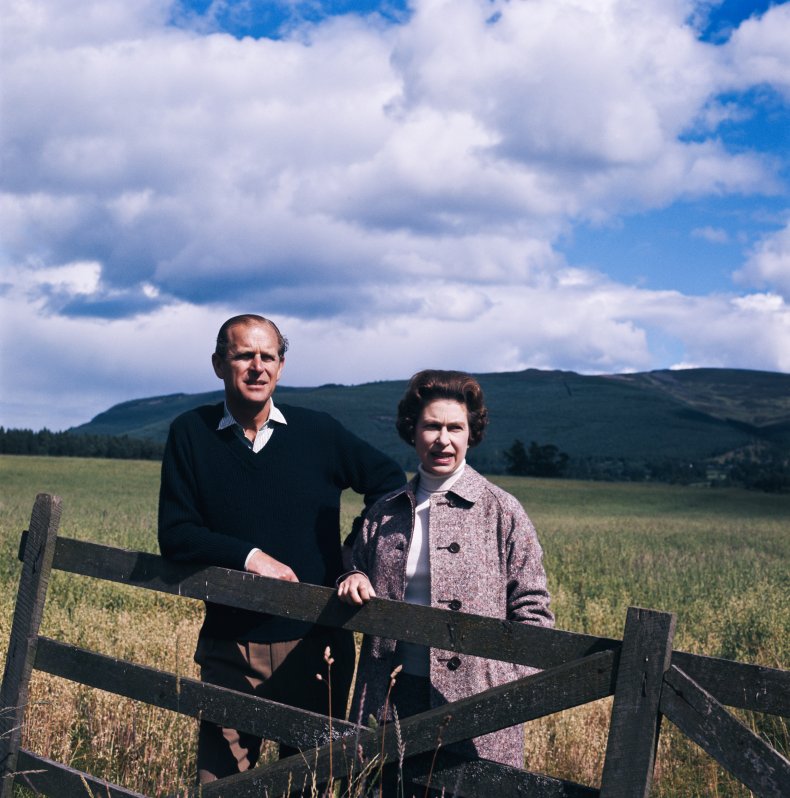 In Focus
Queen Elizabeth II and Prince Philip at Balmoral, 1972. The royal couple visited the private estate in Scotland every year for their summer holiday.
Launch Slideshow

3 PHOTOS
Prince William said in a speech for the Church of Scotland in May: "I've been coming to Scotland since I was a small boy. As I grew up, I saw how my grandmother relishes every minute she spends here. And my father is never happier than when walking among the hills.
"My childhood was full of holidays having fun in the fresh air and swimming in lochs, family barbecues with my grandfather in command and, yes, the odd midge."
Ingrid Seward, author of Prince Philip Revealed, said: "Balmoral is a shooting estate so everything revolves around shooting. It's grouse shooting from August and then it's stalking.
"They have big house parties there and the queen has all her family to stay and they shoot.
"The picnics are all part of it. And I'm sure they'll all still have the picnics. They love picnics. Remember she's a creature of habit, so everything she's done before she will carry on doing."
For outsiders, visits to the Scottish estate are famously gruelling. People who do not succeed at navigating its complex social conventions are said to have failed the "Balmoral test"—as dramatized in the Netflix show The Crown.
In real life, the queen and Philip had visited the estate together every year for decades. It is a place where the royals can unwind away from the cameras and prying eyes of the public and tourists at their other residences, including Buckingham Palace and Windsor Castle.
Last year, Elizabeth and Philip travelled up in early August before moving to Sandringham in mid-September, Buckingham Palace confirmed at the time.
Seward said: "When they were there last year, Philip looked pretty frail so he would have been having a very gentle time the last time he was there.
"None of us know how active he was, of course the queen will miss him doing the things they used to do together.
"He couldn't shoot anymore because he had a stent in his heart. You can't shoot with a stent. He wouldn't have been shooting, but she would still take her dogs out on a shoot to pick up the grouse and things like that.
"There wasn't any shooting last year, though. This wasn't the first time everything would have been different. Of course she must miss him, she will miss him."