More Than 4.1 Billion Watch Queen's Funeral, Surpassing Every Royal Wedding
The broadcast audience for Monday's state funeral of the late Queen Elizabeth II is expected to shatter records, according to multiple reports.
The funeral is projected to have a total viewership of around 4.1 billion people, according to one estimate. This figure would make the late monarch's service the most watched broadcast of all time.
Royal weddings and past funeral services for members of the royal family have always drawn large audiences. If the projection holds for Queen Elizabeth II's funeral, the second-largest broadcast audience for a royals-related event would be Princess Diana's funeral in 1997. Estimates for how many people tuned in for Diana's services have been placed at 2.5 billion, according to a recent NBC News report.
Diana's wedding nuptials with Prince Charles—now King Charles III—in 1981 brought in an audience of 750 million across 74 countries, according to the BBC. Prince Harry and Meghan Markle's vow exchange in 2018 reportedly drew an even larger viewership, with an estimated 1.9 billion viewers around the world, according to the Daily Express. Meanwhile, Prince William and Kate Middleton's 2011 wedding netted 162 million viewers worldwide, per the U.K. newspaper.
The 4.1 billion projection for Queen Elizabeth II's funeral came from Carolina Beltramo, a television analyst at WatchTVAbroad.com. She spoke with the Daily Mail last week about how more than half the planet's population is expected to watch Monday's services.
"Generations of people across the globe won't have been alive the last time pomp and pageantry were seen on this scale. While it's a sad occasion, they can be forgiven for being enthralled by a spectacle that echoes throughout history," Beltramo told the outlet. "For that reason alone they'll be drawn to witness the dawn of this new age in their billions."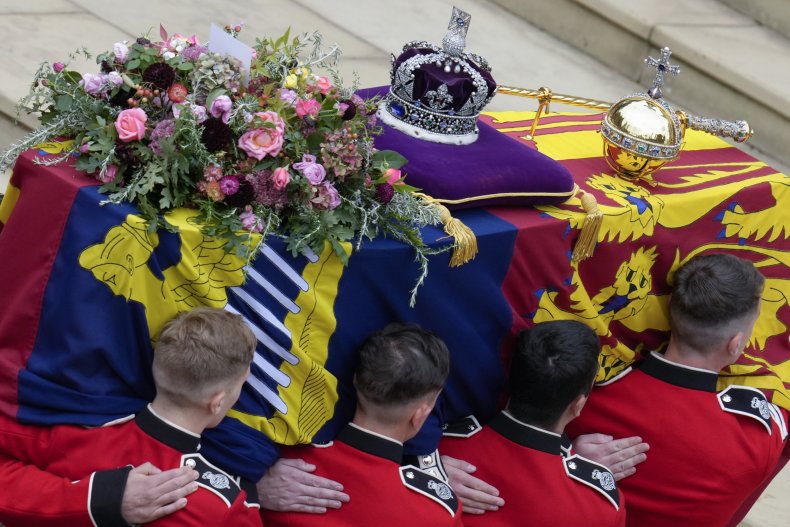 The Associated Press reported that the queen's funeral will be broadcast live to over 200 countries and territories around the world. The service will also be shown on large screens set up in parks and public spaces across the United Kingdom, where Monday was declared a public holiday in honor of the late ruler.
National broadcasters BBC, Sky and ITV have announced they would devote their entire day's programming to coverage of the funeral, and numerous websites are streaming the services. Major news stations in the U.S.—including ABC News, Fox News and CNN—will also be covering the funeral.
Last week, The Guardian reported that an estimated 750,000 people were expected to travel to London in order to pay their respects to the queen while she lied in state.
Newsweek reached out to Buckingham Palace and WatchTVAbroad.com for comment.