Why Prince Harry Couldn't Salute During Queen's Funeral
Prince Harry did not salute Britain's war memorial, the Cenotaph, in London during Queen Elizabeth II's state funeral procession on Monday because of a military rule regarding uniforms that dictates who should salute.
As he was not in uniform, the prince did not salute his grandmother's coffin or the Cenotaph during the day's proceedings.
The Duke of Sussex attended the funeral of his grandmother, the queen, at Westminster Abbey alongside his father, King Charles III, his brother, Prince William, and a number of other royal family members.
Following a week-long discourse over uniforms and discussions regarding who was entitled to wear what, Harry appeared at the funeral wearing traditional morning dress with his military service and ceremonial medals.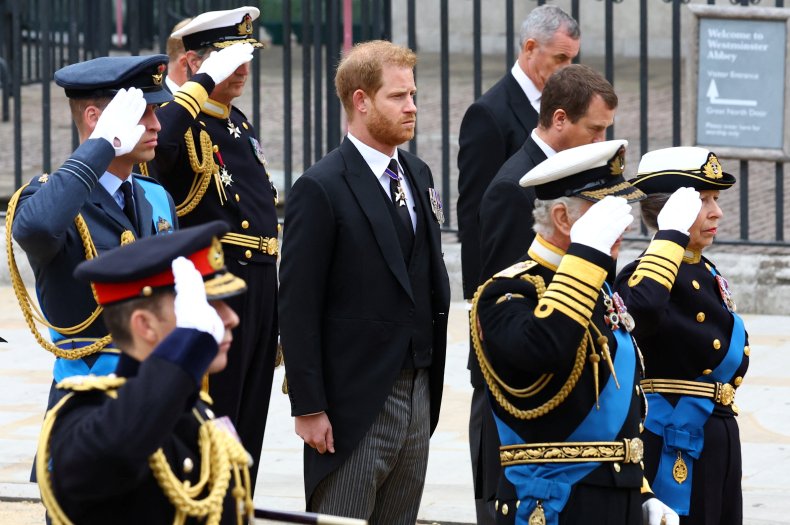 Despite serving two tours of Afghanistan during his military service, Harry was not entitled to wear his uniform having stepped down from his role as a working member of the royal family in 2020, losing his military patronages after a one-year grace period set by the queen that ended in March 2021.
Ex-serving members of the armed forces are permitted to wear their uniforms on extremely rare occasions with the express permission from their regiment's colonel-in-chief, who in Harry's case is Princess Anne (being a former serving member of the Household Cavalry) or to a greater extent his father, King Charles.
Charles did grant his son permission to wear his uniform, at his invitation, during a special grandchildren's vigil at the lying-in-state of the late queen on Saturday evening.
It was the first time that the prince had appeared in uniform since 2020, and was done, in part, because Prince Andrew, who also had his patronages stripped while fighting a sexual assault lawsuit in 2022, was also granted permission to wear his uniform for a vigil the previous evening.
Earlier in the week when speculation about the prince's uniform question was gaining momentum, he issued a statement, via a spokesperson, announcing that he would happily wear a morning suit for the ceremonial aspects of the queen's funeral with hopes that focus could be returned to his grandmother's legacy.
"Prince Harry, The Duke of Sussex will wear a morning suit throughout events honoring his grandmother," the spokesperson told Newsweek.
"His decade of military service is not determined by the uniform he wears and we respectfully ask that focus remain on the life and legacy of Her Majesty Queen Elizabeth II."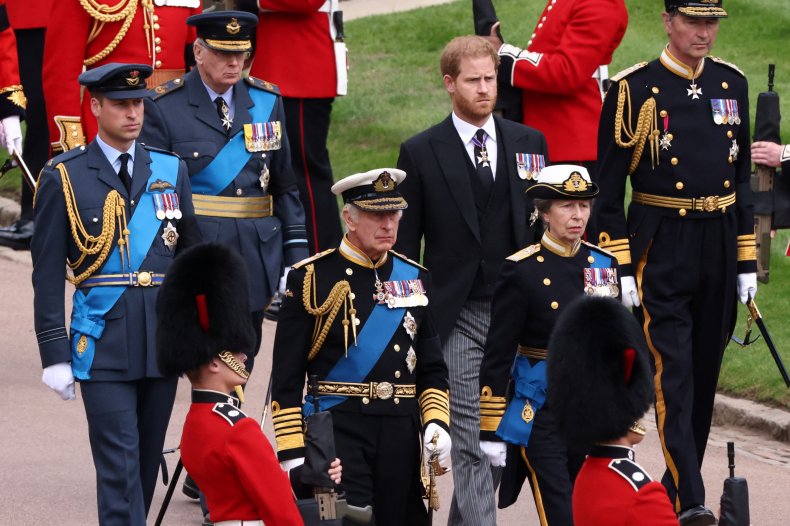 In accordance with this, Harry wore his morning suit for the state funeral and the committal service of the queen's body at St. George's Chapel in Windsor on September 19.
The prince was accompanied at the day's state events by his wife, Meghan Markle, who was seen to shed a tear outside Westminster Abbey following what had been an emotional ceremony.
Princess Charlotte, 7, the only daughter of the Prince and Princess of Wales, was also seen to get emotional, shedding her own tears and looking to her mother for comfort.
The committal service at Windsor saw a number of the crowned heads of Europe who had been at the funeral also attend with many being related to the monarch through the shared ancestory of Queen Victoria.
The ceremony included the lowering of the monarch's coffin into the royal vault where Prince Philip's coffin lays and an emotionally charged rendition of "God Save The King."