Meghan Sheds a Tear at Queen's State Funeral as Emotions Run High
Meghan Markle shed tears outside Westminster Abbey on Monday following the state funeral of Queen Elizabeth II.
The duchess attended the funeral alongside her husband Prince Harry and sat in a prominent position in the abbey, directly behind King Charles III and Queen Camilla.
Emotions were running high at the event which also saw the young Princess Charlotte, 7, turn to her mother the Princess of Wales for comfort after shedding tears herself.
The funeral saw members of the royal houses of Europe, as well as world leaders from across the globe, converge on London to pay their personal tributes to Britain's longest reigning sovereign, who celebrated her Platinum Jubilee just three months ago.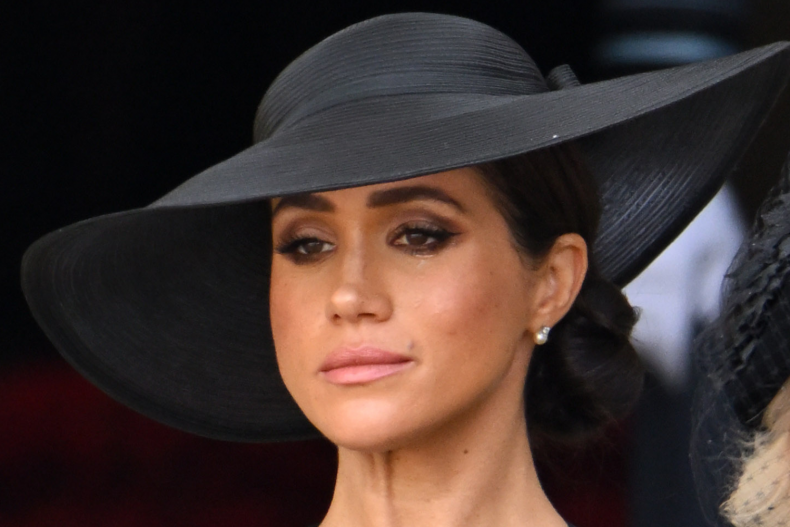 After the ceremony was over, Meghan and members of the royal family including the Prince and Princess of Wales, Princess Anne, Prince Andrew and Prince Edward, processed down the aisle behind the monarch's coffin.
Harry and Meghan were photographed affectionately holding hands as they exited the service, a gesture they faced criticism for earlier in the week with online commenters calling the move "disrespectful."
This message was lost on President Joe Biden and his wife, Jill Biden, however, as the couple also walked through the abbey hand-in-hand.
As Meghan gathered with Queen Camilla, the Princess of Wales, the Countess of Wessex and the Wales children, photographers captures the moment a tear ran down her face, a tribute to the grandmother-in-law she said had been "wonderful" to her during the royal's 2021 interview with Oprah Winfrey.
"[The queen] has always been wonderful to me," she told Winfrey, despite voicing concerns about her and Harry's treatment by royal family members and the royal household during her time as a working royal.
"We had one of our first joint engagements together. She asked me to join her, and ... We had breakfast together that morning and she'd given me a beautiful gift, and I just really loved being in her company."
Pressed by Winfrey to reveal what the gift was, Meghan replied: "She gave me beautiful pearl earrings and a matching necklace. And we were in the car going between engagements, and she has a blanket that sits across her knees for warmth. And it was chilly, and she was like, 'Meghan, come on' and put it over my knees as well."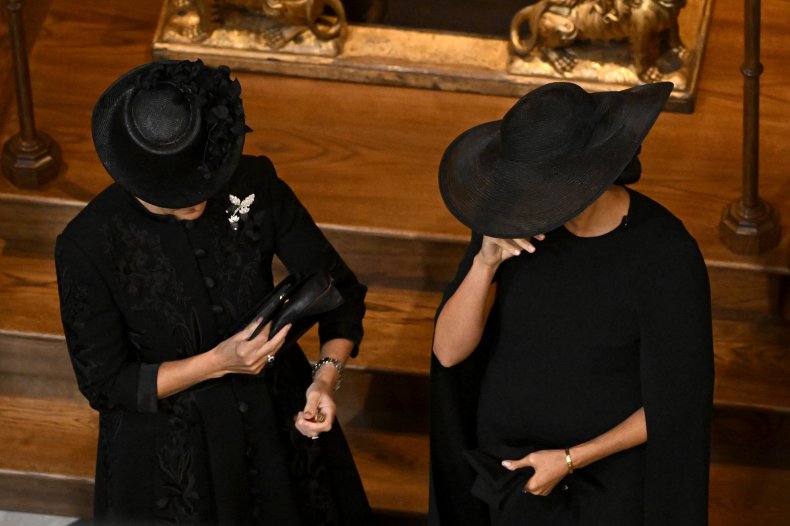 The duchess wore those very pearl earrings with diamond studs to the funeral proceedings in tribute to the queen.
Following the Westminster Abbey service, members of the royal family followed the funeral cortege to Wellington Arch near Buckingham Palace where a hearse took the coffin to Windsor Castle.
Once at Windsor, a committal service was held where the queen will later be buried alongside her husband, Prince Philip.
Update 9/19/2022 12:05 p.m. ET: This story has been updated with additional information.