Queen Elizabeth II risks "tainting her own reputation" if she does not strip Prince Andrew of his honorary military titles over Jeffrey Epstein, a royal author tells Newsweek.
The Duke of York was made colonel-in-chief of the Grenadier Guards in 2017—two years after allegations he had sex with a 17-year-old Jeffrey Epstein trafficking victim were first made public.
In August, Virginia Giuffre, his accuser, turned the heat up even further by filing a lawsuit accusing him of sexual assault and battery in New York.
Respected U.K. newspaper The Sunday Times on Sunday suggested the queen, who is commander-in-chief of the British armed forces, has indicated she wants Prince Andrew to keep his role as colonel despite opposition from the military.
Nigel Cawthorne, author of biography Prince Andrew: Epstein, Maxwell and the Palace, told Newsweek: "Harry was made to give up being Captain General of the Royal Marines.
"Its always been said that Andrew is the favorite son but the queen is surely tainting her own reputation if she is standing up for him in a relatively public way like this.
"In a way, one must admire the royal family for rallying around. To the victims of Jeffrey Epstein, it's like honor among thieves. Harry and Meghan must be very puzzled by this. Andrew claims his HRH [His Royal Highness title] and they've been told not to. It is not just a double standard. We've got to remember now that things have moved on. Andrew is now accused of rape in the first degree."
Buckingham Palace said Andrew's military title was "in abeyance," or suspended, but it has not been fully withdrawn and no other royal has been allocated the position in his place.
Charles Rae, author of Diana: The People's Princess, said the duke's withdrawal from public life meant he was unable to perform his duties for the Grenadier Guards anyway.
He told GB News: "I'm surprised that the queen has made this decision given that the Grenadier Guards themselves, senior officials, are saying they don't really want Andrew to be associated with the regiment. From what I'm hearing the other regiments he's associated with are feeling the same thing.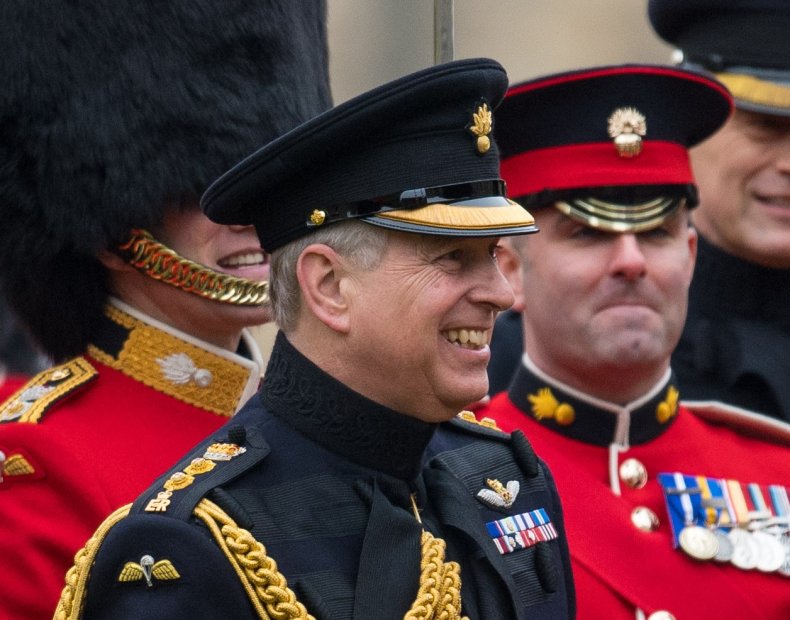 "Basically, he's colonel-in-chief of this regiment and he can't do any colonel-in-chief duties because he's not appearing in public so he's not representing the regiment.
"He's not doing anything. They'd rather have another member of the royal family who can show on military parades that he represents the regiment."
The argument over Andrew's role with the Grenadier Guards came after a source familiar with the U.S. Epstein inquiry told Reuters the prince was a "person of interest."
The designation does not necessarily mean they see him as a suspect but the news agency did report the authorities are still seeking his testimony.
A source told Reuters last week: "He doesn't seem to want to talk to us."
Prince Andrew withdrew from public life in November 2019 when he released a statement confirming: "Of course, I am willing to help any appropriate law enforcement agency with their investigations, if required."
The Department of Justice then submitted a formal request through the U.K. Home Office for his co-operation but Andrew is yet to give an interview to the FBI, according to Giuffre's lawsuit.
The argument over Prince Andrew's military title takes place six months after Prince Harry was stripped of his, including the coveted role of Captain General of the Royal Marines.
Members of the British royal family are given honorary military appointments and medals irrespective of their service record.
However, Andrew and Harry are the only royals to have served on the front line—and both have for different reasons withdrawn from royal duties.
It leaves the remaining family members the only ones in a position to publicly represent the military despite their relative lack of front line service.
Prince Edward, for example, quit the Royal Marines four months into training but has eight medals and is still allowed to wear his uniform to public events.
Cawthorne told Newsweek: "I've always thought it bizarre that the various members of the royal family turn out in uniforms for branches of a service they've never served in, festooned with medals which I'm not quite sure how they've won."
Royals ordinarily wear uniform to funerals but the queen broke with decades of tradition to avoid a situation where Prince Harry and Prince Andrew were the only ones in suits, despite their service record.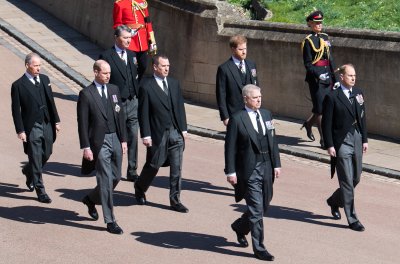 Andrew had also discussed wearing an admirals uniform, even though he missed out on promotion to the rank due to the Epstein scandal.
A court filing by Giuffre's lawyer reads: "Prince Andrew's actions constitute sexual offenses as defined in New York Penal Law Article 130, including but not limited to sexual misconduct, rape in the third degree, rape in the first degree, forcible touching, sexual abuse in the third degree, and sexual abuse in the first degree.
"As a direct and proximate result of Prince Andrew's criminal acts, [Giuffre] has in the past and will in the future continue to suffer substantial damages, including extreme emotional distress, humiliation, fear, psychological trauma, loss of dignity and self-esteem, and invasion of her privacy."
Prince Andrew has previously denied the allegations and when asked whether he had sex with Giuffre by the BBC in 2019 he said: "No, and without putting too fine a point on it, if you're a man it is a positive act to have sex with somebody.
"You have to take some sort of positive action and so therefore, if you try to forget, it's very difficult to try and forget a positive action and I do not remember anything.
"I can't, I've wracked my brain and thinking oh... when the first allegations, when the allegations came out originally I went, 'well, that's a bit strange, I don't remember this' and then I've been through it and through it and through it over and over and over again and no, nothing. It just never happened."
A Buckingham Palace spokesperson told Newsweek: "The Grenadiers and all The Duke's military appointments are in abeyance after he stepped back from Royal Duties for the foreseeable future in November 2019, this remains the situation."