Queen Elizabeth II Says 'None of Us Can Slow the Passage of Time' After Health Scare
Queen Elizabeth II reflected on her years in public life after recent health problems, saying: "None of us can slow the passage of time."
The monarch, 95, canceled more than three weeks of public visits including COP26, attended by President Joe Biden.
Most recently, she pulled out of Remembrance Sunday, on November 14, with a sprained back on the morning, having confirmed her attendance only two days earlier.
Elizabeth—who famously pledged her "whole life" to public service on her 21st birthday—appeared to indirectly reference her health concerns as she addressed the opening session of the 11th General Synod of the Church of England today, on Tuesday.
The queen said: "It is hard to believe that it is over 50 years since Prince Philip and I attended the very first meeting of the General Synod.
"None of us can slow the passage of time; and while we often focus on all that has changed in the intervening years, much remains unchanged, including the Gospel of Christ and his teachings."
She ended her address by quoting one of the hymns sung that morning, Come Down, O Love Divine.
It read: "O Comforter, draw near, within my heart appear, and kindle it, thy holy flame bestowing."
Buckingham Palace released a statement on Sunday morning hours before Elizabeth was due to watch the Remembrance Sunday service at The Cenotaph, in London.
It read: "The Queen, having sprained her back, has decided this morning with great regret that she will not be able to attend today's Remembrance Sunday Service at the Cenotaph. Her Majesty is disappointed that she will miss the service.
"As in previous years, a wreath will be laid on Her Majesty's behalf by The Prince of Wales."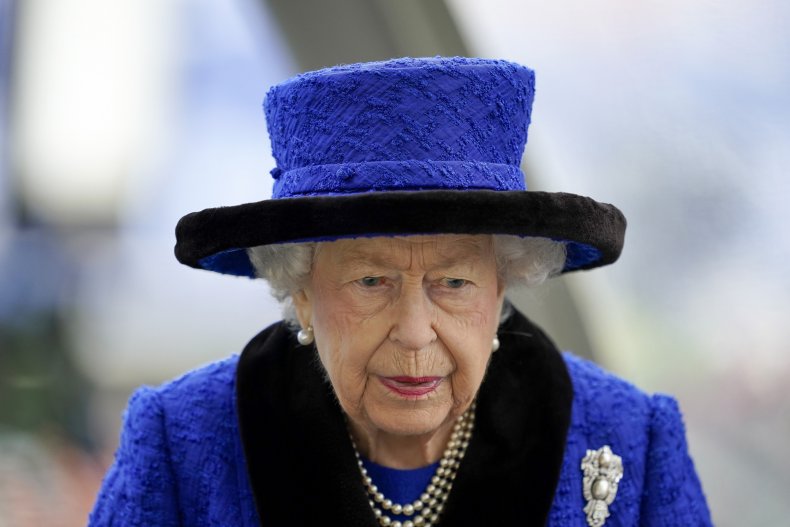 A royal source told Newsweek the back sprain was a new issue, following an unrelated overnight stay in hospital in October.
The queen described in Tuesday's address how on her first appearance at the General Synod one task discussed was "to bring the people of this country to the knowledge and the love of God."
She said: "Of course, in our richly diverse modern society, the well-being of the nation depends on the contribution of people of all faiths, and of none.
"But for people of faith, the last few years have been particularly hard, with unprecedented restrictions in accessing the comfort and reassurance of public worship. For many, it has been a time of anxiety, of grief, and of weariness."
The observation may be particularly relevant to the queen who sat alone at Prince Philip's COVID-compliant funeral at St George's Chapel, in Windsor Castle, in April.
She added: "Yet the Gospel has brought hope, as it has done throughout the ages; and the Church has adapted and continued its ministry, often in new ways—such as digital forms of worship."