Queen Pulls Off Spectacular Start to Politically Charged Platinum Jubilee
Queen Elizabeth II pulled off a spectacular opening for her Platinum Jubilee despite a host of major complications and recent health problems.
The monarch balanced family tensions, public outrage at Prince Andrew, a media frenzy around the arrival of Prince Harry and Meghan Markle on U.K. shores and all at the age of 96.
Episodic mobility problems meant she could not take the salute on the parade ground outside Buckingham Palace but the queen found a way around her health issues by taking it from the balcony instead.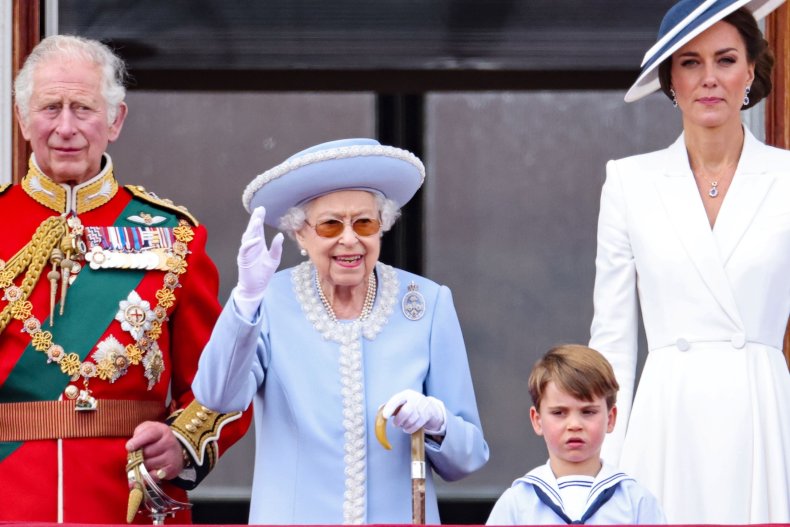 Meanwhile, Prince Louis, youngest child to Prince William and Kate Middleton, won hearts as he pulled faces on the Buckingham Palace balcony and put his hands over his ears as Royal Air Force jets flew past.
Harry and Meghan were barely seen but pictures did emerge of them sharing a playful moment with some of Harry's nieces—showing the world they had not been excluded.
The Montecito, California royals were banned from the balcony and at one stage it appeared they would be treated just the same as Prince Andrew, who stepped back from public life after allegations he abused a 17-year-old Jeffrey Epstein victim. He denied the allegations but reached an out of court settlement for an undisclosed sum.
The Duke of York, however, was set to make no appearance at the jubilee—having been expected at a church service on Friday, June 3—after he tested positive for COVID-19.
A palace spokesperson said: "After undertaking a routine test the duke has tested positive for COVID and with regret will no longer be attending tomorrow's service."
Needless to say, by making sure there was a more discreet role for the Sussexes to play, the queen was able to show they were still welcome but also could not retain their former prominence having quit royal duties, as has been palace policy since their exit was first announced.
The move also meant they were not pictured face-to-face with Prince William and Kate Middleton, who Meghan has not seen publicly since her Oprah Winfrey interview in March 2021.
That stopped journalists and social media commentators overinterpreting every facial expression and innocuous interaction, distracting from the main event.
It all meant the queen took the limelight during a successful first day of a celebration with its roots in seven decades of Elizabeth's historic tenure as Britain's longest reigning monarch.
Dickie Arbiter, her former press spokesperson, wrote on Twitter: "The Queen's #PlatinumJubilee got off to a rousing start today with #TroopingtheColour.
"Three generations of heirs were on #Horseguards—Princes Charles and William riding and George watching—and the crowning glory was The Queen's balcony appearance greeted with rousing cheers."
Crowds filled not just The Mall, the long straight road that extends away from the palace where royal watchers traditionally gather. As far north as Piccadilly cars beeped their horns as they struggled to find a path through throngs of royalists and tourists draped in Union Jack flags or fake crowns.
Green Park Station was closed and evacuated after it was overrun with people and pedestrians gave up sidewalks and took to the roads with push chairs and children weaving between vehicles and police.
The sun shone but the weather stayed cool as soldiers and officers executed their carefully drilled parade.
Those without tickets tried their luck at the entrance to the parade grounds but were turned away by security who preserved the experience for those lucky enough to bag a seat.
Forces veteran Steve Szymendera, 71, and partner Ella Legate, 70, formerly of the Women's Royal Naval Service (WRNS), got theirs through a raffle put on by forces charity the Royal British Legion.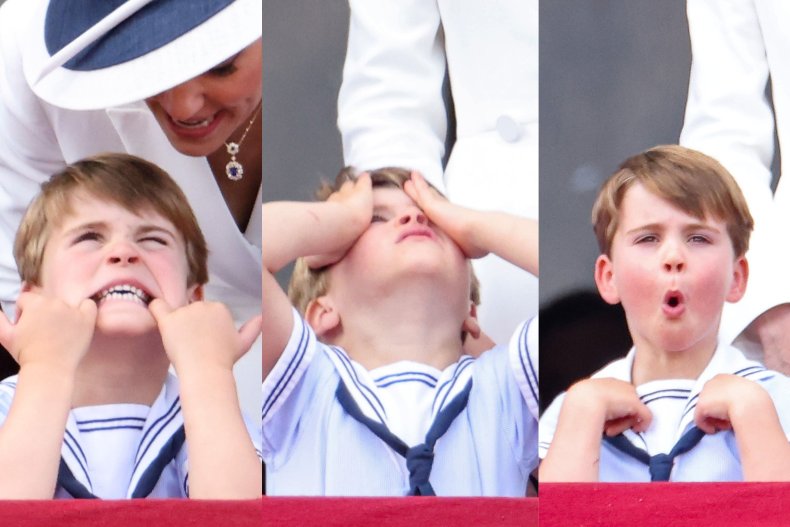 Szymendera told Newsweek: "It was fabulous, absolutely stunning. We were really lucky to have been chosen by the legion to attend it. It's great for ex-services.
"The highlight was probably seeing the queen at the end and the fly past was great. Harry and Meghan chose to step back. They can't just step in and out."
Prince George, Princess Charlotte and Prince Louis were seen waving during their first royal carriage procession and got the seal of approval from a key royal personality of the past.
Former SAS special forces officer Jamie Lowther-Pinkerton was an aide to both Prince Harry and Prince William, and the older brother also made him godfather to Prince George.
He told the BBC: "I loved the way that they dipped their heads to the colour as they past it, learning young. Absolutely right, fantastic."
For more royal news and commentary check out Newsweek's The Royal Report podcast: