Queen Elizabeth II Jubilee Barbie's Glamorous Look Divides Opinion
Queen Elizabeth II has been made into her first ever Barbie doll to mark her platinum jubilee this year. The doll shows the monarch wearing a white evening gown with a tiara, jeweled badges and orders. The representation of the 96-year-old monarch has, however divided opinion, provoking criticism online for not being exactly true to life.
The platinum jubilee is being marked with a number of commemorative efforts, the latest of which is the tribute doll representing the queen from Barbie creators Mattel.
Priced at $75 as part of the brand's tribute series, the doll has been designed to show the monarch in one of her most iconic forms: full state grandeur. The creators have shown the queen with her iconic hairstyle and white gown and have replicated a fringe tiara owned by the queen's grandmother, Queen Mary.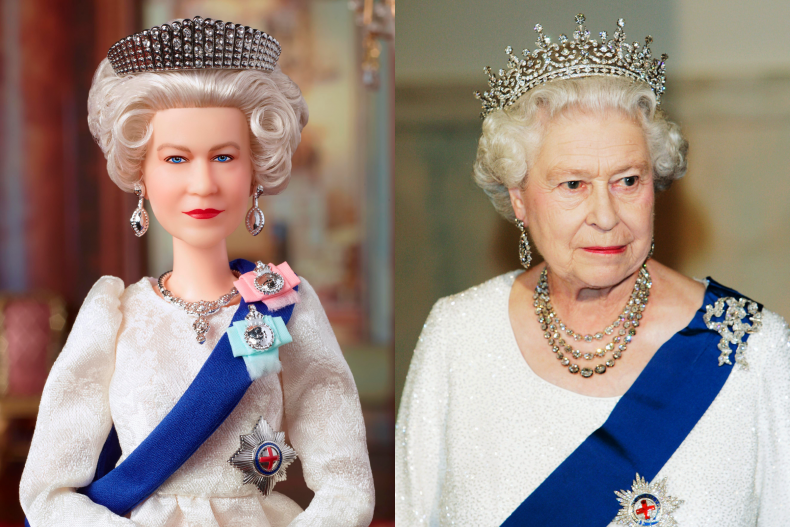 Royal historian and professor, Kate Williams, author of Our Queen Elizabeth has called the doll "iconic" and a "wonderful tribute to a great Queen, embodying Elizabeth II's service, intelligence, commitment and vibrant spirit... Barbie has always been a queen; now she is Queen Elizabeth II."
The doll has not been universally praised. The depiction of the 96-year-old monarch without signs of aging has provoked comment online.
Anti-ageism campaigner Nicky Clark took to Twitter to post: "Y'know a better tribute to a 96 year old woman would be a barbie doll with actual wrinkles like the Queen has. The messaging to girls is awful. 'Get old girls sure, but look young' #ActingYourAgeCampaign #DontCastHerOut"
Daily Mail royal editor Rebecca English also took to Twitter to highlight that the doll's representation of the 5'3" queen has been made using Barbie's "model proportions." She wrote:
"The Queen has been immortalised as a £94.99 Barbie doll. She appears to have been made with Barbie's (in)famous model proportions, opposed to her own 5' 3''. But she's sporting her Royal Family Orders, miniature portraits of her father and grandfather, plus her wedding tiara."
Users also drew comparisons between the doll and other glamorized depictions of the queen. Broadcaster Tracie Hunte wrote: "Ok but this doll is giving Helen Mirren when she portrayed the queen in 'The Queen' (2006)."
CBS News anchor Jim Donovan was another to highlight the similarities between Barbie's representation of the monarch and actress Mirren, who won an Oscar for her portrayal of Elizabeth II in "The Queen." He wrote:
"Barbie is celebrating the longest ruling monarch in British history, Her Majesty Queen Elizabeth II, as she celebrates a Platinum Jubilee marking 70 years of service. Maybe it's just me, but I think this doll's face looks more like actress Helen Mirren. What do you think?"
The doll is sure to find favor with Barbie fans and collectors as it has been designed with them in mind. A statement released with the doll announced that for those "who may want to keep the doll in her box to preserve its collectible value, the packaging conveys the majesty and importance of the doll within.
"Inspired by Buckingham Palace, the packaging shows a hint of the throne and the red carpeting inside the palace throne room and features a crest-shaped logo and a badge commemorating the 70th anniversary of the Queen's accession to the throne."
The doll's release comes in anticipation of the queen's platinum jubilee celebrations planned to take place in London this June.
Concern has been raised as to whether the 96-year-old monarch will be well enough to attend all of the planned events. The schedule includes a special Trooping of the Colour ceremony, a commemorative service at St. Paul's Cathedral and special concert at Buckingham Palace, in the wake of canceled engagements due to ill health and mobility problems.
The queen has canceled her appearances at a number of important annual engagements already this year, including the Commonwealth Day service at Westminster Abbey and Royal Maundy and Easter services at St. George's Chapel, Windsor. Amid apparent mobility struggles the monarch said in response to a question as to how she was in a February engagement at Windsor Castle, "As you can see, I can't move."
The queen celebrated her 96th birthday on Thursday passing the time quietly on her Norfolk, England estate where her late husband, Prince Philip, spent much of his time after is retirement.