Queen Beams During In-Person Engagement Ahead of Prince Philip Memorial
Queen Elizabeth II looked bright and cheery during an engagement at Windsor Castle on Wednesday ahead of Prince Philip's memorial service on March 29.
The queen attended a viewing of artifacts from the British enamel heritage brand Halcyon Days to mark the maker's 70th anniversary, which coincides with the monarch's Platinum Jubilee.
The queen has familial ties to the business in the form of Halcyon Days' head of marketing, Zenouska Mowatt, who is a granddaughter of the queen's cousin, Princess Alexandra. Mowatt showed the monarch the display of artifacts.
The queen was photographed at Wednesday's event with a beaming smile, wearing a printed day dress.
Her appearance comes after she has reduced the number of in-person engagements she undertakes in the wake of a series of health scares.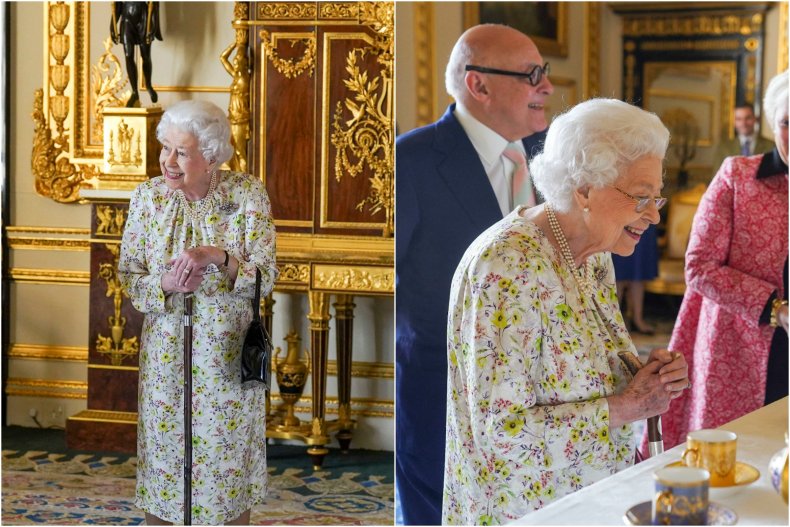 In February it was announced that the 95-year-old had tested positive for COVID-19. Following a period of isolation she met with Canadian Prime Minister Justin Trudeau in early March. He said during a later press conference: "I can tell you that in my conversation with her this morning she was as insightful and perspicacious as ever."
At the Halcyon Days event the queen was seen using a walking stick. Speculation surrounding her mobility has increased in recent weeks and at an audience in February the monarch responded to a question asking how she was with "as you can see, I can't move."
Mobility concerns have caused the queen to reduce the number of public appearances she undertakes, including her annual attendance at the Commonwealth Day service at Westminster Abbey in mid-March. The monarch asked Prince Charles to represent her at the service.
The cancellation of the Commonwealth Day appearance was seen by some as the queen's way of ensuring she was able to attend the memorial service for her husband Prince Philip at Westminster Abbey on March 29. Philip died in April last year.
It has been reported that the queen "hopes" to be in attendance at the service though it is expected that she will make a quiet entrance via a side door instead of walking up the long nave of the abbey because of her mobility issues.
The number of attendees at Philip's funeral in April 2021 was restricted to just 30, in accordance with COVID-19 public safety measures at the time.
In contrast, attendance at the memorial service is anticipated to be in the hundreds. With representatives of nearly every European royal family having accepted invitations, the service will mark the greatest assembly of world royals since the queen's Diamond Jubilee in 2012.
Her overall cheerful appearance at Windsor Castle on Wednesday marks a return to a hybrid working schedule, new to the monarch since COVID, in which she will blend video-conferencing engagements with in-person meetings.