Queen Only Important to Harry for Netflix Filming—Ex-Government Minister
Prince Harry has been accused of meeting Queen Elizabeth II to further his "credibility on Netflix," by a former U.K. government minister.
David Mellor, who served under both Margaret Thatcher and John Major in the 80s and 90s, compared the duke to the Kardashians.
It came after Prince Harry told NBC News' Today show he wanted to make sure the queen was protected and had the right people around her during an interview at his Invictus Games tournament.
The Duke and Duchess of Sussex went for tea with the Monarch, who turns 96 on April 21, in the run up to the games.
Mellor told GB News: "I fell about. This was a real comic turn. The most best paid comedian couldn't be funnier than that. What is the man on?"
He added: "His life is totally distorted now by becoming a sort of Kardashian-type figure where he's surrounded by people who want to photograph him because they're paying him lots of money for the privilege of filming him.
"And the queen becomes important to him only because he has to see the queen for his credibility on Netflix."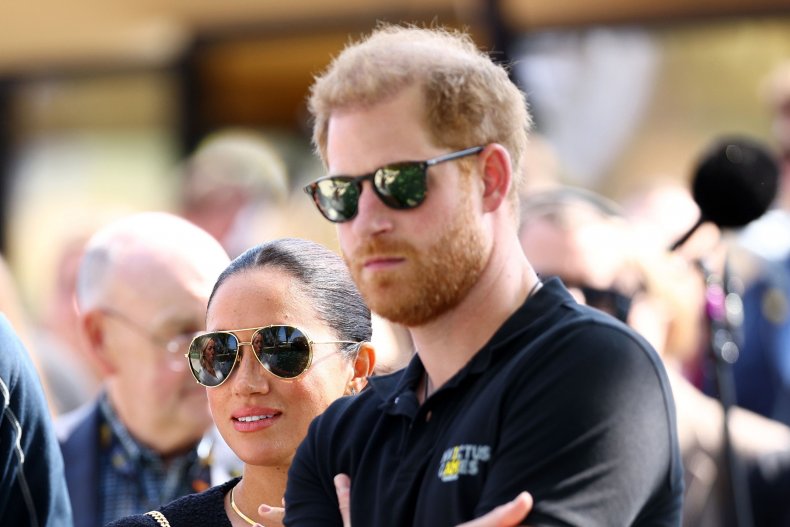 Harry told Today presenter Hoda Kotb: "Being with her [the queen], it was great. It was just so nice to see her. She's on great form.
"She's always got a great sense of humor with me and I'm just making sure that she's, you know, protected and got the right people around her."
His comments emerged in a promo clip released ahead of the full interview which was due to be broadcast on Wednesday, April 20.
Mellor was not the only one to criticize Harry's comments on protecting the queen, which also caught the eye of long-standing detractor Piers Morgan.
The former Good Morning Britain presenter wrote on Twitter: "By quitting Britain & living 6000 miles away? By trashing her family & institution on TV? By snubbing Prince Philip's memorial? By writing a book that will ruin her Platinum Jubilee?"
Royal biographer Robert Jobson, author of upcoming William at 40, wrote on Twitter: "Prince Harry says on US TV he is making sure the Queen is 'protected and has the right people around her'. How so? I think you'll find that Prince Charles and Her Majesty's children and William are DOING just that and supporting the Queen, with actions—and not just words."
Elsewhere in the interview, Harry said he feels like his home is now in America, rather than Britain.
He said: "Both Meghan and I had tea with her so it was really nice to catch up with her. You know, home—home for me, now, is, you know, for the time being, in the states.
"And it feels that way as well. We've been welcomed with open arms and we have such a great community up in Santa Barbara."
For more royal news and commentary check out Newsweek's The Royal Report podcast: