Queen Elizabeth II and her family could "see how unhappy Harry and Meghan were" but the royals wanted the couple's exit to set the "right precedent," according to a new biography by Tina Brown.
The Monarch, 96, felt "genuinely very conflicted" about the Duke and Duchess of Sussex's desire to step back from royal life but was "supportive," a source told the former editor of Tatler, Vanity Fair and New Yorker.
The Palace Papers, released on April 26 in hardback, describes how the couple's intention to leave "was clear from as early as the autumn of 2018."
A "former palace staffer" told Brown taking Harry out of royal life was the best thing Meghan could do for him because he was so unhappy. The book reads: "The family saw the split coming only months later, in the summer of 2019.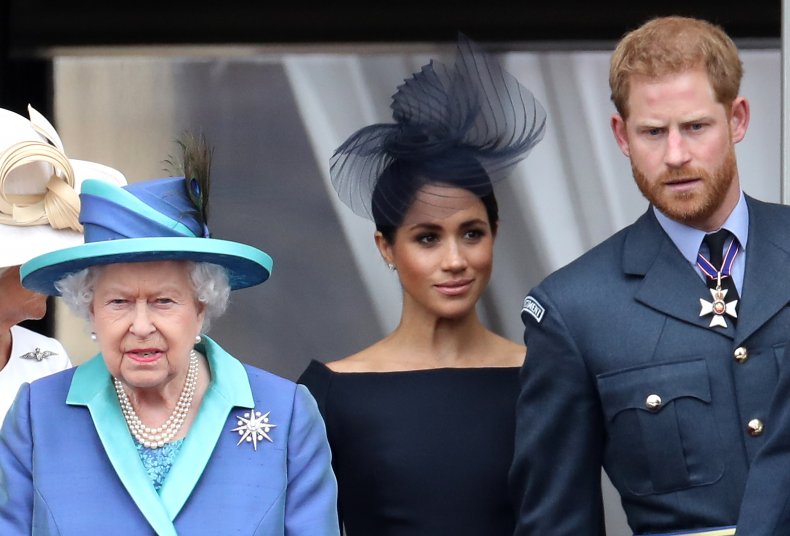 "I think the Queen found herself genuinely very conflicted," said the same palace source. "They could all see how unhappy Harry and Meghan were. Everybody was supportive of them leaving. But they wanted it done in an orderly way. And they also wanted it done in a way that set the right precedent. William's got three kids. The precedent they set for this generation would affect his children. He's very mindful of that. So they wanted it done properly."
Brown compares Harry and Meghan's royal departure to the United States' withdrawal from Afghanistan: "A necessary end executed with maximum chaos."
And she said Harry made the decision to quit, though the move was made "with acceleration from Meghan."
The book suggests the first signs they might leave emerged in the autumn of 2018 and Canada and South Africa, both in the Commonwealth, were viewed as possible destinations.
Brown's source told her: "I thought one of the best things that Meghan could do for Harry was to take him out of royal life because he was just so unhappy for so long. He needed a wife to come in and say, 'actually the best thing for you is that I take you out of this.'"
However, there were problems arising from Harry and Meghan's inability to see that a part-time, half in, half out arrangement would create a conflict of interest, the book says.
She writes: "If, say, the high-visibility couple tacked a few days of shooting a paid Netflix documentary onto the back of a Foreign Office-funded Commonwealth tour, there would be an uproar—just as Andrew saw when he mixed business sidebars with his trade ambassador trips. Ethics issues of this kind have killed many a promising political career and are red meat for the media."
However, Harry could not see that it was his royal status that was up for sale during commercial endeavors.
A palace veteran quoted in the book stated that Harry "is a deeply caring person who wants to make a positive difference. He doesn't understand that the reason he's getting to do that is because he's a prince."
Brown cites Meghan's work lobbying Congress to approve paid family leave measures in Joe Biden's Build Back Better program as an example of a project that might be controversial if the Sussexes still had one foot in the Monarchy.
The Palace Papers includes some voices that defend Harry and Meghan but does not shy away from criticizing them, including on such sensitive topics as the duchess' mental health.
Meghan's words to Oprah Winfrey about feeling suicidal during her royal life are recounted alongside Harry's statement that he "went to a very dark place as well" but was ashamed of admitting how hard his wife was struggling to his family.
Brown wrote: "It was a statement that was not only unsatisfactory but also, surely, disingenuous. Perhaps it was an index of Harry's panic that, after seven years of therapy himself, he seemed paralysed about turning to the same palace advisers who had supported him in the past."
She added: "If he was now too afraid of the pile-on that would follow an admission of Meghan's ordeal, should he not own the fact that it was he—rather than the Palace or members of his family—who had failed to get his wife help in her hour of need?"
Meghan told Oprah during the March 2021 tell-all how she asked a senior official in the institution if she could go and get help but was told it would make the Monarchy look bad.
For more royal news and commentary check out Newsweek's The Royal Report podcast:
If you have thoughts of suicide, confidential help is available for free at the National Suicide Prevention Lifeline. Call 1-800-273-8255. The line is available 24 hours a day.