Meghan and Harry's 'Us Against The World' Attitude a 'Disaster'—Tina Brown
Meghan Markle and Prince Harry's "Us Against the World" attitude has been called a "disaster" by Tina Brown ahead of the release of her new book The Palace Papers: Inside the House of Windsor—The Truth and Turmoil. She went on to say the Sussexes are "addicted to drama."
In an interview with The Telegraph this weekend, Brown states that Harry and his brother Prince William's relationships with the media have been heavily influenced by the treatment of Princess Diana in the 1990s. She maintains they are steered by their wives in how they handle the spotlight.
Brown's book comes 25 years after the death of Diana in a Paris car crash following a high-speed chase with members of the paparazzi in 1997. The book analyzes the relationships between the media and members of the royal family—an issue that has come into particular focus since claims made by the Sussexes in a 2021 bombshell interview with Oprah Winfrey.
A former editor of numerous worldwide publications including Newsweek and Vanity Fair, Brown said Harry's attitude towards the press is not all wrong in relation to the treatment of his mother, himself or his wife over time. Still, she cautions, "Doing battle with the British media is a lost cause... and unfortunately Meghan is as combative about it as he is."
In comparison Brown notes that "William and Kate calm each other down a lot; their marriage works very well in that way.
"In the Sussex marriage, they wind each other up and it's Us Against the World, and that's a disaster."
Speaking of the relationship between William and Harry, Brown says things are "very bad."
"I'm told there's absolutely nothing going on between them at the moment."
The brothers have not appeared in public together since they both attended the unveiling of a statue of their mother, Diana, at Kensington Palace in July 2021.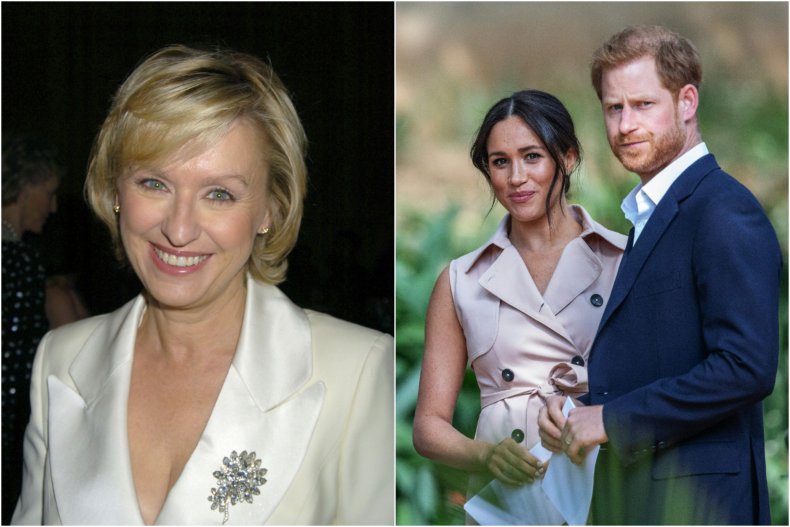 Harry has not returned to the U.K. since that visit where he claimed he had been dangerously followed in a car by members of the paparazzi—with damning parallels to Diana's treatment by the press. As a result, Harry requested a reevaluation of his security detail by the U.K. Home Office given that his security needs had been reassessed after he and Meghan stepped down as full-time members of the royal family.
The Home Office reaffirmed its decision that the security afforded to Harry when he was in the U.K. was adequate. The prince then requested a judicial review, which is currently being processed by the courts.
This ongoing legal battle has been seen as the reason that Harry did not attend the memorial service for his grandfather, Prince Philip, at Westminster Abbey last month—making him the only one of Philip's eight grandchildren not present.
On the relationship between the royal brothers since Harry and Meghan stepped away from their working royal roles, Brown told The Telegraph, "Frankly, I think they should have found a way to work it out."
She added: "Harry and Meghan would have been an amazing asset for the Commonwealth. They didn't understand that the queen was giving them this platform for soft power which could have been tremendous if they had done it in a patient and strategic way."
Speaking of Meghan, Brown sympathized with the culture shock she must have experienced between the fast-paced life and power that comes from being a Hollywood star as opposed to the restricted voice and agency of a member of the royal family.
Brown notes: "I think Meghan felt she could get in there and change it all... Frankly, she could have done a great deal to change things if she had stuck around, but the thing that's most baffling is such impatience. She could have spent a year away and come back with a great game plan."
Brown draws more than one comparison between the way that the duchess engages with the media and her mother-in-law Diana. The magazine editor knew firsthand Diana's bag of media tricks, having covered her life during the 80s and 90s. Brown even attended a private lunch with the princess and Anna Wintour just weeks before her death.
Looking forward to the rest of the Platinum Jubilee year, Brown turned her attention to Harry's upcoming memoir—during which he is expected to detail his relationships with the family members he now so rarely sees, and of whom he and his wife were vocally critical in their Oprah interview.
"William was disgusted about Meghan's attack on Kate because she can't answer back," Brown said in relation to claims made to Oprah that the Duchess of Cambridge made Meghan cry before her wedding. "But that's nothing compared to how furious he's going to be when this book comes out."
For Brown though, the future of the monarchy is not unhopeful. She feels that the real asset in the coming years will prove not to be Charles, William or Harry but Kate. "The royal business is going to be slow and maddening and self-suppressing", she sums up, "but it seems we have in Kate someone very unusual, a modern woman who's willing to do those things."