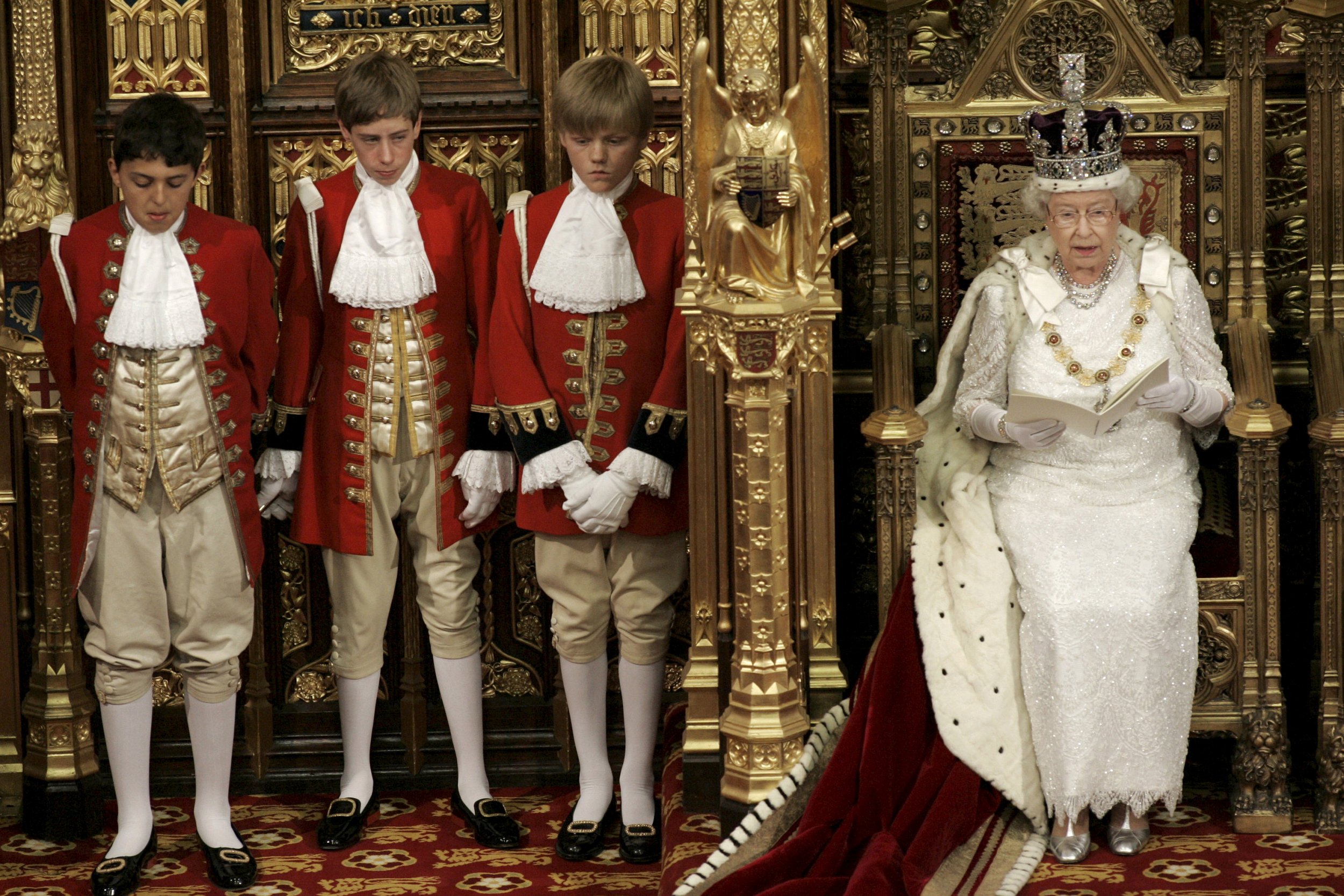 If you're just tuning in from elsewhere in world: Welcome to Britain, where to remind everyone of the complexities of our mad, unwritten constitution we have a yearly parade into parliament featuring the Queen, symbolic door banging, and a mysterious gentleman called "Black Rod."
The state opening of parliament takes place on Wednesday morning. After some ceremonial gubbins involving the House of Commons slamming the door on the Queen to symbolize its independence, the monarch will make a speech in the House of Lords setting out the agenda of her government for the coming parliamentary session.
So what can you expect this year? Here are five things to watch for.
Don't mention Brexit. Sure, at present the Conservative party is little more than a machine for generating outrageous EU referendum claims involving war criminals (with Boris Johnson saying the EU is like Hitler and David Cameron claiming ISIS would back Brexit, the two sides of the debate are neck and neck). But the Queen's speech is its chance to show that it can definitely, totally re-unite after June 23 and get on with the serious business of government. This is going to be the only day this month where there's an hour or two of British political news that doesn't involve Europe. Savor it.
Social justice warriors. David Cameron would rather like to be remembered for something other than holding inconvenient referendums, and he's always fancied going down in history as a social reformer. Some of Wednesday's speech could focus on this, particularly thanks to details of major reforms to the British prison system briefed overnight. Six "trailblazer" reform prisons are being announced that will enjoy significant new powers to run themselves in what the government is calling the "biggest shakeup of prisons since Victorian times."
Fighting the hate. The speech is to include details of a new counter-extremism bill, perhaps the most significant legislation announced today. It is expected to introduce sweeping new measures designed to combat the spread of extremist ideology, including banning organizations and premises that spread such views.
Know your rights. Reports in national media said there is to be a consultation announced into a "British Bill of Rights," which would assert the supremacy of the U.K. courts over the judgement of the European Court of Human Rights (ECHR). This idea has been floated since before it appeared in the Conservative election manfiesto in 2015, but has run into endless difficulties, not least because of speculation it might involve leaving the ECHR. Reports suggested the version to be announced will not require that, but it's still likely to provoke significant backlash from civil liberties campaigners.
Take back control. It looks as if plans for a "sovereignty bill," which would assert the sovereignty of the British parliament over EU law, have been shelved. Brexit campaigner and former government minister Iain Duncan Smith is outraged: "The fear in government must be that as no one in Britain buys the idea that the EU has been reformed, the sovereignty bill would draw the public's attention back to that failure," he said, according to The Guardian. Nobody else will be too surprised; this was largely a carrot to tempt ex-London Mayor Boris Johnson to the "Remain" camp. It didn't work, so there's no use for it now.