The four young women who make up the string quartet Bond hoisted their electrical instruments and threw themselves into a rendition of one of their hits. Looking on from their dinner tables in the ballroom of the Grosvenor House Hotel on London's Park Lane on this mid-March evening were 500 of the most powerful figures in British politics, media and finance. They had come to celebrate the 70th birthday of billionaire philanthropist and former Conservative Party donor Lord Michael Ashcroft, a former deputy chairman of Britain's ruling party. There was no sign, however, of the most powerful person in the party—British Prime Minister David Cameron. He and the host had fallen out. Also absent from the extravagant bash were most of the senior officials from the party Ashcroft had for many years bankrolled.
In the runup to the event, Cameron had let it be known that he would consider it an act of disloyalty for government ministers to attend the festivities. Many stayed away. But there, seated at the top table, was another powerful Conservative, Boris Johnson. If the then-mayor of London had received the message from his party leader, he had decided to ignore it.
Johnson had recently alienated himself from Cameron, his old friend and rival. Since they first met at Eton, Britain's most prestigious private boys' school, the two men have lived lives frequently in tandem—moving on to Oxford University and later to politics, and generally supporting each other. Both are highly competitive and were confident they had what it took to become prime minister. Cameron got there first; Johnson became mayor of Britain's vast capital—a good job but not the top job. For years, the relationship between these arch-frenemies has been the most fascinating, if slow-moving, story in British politics.
On February 21, shortly before Ashcroft's party, the tension that had been building for decades between these two privileged members of the British elite finally became a public battle—one whose outcome will likely decide the next leader of the world's fifth-largest economy and one of America's most important allies. Johnson publicly declared he would be campaigning for Britain to leave the European Union, in direct opposition to Cameron, who called the referendum but is backing the Remain campaign.
Johnson's announcement—on the issue that has repeatedly divided the Conservative Party over the past three decades—added personal drama to the historic decision facing the British electorate on June 23: whether to remain part of the economic and political bloc that formed in the wake of two catastrophic wars in Europe to bring peace and prosperity to the continent. The now-public contest between Johnson and Cameron will result in either the defeat and possible resignation of a sitting British prime minister or a potentially fatal blow to the ambitions of his rival, Johnson, who may be the most intellectually capable and popular politician of his generation.
" The last thing I wanted was to go against David Cameron or the government," Johnson told reporters gathered outside his home on February 21, the day he made his public declaration.
The next day, Cameron hit back—and made his counterattack personal. Speaking in the House of Commons, the prime minister, who has made it clear that this will be his last term in office, said, "I am not standing for re-election; I have no other agenda than what is best for our country." Johnson, who is a member of Parliament (MP) and ended his second and last term as mayor on May 5, sat in the second-to-last row of benches, listening to his old friend.
Cameron's clear implication was that Johnson's decision was based not on principle but on political calculation; about 130 Conservative MPs, the corps that will choose two candidates to be the party's next leader, are in favor of Britain leaving the EU and are more likely to support a fellow Euroskeptic. (The party membership, which is even more anti-Europe than the Conservative parliamentarians, votes on the two candidates.)
Relations between the two men have only worsened since then. While Cameron remains in contact with his close friend and Cabinet colleague Michael Gove, who is backing the campaign for Britain to leave the EU, insiders say the prime minister has largely stopped communicating with Johnson. "Cameron is still talking to Michael [Gove] about what Michael should and shouldn't say in the referendum campaign," says a senior pro-Leave campaigner who talks to both Johnson and Gove. "But he's stopped trying to influence Boris."
In an interview with Glamour magazine published on May 3, Cameron explained how things stood between him and his old schoolmate. "I'm still friends with Boris," he said, "just perhaps not such good friends."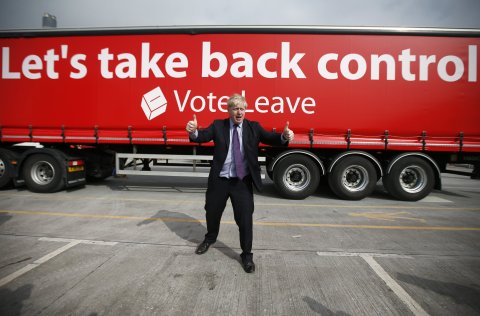 THE BIGGER BRAIN
Cameron and Johnson have been friends for more than 30 years, but it has never been an easy friendship.
At school, Cameron looked up to Johnson, who is two years older and was then one of the most brilliant and charismatic boys at Eton, which has educated 19 British prime ministers and many more Cabinet ministers. Its alumni continue to have an outsize influence on British politics and business. Being two years apart and in different boarding houses at a very large school, Cameron and Johnson did not know each other well at that stage. It was not until they were at Oxford—and were both in the notorious upper-class all-male dining society known as the Bullingdon Club—that they became friends.
Both men grew up in wealthy families. By upper-class English standards, Johnson's family is unconventional; his paternal grandfather was half-Turkish, and on his paternal grandmother's side he is related to many of the royal families of Europe—and to Cameron. They are eighth cousins. Though he also has blue-blooded lineage, Cameron's family is, for the most part, of unremarkable if generally privileged British stock.
Johnson's childhood was somewhat chaotic. He was born in New York, and his bohemian parents, Stanley and Charlotte, were constantly moving—to Oxford, London, Brussels, Connecticut and Washington, D.C., studying and pursuing various careers. They appear to have been particularly keen that their four children learned to fend for themselves.
According to Johnson's unauthorized biographer, Sonia Purnell, 11-year-old Boris and his younger sister, Rachel, routinely made the journey from Brussels, where the family was then living, across the English Channel to and from their boarding school unaccompanied by adults. They would be dumped at the Bruxelles-Nord station in Brussels with a few francs for french fries and would have to find their way back to the U.K., via a train to Belgium's Ostend, a ferry to Dover, a train to London's Victoria Station and then another to Forest Row, where they attended Ashdown House Prep School. On one return journey, Rachel has said, they mistakenly boarded a train bound for Moscow.
By contrast, Cameron—also one of four siblings—could not have come from a more conventional, quintessentially English background. He grew up in a Grade II–listed rectory in the Berkshire Downs. His was a childhood of set family mealtimes, rambles in the woods, horse riding, swimming in the family's private pool and playing tennis on their own court. His stockbroker father, Ian, remained married to Cameron's mother, Mary, until he died in 2010.
The Camerons were well-established members of the community in the small Berkshire village of Peasemore, where several members of the family remain today. Cameron's nanny, Gwen Hoare, who also raised his mother and is now in her 90s, still lives with the family in a cottage next door to the Old Rectory (the family home), where Cameron's older brother, Alex, now lives with his wife and children. Mary Cameron lives in another house next to the rectory.
At the age of 13, Cameron went to Eton, following his father and brother. Johnson was already there, excelling in English and classics, and was hugely popular with both students and teachers. It is still a source of great pride to him that he was a "KS"—a member of a band of 13 or 14 particularly intelligent boys from each year at Eton called King's Scholars. Their intellectual prowess earned them a modest reduction in tuition fees and separate accommodations in the most historic buildings on the school's campus. In his final year, the headmaster appointed him head boy, a position known at Eton as "captain." The captain of the school is also "head scholar."
Johnson has always been intellectually adept—but he has also always been something of a buffoon and a clown. One of his contemporaries at Eton remembers when Johnson, age 18, delivered an address to a visiting foreign dignitary from Malawi entirely in Latin. (At a recent launch party for a friend's book, Johnson repeated this stunt, delivering about a third of his keynote speech in Latin.)
Cameron was less of a social and academic star at Eton. "Although I was in several of the same divs [Eton slang for "classes"] as David Cameron, I have absolutely no school memories of him," says another Old Etonian. "When he first became an MP, I mentioned my non-memories of him to another Old Etonian friend, and they couldn't remember him either. But everyone knew Boris."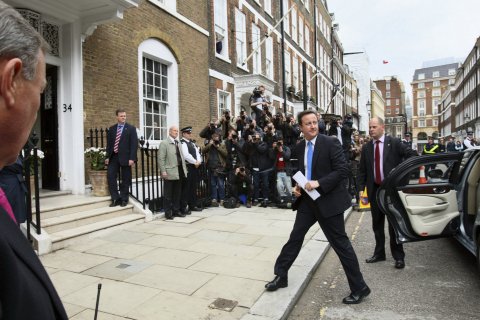 Johnson has found it hard to resist needling Cameron about their school days. He has occasionally teased the prime minister about the young Cameron's failure to make it into Pop, the Eton society for elite prefects. And during the 2010 general election campaign, Johnson sent Cameron a text message wishing him luck and saying that if Cameron needed help in the months ahead, there were two or three Old Etonian mates he could call on, all of whom were KS. Unlike Cameron.
At Oxford University, the preferred destination for many Eton boys, Johnson quickly established himself. Cameron, who arrived two years after Johnson and studied politics, philosophy and economics, remained largely a peripheral player. The future prime minister showed no interest in student politics or the university newspaper, both of which were training grounds for his generation of top-flight politicians. By contrast, Johnson embraced student politics, co-edited a satirical student magazine and became president of the Oxford Union, the most prestigious and keenly contested position at the university's feted debating society. For the most part, they had different sets of friends—although both belonged to the Bullingdon Club, known for its debauchery and for wrecking restaurants (and then paying for the damage).
Cameron, however, proved to be the better student. Johnson was awarded an upper-second-class degree in classics, while Cameron—whose tutor described him as one of the ablest pupils he had taught—got a first. (In 2013, Johnson jokingly dismissed Cameron's achievements at Oxford, calling him—and his own brother Jo—"girly swots" for getting firsts.) It was an early sign, perhaps, that even though Johnson might be a more gifted intellectual, Cameron has greater self-discipline.
According to confidants, Johnson still considers himself the bigger brain—and many of those who know both men well agree. "There is a world of difference between the merely very capable, such as Cameron, and the brilliant, verging on genius, such as Johnson," says a former Eton student who knew both men at school. "The latter can, and often do, make their own way in the world, whereas the former have to compromise, rely on others [and] work harder."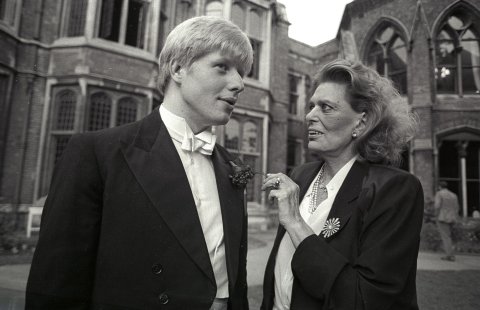 IT'S THEIR PARTY
After Oxford, the two men's careers diverged significantly. In 1988, Cameron took a job as a researcher for the Conservative Party. The previous year, Johnson had embarked on his media career, first as a newspaper journalist and later, in 1999, as a magazine editor. Perhaps the work that brought him the most attention was his appearances as a frequent guest on television shows. He was quick-witted and funny, and national audiences warmed to him. At that point, few people outside a small circle of Conservative Party activists had heard of Cameron.
But Cameron was quietly building a base of support in the party. He became friends with other young Conservatives, including Steve Hilton, who went on to become his policy chief; Rachel Whetstone, now Hilton's wife and senior vice president of communications for Uber; and Ed Llewellyn, now Cameron's chief of staff.
By 2001, ahead of the general election, the Conservative Party was a mess. Then–Prime Minister Tony Blair, leader of the ruling Labour Party, had a huge majority in the House of Commons. It seemed to many political observers that Labour would be in power for a generation, but Cameron had witnessed the fall from grace of Margaret Thatcher, the former Conservative prime minister who had won three elections and had, for much of her time in power, seemed as unassailable as Blair seemed in 2001. So he ran for a parliamentary seat and won.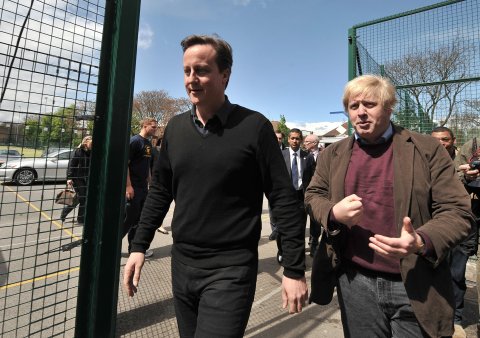 Johnson also sensed that Labour's dominance could not last forever. In 2001, he too ran and won a seat, but he kept his other jobs, including editor of The Spectator magazine. He seemed to be too busy entertaining the nation during appearances on the TV quiz show Have I Got News for You to engage in the serious debate in the Conservative Party about how to return it to power. "Boris was impossible to talk to as a member of Parliament because he was never around," says a veteran Conservative who knows both men well. "He walked around in a sort of blond daze, a trance, really. You couldn't converse with him."
In 2004, when he was caught lying to then–party leader Michael Howard about a four-year extramarital affair, Johnson was fired from his role as the party's spokesman on the arts—and his political career looked unlikely to go further.
Cameron, on the other hand, had performed well in a series of increasingly senior roles; growing numbers of Conservatives saw the moderate, young and personable politician as the leader they needed to signal that the party had shifted to the political center, where most British voters were. By the fall of 2005, following the Conservatives' third successive general election defeat, Cameron was ready to launch his bid to be party leader.
Johnson was one of his earliest backers in a leadership contest Cameron was not expected to win. But when Cameron pulled off a surprise victory, he did not give Johnson a senior post. Cameron, who was very close to Howard and had been deeply unimpressed by Johnson's handling of the row over his love affair, simply considered him too much of a liability. (Johnson became the party's spokesman for higher education.)
Stung, Johnson decided to seek power in other venues. In 2007, he applied to be the Conservative candidate in the London mayoral contest. The Conservative establishment was scrambling for a plausible candidate to go up against the Labour incumbent, Ken Livingstone. Cameron did not originally want Johnson to run for mayor. The concern among many Conservative MPs and party strategists was that Johnson was untested in high office, and party insiders worried whether he could be relied upon not to stray into new romantic engagements, embarrassing a party that has traditionally framed itself as pro-family.
During a private conversation at a fundraising dinner in 2007, Cameron trashed Johnson's credentials as a mayoral candidate. "Totally the wrong profile," he said, with a dismissive wave of the hand. "Did he really say that?" Johnson exclaimed when he was told of Cameron's comment. "The fucker!"
Somewhat in desperation, the Conservatives settled on Johnson as their candidate. In the election, held in 2008, he won with 43 percent of the vote to Livingstone's 37 percent. The public seemed to love the man they simply referred to as "Boris," even if he was from a party the electorate had repeatedly rejected. Now Johnson had more governing power than Cameron—and he had won the party its first major electoral victory since it lost power to Labour in 1997.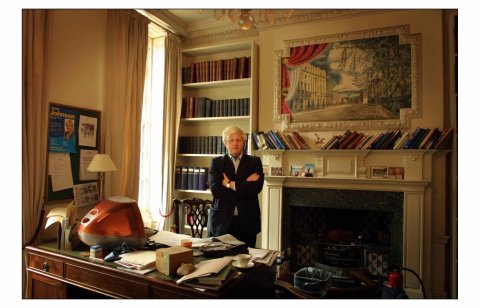 JUST CALL ON ME, BROTHER
On a spring morning in April 2010, a few weeks before Cameron would lead the Conservatives back into government for the first time in 13 years, the leader of the Conservative Party arrived at Johnson's handsome four-story house in London's fashionable Islington neighborhood to meet up before they were due to take part in a joint political event. The pair soon set off on foot to the bus stop down the road. As they walked, they talked.
"What's the fare to central London?" Cameron asked Johnson, who, as mayor, was responsible for the capital's transport network.
"Uh, £1.10 or £1.20, something like that," Johnson replied.
"You should know things like that, Boris," Cameron said.
"Do you?" Johnson said.
"Oh yes," Cameron said, and proceeded to rattle off a long list of basic consumer goods and their prices—a pint of milk, a loaf of bread, a pint of beer and a dozen or so other items.
Cameron, once derided by one of his own MPs as too posh to know the price of milk, made it his business to know just that. He is a professional politician who knows that little mistakes can prove fatal.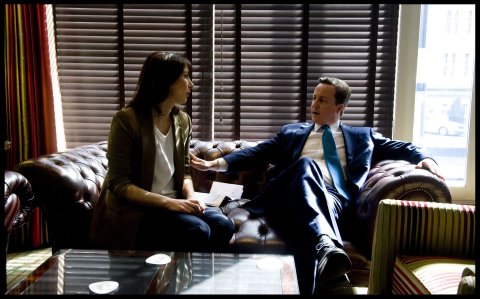 That is not the way Johnson has traditionally worked. He is supremely confident in his ability to talk his way out of a sticky situation and deploys wit and bluster to compensate for knowledge gaps. Not looking or sounding too smooth is part of his public persona, his charm.
The early days of his administration suggested that Londoners had elected the ill-disciplined clown they had grown fond of watching on TV. At a press conference on day one, he stumbled as he climbed onto the podium, telling the assembled journalists, "I hope you didn't catch that bit." When a senior adviser and his deputy mayor resigned in separate scandals in June and July, all the signs were that Johnson's time in City Hall would be a disaster.
But during his eight years as mayor, Johnson changed. He demonstrated a formidable work ethic, rising around 5:30 to ensure he had time for a jog along the canal near his home before starting every working day. During those two terms, he continued to churn out a lucrative column for The Daily Telegraph and wrote several books. He does not use the services of a ghostwriter, often working on his manuscripts late into the night.
And in many ways, London, which was coping with the global financial crisis during Johnson's first years as mayor, has flourished. The city is experiencing a construction boom and remains one of the most important financial capitals in the world.
Perhaps most remarkably, many British people still seem to like Johnson. Politicians in power often lose their shine after a year or two, never mind eight. Yet he has largely retained his gloss. And his ambition seems to have grown.
Last year, Johnson, who gave up his original seat in Parliament in 2008 so he could focus on being mayor, stood again for a seat in the House of Commons. He won easily. That was a crucial step as he keeps his eye on the prime ministership. Cameron had already said publicly that he did not intend to run again in 2020, so Johnson needed to be in a position to succeed him. But he knew the top job might become open before then; Cameron had promised, if re-elected in 2015, to hold a referendum on whether Britain should stay in the EU. Cameron won, and in February of this year he officially called the referendum. He has said that he will not resign if Britons vote against his wishes and decide the country should leave the EU. But many political analysts and insiders believe his position as the leader of a party and a nation that ignored him on such a crucial issue would be untenable and he would have no option but to step down.
Cameron's announcement in February gave every member of his party a choice: to stand with him or against him. One of the people whose support would matter most to him was Johnson.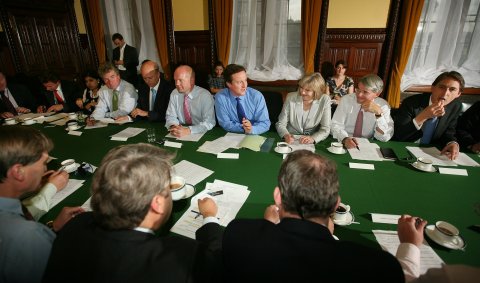 TAKING FRENEMY FIRE
Johnson's old farmhouse on the outskirts of the town of Thame in Oxfordshire is a good place to consider a career-defining decision. Tucked down a muddy country lane, the period property is rarely frequented by photographers and is over 50 miles from the Houses of Parliament. From the back of the house are soothing views of green hills; inside, the book-filled rooms are messy and charming.
It was to this quiet place that Johnson retreated before deciding where he stood on Britain's place in Europe. Rachel, his sister, has described in an article for The Mail on Sunday how she joined him there and discussed his plans over lasagna. According to several well-placed sources on both sides, Cameron and Johnson had been having a series of increasingly fraught telephone conversations during which Cameron tried to dissuade the mayor from backing a "Brexit" by dangling offers of future Cabinet jobs.
"Pretty much whatever he [Johnson] wanted" is how one of Johnson's confidants puts it when asked what Cameron offered his old friend.
Both men knew that their relationship—always rivalrous but warm—would be heavily affected by the decision. "I've seen them looking at one another and sensed Boris thinking: He's taller; he's better-looking; he says the right thing," says one person who knows both men. "But then there are times when Cameron looks at Boris and thinks: My God, the guy's a magician! In a million years, no matter how hard I worked, there's no way I would be able to produce that kind of stardust!"
The same source says that, privately, Johnson looks up to the prime minister. "I've always thought that Cameron is slightly more relaxed about Boris than Boris is about Cameron. But Boris definitely admires Dave. Occasionally, when Cameron is doing some big set piece on TV, Boris will say, 'David is so good at this stuff.' He knows Cameron will never be as popular as he is, but Cameron is prime minister, a job Boris would love."
The prime minister had good reason to believe his entreaties to Johnson might work. Johnson is multilingual and fundamentally internationalist in outlook. Privately, his doubts about the merits of the EU were usually outweighed by his appreciation of its benefits. But he wavered. A friend of Johnson's, who wants Britain to stay in the EU, says Johnson once told him, "I have to warn you, one day I might say we should come out of Europe."
After Cameron's election victory in 2015, the prime minister promised to negotiate a new relationship between Britain and the EU, one that gave Britain more power over its own policies. Still conflicted, Johnson waited until Cameron had concluded his dealmaking before making up his mind. In the end, it was Johnson's wife, Marina Wheeler, who helped persuade him that the prime minister's deal did not reclaim enough British sovereignty.
If Johnson ends up on the losing side of the referendum it would be a blow—but, in an odd twist, he could end up benefiting from the defeat, because in the eyes of many Conservative MPs he will have been on the right side of the argument. The next few years might then play out like this: Cameron stays on as leader and prime minister until 2019 (the process for choosing a new leader takes several months), or he might quit earlier; a leadership contest takes place; and Johnson defeats Cameron's key ally, George Osborne, chancellor of the exchequer, who is less popular with the Conservative legislators. (A March poll by YouGov showed 43 percent of Conservative Party members backed Johnson to be the next leader, while just 22 percent backed Osborne.)
In that scenario, Johnson would likely lead the Conservatives to an election victory in 2020, over a Labour Party that has weakened since its catastrophic defeat in 2015. That would bring Eton's tally of prime ministers to 20.
Publicly, Johnson shrugs off the suggestion that he is fixated on getting to 10 Downing Street. In truth, his campaign for that job seems to be well underway. "Low-key and loyal to Cameron" is how an insider describes his strategy. By "loyal," the insider means that Johnson is not making it his business to challenge or undermine the prime minister on subjects other than Europe. His outriders—a handful of MPs working, very unofficially, on Johnson's behalf in an attempt to improve his prospects—are assiduously avoiding the small but significant faction of anti-EU Conservative MPs who detest the prime minister and would like him gone at any cost. At this delicate early stage, Johnson can't come over as too grabby.
He is unlikely to find an easy path to the most powerful job in Britain. Osborne, who has played Cameron's understudy for years, will fight him hard. And while Tory MPs like a winner—and even Johnson's political enemies acknowledge his electoral successes—he hasn't cultivated his colleagues. During his long years in City Hall, he spent little time in the House of Commons tea room—networking, sharing gossip, forging friendships and alliances. Colleagues who envy his career or disapprove of his foibles and indiscretions are unlikely to hold back from damaging his chances when they can.
Whatever the British people decide on June 23—polls indicate the contest is too close to call—friends and rivals all over the country will have little choice but to accept the decision and find a way to live in relative harmony again. For the two men at the unusually personal heart of this national soul-searching, it may take an especially long time for the wounds to heal.
Isabel Oakeshott is political editor-at-large at the Daily Mail and co-author of Call Me Dave, the unauthorized biography of David Cameron.