Queen Was Touched on Leg by Russian Cosmonaut to 'Make Sure She Was Real'
Queen Elizabeth II was stroked on the leg by the first human to travel to space in a breach of royal protocol, according to a biography.
The Monarch, now 96, met Russian cosmonaut Yuri Gagarin for breakfast at Buckingham Palace in 1961 during a worldwide tour after his historic voyage beyond the earth's atmosphere.
However, Gagarin's behaviour in the presence of royalty may have seemed a little out of this world when he stroked his host just above the knee, according to new royal book The Queen.
Serialized in the Daily Mail, the book read: "After the initial introductions, Gagarin—a former foundryman—nervously took his seat next to her.
"Then, to the Queen's utter astonishment, he dipped his hand to stroke her leg just above the knee.
"With admirable sang froid, she managed to keep a smile on her face as she sipped her coffee.
"Gagarin later explained that he'd touched her leg in order to make sure she was real and not just an animated doll."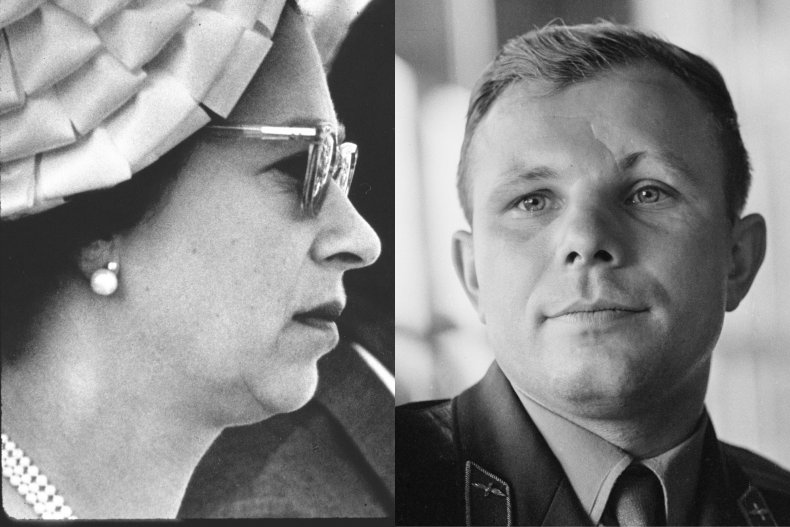 Morton added that Gagarin also struggled to find his way around the wide array of cutlery laid out on the royal dining table.
Quoted in the book, the queen told him: "My dear Mr. Gagarin, I was brought up in this palace—but believe me, I still don't know in which order I should use all these forks and knives."
Royal protocol guides against touching members of the royal family unnecessarily, though Gagarin is not the only person to make the mistake.
The royal family's interest in space travel features in season three of Netflix series The Crown, though episode seven focuses on a later meeting in July 1969 with Neil Armstrong, Buzz Aldrin and Michael Collins, after the moon landing.
That particular episode depicted Prince Philip being initially fascinated by the trio's journey but turning to his Christian faith after finding them remarkably ordinary during a face-to-face meeting.
Experts, however, have suggested that Philip's shift towards religion in reality took place some years earlier, People reported.
Historian Robert Lacey also recounts in The Crown, The Inside History how then-U.K. Prime Minister Harold Macmillan struggled to tear the queen away from the radio when John Glenn became the first American to orbit the earth in 1962.
The book recounts how she was listening to BBC commentary and adds: "After a perfunctory greeting, Elizabeth turned her attention back to the radio."
Morton was Princess Diana's secret biographer and his first royal biography Diana: Her True Story changed history when it exposed Prince Charles affair with Camilla, the Duchess of Cornwall, in 1992.
The book also described Diana's struggle with bulimia and was based on tape recordings she made of her own story which she smuggled out of Kensington Palace through a friend.
For more royal news and commentary check out Newsweek's The Royal Report podcast: