'A Quiet Place Part II' Online Release Date: When the Movie Will Be Streaming
A Quiet Place Part II is one of the films trying to revive the box office this Memorial Day weekend with the horror sequel joining Cruella in theaters. With many people still apprehensive about going to watch on the big screen, Paramount has reduced the time before the film starring John Krasinski, Emily Blunt and Cillian Murphy comes to streaming services.
Here's when the movie will be available to watch online.
A Quiet Place Part II online release date
In February 2021, the newly-renamed (from CBS All Access) Paramount+ announced that they were making the release window between a film coming to cinemas and coming to streaming smaller.
This came after similar but more drastic decisions from the companies behind the streamers HBO Max and Disney+. Both decided that they would adopt what is known as a "day and date" model where movies go to streamers on the same day they go to theaters.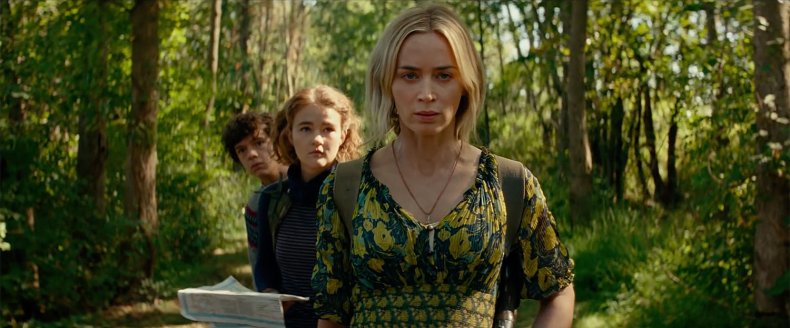 Disney+ makes subscribers pay a $30 premium to watch films like Mulan, Raya and the Last Dragon, and Cruella on Disney+, while HBO Max made Warner Bros. films like Wonder Woman 1984 and The Little Things available to watch to its subscribers at no additional cost.
Though Paramount+ will not air movies according to this "day and date" model, viewers will be able to watch A Quiet Place Part II online much quicker than previously.
Pre-pandemic, a release window of 90 days-plus was the industry standard, meaning there was usually around a three-month gap between a theatrical and streaming release date. Paramount has now made this a 30-day gap for smaller releases and a 45-day one for the bigger releases.
This includes the Quiet Place sequel. The movie came to cinemas on Friday, May 28, which means it should be streaming on or around Tuesday, July 12.
The movie is not the only one viewers should expect to see on the service in the coming years. Mission: Impossible 7 is also heading to Paramount+ 45 days after its May 2022 release date. Other films like the next Paranormal Activity sequel and a Pet Sematary prequel, meanwhile, will go straight to streaming.
A Quiet Place Part II coming to Paramount+ may mean that viewers will be able to watch it for free. The service currently gives new subscribers a one-month long free trial to watch its entire catalog. After that time, the service costs $5.99 a month with ads or $9.99 a month without them.
There is no guarantee, however, that the free trial will continue. Though the streamer has announced no plans to scrap it, both HBO Max and Disney+ scrapped their trials before they started offering movies straight from cinemas.